---
Tune into Radio Jersey with Lee Mrowicki every Monday through Friday from 6pm to 8pm
Broadcast on Asbury Music!
---
#35 Mimi Cross: I Slept...
By Gary Wien
originally published: 01/26/2012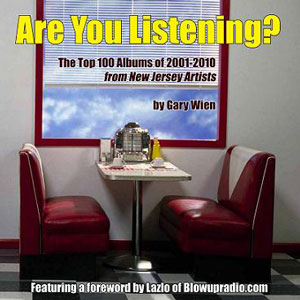 Mimi Cross is not your typical singer-songwriter.  Her music is like a blend of the sound experimention of Kate Bush and the prose of Patti Smith.  She lures you in and has the ability to seduce you with her voice.  The combination of these attributes is a style uniquely her own; one that sounds mystical and almost spiritual.
Mimi was born in Toronto, but grew up in Millburn and Long Beach Island.  Later on she would settle in the Red Bank/Highlands area and become a fixture of the Asbury Park music scene. 
I Slept... was Mimi's second full-length album and her only release of the decade.   The subject matter runs from experiencing the exact moment of falling in love and wanting to keep that feeling forever ("1st Kiss") to relationships that endure despite the odds ("Damage Control"); realizing its time to move on from earlier dreams and simply enjoy what life brings you no matter what ("Satisifed Life") and songs inspired by 9/11 like the haunting "2 Clay Feet" and "I Slept."  In between are mesmerizingly seductive songs like "Canyon."
When you listen to this album from start to finish, it really takes you back to where many of us were in 2001 after the terrorist attacks.  Mimi's songs about love and hope and dreams all play within the realm of 9/11.  Even her cover of George Harrison's "Dark Horse" fits the theme.
What really makes this album work is the alternative music backdrop that creates a brilliant world for her words.  It's almost like the anti-singer-songwriter album. 
It's a shame that Mimi takes so long between releases.  She's obviously an artist with a lot to say... she just takes far too long to let us in on the conversation.
---
The article continues after this ad
---
---
Highlights include "Damage Control," "2 Clay Feet," "Canyon," "Satisified Life," and  "1st Kiss."
---
From the book
Are You Listening? The Top 100 Albums of 2001-2010 by New Jersey Artists
by Gary Wien
---
---
For more by this author, click here
---


Riverside Rhythm and Rhyme Presents Patrick Fitzsimmons On December 16
(SUCCASUNNA, NJ) -- Riverside Rhythm and Rhyme (RR&R) presents Patrick Fitzsimmons on Sunday, December 16 from 4:00pm to 6:00pm at the Investors Bank Theatre in Succasunna. Tickets are $20 for general admission; $15 for RAA/SSG/JAM members; and free for those under 18.
---
Outpost in the Burbs Presents Larry Campbell and Teresa Williams
(MONTCLAIR, NJ) -- Outpost in the Burbs presents Larry Campbell and Teresa Williams on Saturday, December 8th at 8:00pm at the First Congregational Church, 40 South Fullerton Avenue.  Opening the show will be New York City-based singer-songwriter Leslie Mendelson. Outpost volunteers will be accepting donations of new, unwrapped toys for the holiday season for Toys for Tots at the show.
---
Jann Klose and The Voice's Josett Diaz To Perform At Ethical Brew To Benefit A Cause Close To Home
(TEANECK, NJ) -- On Saturday, December 8th, singer-songwriter and recording artist, Jann Klose will perform at Ethical Brew on behalf of Mind-Builders Creative Arts Center, a community arts and cultural center for children and teens located in Bronx, New York.  Doors open at 7:30, show begins at 8:00pm.
---
Kenny Chesney To Perform At Hard Rock Hotel & Casino
(ATLANTIC CITY, NJ) -- Focusing on smaller venues and markets not directly impacted by his massive stadium tours, Kenny Chesney sought to make his Songs for the Saints 2019 Tour mirror the intimacy of its namesake album. Inspired by the resilience of the people around him, Chesney doubles down on the human connection for his 2019 tour by seeking those members of No Shoes Nation who have spent the past decade and a half making the trip to stadium markets for what is now a summer tradition. On Saturday, May 11, 2019 he brings the tour to Hard Rock Live at Etess Arena in Atlantic City, NJ.
---
State Theatre New Jersey presents Cirque Dreams Holidaze
(NEW BRUNSWICK, NJ) -- State Theatre New Jersey presents Cirque Dreams Holidaze on Friday, December 7 at 8:00pm, Saturday, December 8 at 2:00pm and 8:00pm, and Sunday, December 9 at 2:00pm. Cirque Dreams Holidaze, a division of Cirque du Soleil, has become a critically acclaimed, state-of-the-art Broadway musical, and a fun-filled, holiday family show. Tickets range from $35-$98.
---


"Great Music!" Tavares and Harold Melvin's Blue Notes LIVE! at the Strand Theater
The music of the 1970s is alive and well this Saturday, November 3, 2018 at Lakewood, NJ's Strand Theater with a concert by the '70's R&B and soul groups Tavares and Harold Melvin's Blue Notes!
---
"An Amazing Musical Genius!" Brian Wilson LIVE! at the State Theatre
In the music room in the back of our house, there's an electric bass and amp, two acoustic guitars, a microphone and PA speakers, several pieces of music recording equipment, and a bookcase filled with books on music, not to mention a slew of assorted music memorabilia. But, perhaps, one of the most highly prized items in the room is hanging directly above the piano next to the college music diplomas.
---
Jazz Saxophonist Don Braden LIVE! at Toms River's Grunin Center
It's a breezy day for a new installment of the Jazz On a Sunday Afternoon concert series at Toms River, NJ's Grunin Center of the Arts this Sunday Oct. 27, 2018 afternoon. Today's special 3pm performance is entitled Earth, Wind and Wonder and is presented by jazz saxophonist Don Braden.
---
Charlie Thomas' Drifters, The Classics IV, and The Brooklyn Bridge LIVE! at The Strand, Lakewood
The stars are out this Saturday Oct. 26, 2018 evening in Lakewood, NJ for a "Golden Oldies" concert featuring Charlie Thomas' Drifters, The Classics IV, and The Brooklyn Bridge!
---
PODCAST: Grammy Winner Terri Lyne Carrington At TD James Moody Jazz Festival
Drummer, leader, and composer Terri Lyne Carrington made history as the first woman to win a Grammy for Best Instrumental Jazz for her album "Money Jungle: Provocative in Blue." Now, she brings her interpretation of Duke Ellington's "Money Jungle" to the TD James Moody Jazz Festival at NJPAC on November 11, 2018, as part of a program called "Jazz Vinyl Revisited." Producer Susan Wallner talks to Carrington about her connections to the jazz greats Clark Terry and Max Roach; her newest project, the Berklee Institute of Jazz and Gender Justice; and why she thinks drummers make natural leaders.
---