By Gary Wien
originally published: 01/26/2012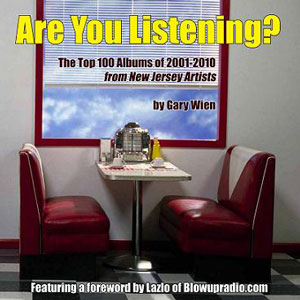 Mimi Cross is not your typical singer-songwriter.  Her music is like a blend of the sound experimention of Kate Bush and the prose of Patti Smith.  She lures you in and has the ability to seduce you with her voice.  The combination of these attributes is a style uniquely her own; one that sounds mystical and almost spiritual.
Mimi was born in Toronto, but grew up in Millburn and Long Beach Island.  Later on she would settle in the Red Bank/Highlands area and become a fixture of the Asbury Park music scene. 
I Slept... was Mimi's second full-length album and her only release of the decade.   The subject matter runs from experiencing the exact moment of falling in love and wanting to keep that feeling forever ("1st Kiss") to relationships that endure despite the odds ("Damage Control"); realizing its time to move on from earlier dreams and simply enjoy what life brings you no matter what ("Satisifed Life") and songs inspired by 9/11 like the haunting "2 Clay Feet" and "I Slept."  In between are mesmerizingly seductive songs like "Canyon."
When you listen to this album from start to finish, it really takes you back to where many of us were in 2001 after the terrorist attacks.  Mimi's songs about love and hope and dreams all play within the realm of 9/11.  Even her cover of George Harrison's "Dark Horse" fits the theme.
What really makes this album work is the alternative music backdrop that creates a brilliant world for her words.  It's almost like the anti-singer-songwriter album. 
It's a shame that Mimi takes so long between releases.  She's obviously an artist with a lot to say... she just takes far too long to let us in on the conversation.
---
The article continues after this ad
---
---
Highlights include "Damage Control," "2 Clay Feet," "Canyon," "Satisified Life," and  "1st Kiss."
---
From the book Are You Listening? The Top 100 Albums of 2001-2010 by New Jersey Artists by Gary Wien
---
---
Gary Wien has been covering the arts since 2001 and has had work published with Jersey Arts, Elmore Magazine, Princeton Magazine, Backstreets and other publications. He is a three-time winner of the Asbury Music Award for Top Music Journalist and the author of Beyond the Palace (the first book on the history of rock and roll in Asbury Park) and Are You Listening? The Top 100 Albums of 2001-2010 by New Jersey Artists. In addition, he runs New Jersey Stage and the online radio station The Penguin Rocks. He can be contacted at gary@newjerseystage.com.
---