By Gary Wien
originally published: 01/26/2012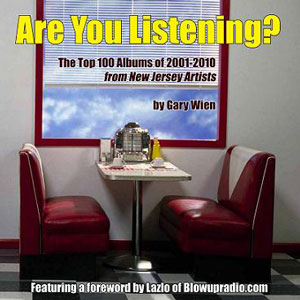 The terrorist attacks on September 11, 2001 changed all of our lives, but for Gerard Way, lead singer of My Chemical Romance, it was a sign that he needed to do something more with his life.  At the time, he was trying to pitch a show to the Cartoon Network that was going nowhere.  While contemplating the tragedy that had just unfurled, Way wrote the words to "Skylines and Turnstiles," a song that would lead to the creation of My Chemical Romance.
Based in Essex County, My Chemical Romance was formed with lead vocalist Gerard Way, guitarists Ray Toro and Frank Iero, Mikey Way on bass, and Matt Pelissier on drums (later replaced with Bob Bryar).  They went platinum with the release of Three Cheers For Sweet Revenge, but had much bigger plans in mind.
The band's followup, The Black Parade, was a breathtaking rock opera that told the story of "The Patient" as he was dying of cancer.  The central theme is that when people die, death comes to them in the form of their strongest memory.  For the main character, that memory is of being a child and taken to a parade by his father.  So when death finally comes for him, it comes in the form of a black parade.
The album is an amazingly theatrical epic that brings to mind the work of classic rock acts from the '70s like Pink Floyd, David Bowie, and Queen.  The band toured in costumes and literally became The Black Parade each night.  Gerard Way even got so into the concept that he cut and dyed his hair to help him channel his character even more.
It's an amazing journey through one's final days on earth, death, and the afterlife.  It is one of rock and roll's true masterpieces.
Highlights include "The End," "The Sharpest Lives," "Welcome To The Black Parade," "Mama," "Teenagers," "Disenchanted,"  and "Famous Last Words."
Photo by Neil Krug
---
From the book Are You Listening? The Top 100 Albums of 2001-2010 by New Jersey Artists by Gary Wien
---
---
Gary Wien has been covering the arts since 2001 and has had work published with Jersey Arts, Elmore Magazine, Princeton Magazine, Backstreets and other publications. He is a three-time winner of the Asbury Music Award for Top Music Journalist and the author of Beyond the Palace (the first book on the history of rock and roll in Asbury Park) and Are You Listening? The Top 100 Albums of 2001-2010 by New Jersey Artists. In addition, he runs New Jersey Stage and the online radio station The Penguin Rocks. He can be contacted at gary@newjerseystage.com.
---
---