---
New Jersey State Council on the Arts Names Allison Tratner as Executive Director Click here for the story!
---
#3 My Chemical Romance: The Black Parade
By Gary Wien
originally published: 01/26/2012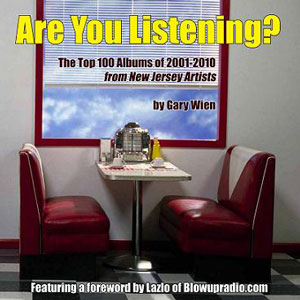 The terrorist attacks on September 11, 2001 changed all of our lives, but for Gerard Way, lead singer of My Chemical Romance, it was a sign that he needed to do something more with his life.  At the time, he was trying to pitch a show to the Cartoon Network that was going nowhere.  While contemplating the tragedy that had just unfurled, Way wrote the words to "Skylines and Turnstiles," a song that would lead to the creation of My Chemical Romance.
Based in Essex County, My Chemical Romance was formed with lead vocalist Gerard Way, guitarists Ray Toro and Frank Iero, Mikey Way on bass, and Matt Pelissier on drums (later replaced with Bob Bryar).  They went platinum with the release of Three Cheers For Sweet Revenge, but had much bigger plans in mind.
The band's followup, The Black Parade, was a breathtaking rock opera that told the story of "The Patient" as he was dying of cancer.  The central theme is that when people die, death comes to them in the form of their strongest memory.  For the main character, that memory is of being a child and taken to a parade by his father.  So when death finally comes for him, it comes in the form of a black parade.
The album is an amazingly theatrical epic that brings to mind the work of classic rock acts from the '70s like Pink Floyd, David Bowie, and Queen.  The band toured in costumes and literally became The Black Parade each night.  Gerard Way even got so into the concept that he cut and dyed his hair to help him channel his character even more.
It's an amazing journey through one's final days on earth, death, and the afterlife.  It is one of rock and roll's true masterpieces.
Highlights include "The End," "The Sharpest Lives," "Welcome To The Black Parade," "Mama," "Teenagers," "Disenchanted,"  and "Famous Last Words."
Photo by Neil Krug
---
From the book
Are You Listening? The Top 100 Albums of 2001-2010 by New Jersey Artists
by Gary Wien
---
---
---
For more by this author, click here
---


South Jersey Pops To Present Holiday Shows On Sunday & Monday
(CHERRY HILL, NJ) -- The South Jersey Pops, the area's own non-profit orchestra, will take a world view of this magical season as it presents "Celebrate: A Global Holiday" on Sunday, December 16 in Medford. The second of its four performances during its 49th season, the program will feature holiday carols from around the globe including France, Germany, and Spain, local music to warm the hearts of Philadelphians, along with Hanukkah songs and popular and timeless holiday classics.
---
Experiment 34 To Hold CD Release At Asbury Lanes
(ASBURY PARK, NJ) -- Experiment 34 will celebrate the release of their debut full-length album, "What Dying Feels Like," on Saturday, February 16 at Asbury Lanes. E34 are a hard, heavy, aggressive mix of punk, funk, rap, metal and psychedelic rock with an inventive chemistry and explosive bond to which audiences of all kinds react well. Tickets for the CD release show are $15 at the door and $12 in advanced. Admission will include a free copy of the CD. 
---
Daniil Trifonov performs Schumann's Piano Concerto in NJSO debut
(NEWARK, NJ) -- Daniil Trifonov, Musical America's 2019 Artist of the Year, performs Schumann's Piano Concerto in his NJSO debut, January 25–27, in the final program of the New Jersey Symphony Orchestra's 2019 Winter Festival, "Music Speaks." Music Director Xian Zhang conducts the program, which also features Strauss' Also sprach Zarathustra and the NJSO premiere of Scriabin's Poem of Ecstasy. Performances take place on January 25 at 8:00pm at NJPAC in Newark, January 26 at 8:00pm at State Theatre New Jersey in New Brunswick and January 27 at 3:00pm at Mayo Performing Arts Center in Morristown.
---
Audible and NJPAC Present "Jazz in the Key of Ellison"
(NEWARK, NJ) -- The New Jersey Performing Arts Center (NJPAC) and Audible have announced the first three national performance dates of "Jazz in the Key of Ellison," celebrating the musical world of the esteemed African-American novelist, critic and scholar Ralph Ellison and his remarkable collection of jazz recordings.
---
Centenary Stage Presents Michael Davis and the New Wonders
(HACKETTSTOWN, NJ) -- Centenary Stage Company's annual January Thaw Music Festival returns to the Lackland Performing Arts Center featuring three musical guest artists throughout the month of January. The series launches on Saturday, January 12, 2019 at 8:00pm in the Lackland Performing Arts Center with Michael Davis and the New Wonders.
---


Melissa Etheridge LIVE! at the State Theatre
The lobby of the State Theatre in New Brunswick, NJ, is buzzing with activity this Friday, November 30, 2018 evening as rock music fans ready themselves for a special Holiday Show by singer/songwriter Melissa Etheridge!
---
Join The Greater South Jersey Chorus For "A Winter's Night" (Or Afternoon)
The holidays bring many special things and, for me, one of the best is the music. It sets a mood, invokes memories, soothes the soul and provides a seasonal soundtrack for my life.
---
An Interview with Chip Davis Of Mannheim Steamroller Christmas
You can experience the magic of the holidays — Steamroller-style — when Mannheim Steamroller Christmas by Chip Davis makes a tour stop this Thursday, December 6, 2018, at New Brunswick, NJ's historic State Theatre.
---
Max Weinberg's Jukebox LIVE! at the Grunin Center
Something is different about tonight's November 18, 2018 concert at Toms River, NJ's Grunin Center for the Arts starring Max Weinberg, celebrated drummer from Bruce Springsteen's E Street Band!
---
PHOTOS: Matt O'Ree Band at The Stone Pony in Asbury Park
(ASBURY PARK, NJ) -- The Matt O'Ree Band returned to The Stone Pony in Asbury Park on Friday, November 16 and photographer Estelle Massry of Coucou Photography was on hand to take some photos.  David Bryan from Bon Jovi was one of the special guests that night.
---
Event calendar
Sunday, Dec 16, 2018
---
MUSIC

---
---
---
ELEVEN ELEVEN

@ Lobby Bar at Hard Rock Hotel and Casino Atlantic City, Atlantic City - 2:00pm
---
SUNDAY JAZZ

@ Hard Rock Cafe at Hard Rock Hotel and Casino Atlantic City, Atlantic City - 10:00am
---
---
THEATRE

---
---
---
---
---
Peter pan

@ Axelrod Performing Arts Center, Deal Park - 1:00pm and 5:00pm
---
---
---
---
---
---
---
---
DANCE

---
---
---
---
---
---
KIDS

---
---
View all events
---