By Gary Wien
originally published: 01/26/2012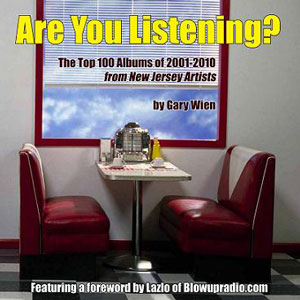 The Amboys hail from Asbury Park.  The band, comprised of C.M. Smith, Manny Castanon, Connor Effenberger, and Dan Effenberger (who replaced Kyle Waugh, who played on the album and was the band's original rhythm guitarist), has been one of my favorites in the Asbury Park music scene since they first began hitting the stage in 2009.  Their debut album provides brilliant country-infused garage rock and roll that reminds me of Johnny Cash waking up on the wrong side of the bed after an all night binge, taking some speed, downing a Jack and Coke, and heading out to the local punk rock bar to jam with whoever was on stage.  It's got a true kick ass spirit to it. 
"With late nights and heavy drinking, the in-between hours of the moon coming up and the sun coming back around, many things can and do happen. Lost love, one night stands, overdue phone calls, shots of whiskey and too many cigarettes," is how the band describes the album.  And I agree.
Songs have the energy of Jason & The Scorchers from back in the '80s and the bite of Social Distortion.   There's a nod to rock and roll history via wonderful B-3 organ sounds, scorching guitars, and thunderous drums.  It's a sound that's timeless, very cool, and rarely used as well as it is here. 
The band does a great job of taking familiar story lines and making them new.  Songs about finding love, losing love, and drunk mistakes sound fresh through the combination of rock and roll, punk, country, and rockabilly styles.  Sometimes the most original sounding music comes from simply updating a classic style.  That's what happens on this album.  The Amboys don't simply pay homage to their favorite styles of music, they take control of ownership of them.
My favorite tracks are "Can't Live Here," "Kid In the City," "This Very Thin Line," "Too Far (On A Broken Heart)," and "Vicky."
---
From the book Are You Listening? The Top 100 Albums of 2001-2010 by New Jersey Artists by Gary Wien
---
---
Gary Wien has been covering the arts since 2001 and has had work published with Jersey Arts, Elmore Magazine, Princeton Magazine, Backstreets and other publications. He is a three-time winner of the Asbury Music Award for Top Music Journalist and the author of Beyond the Palace (the first book on the history of rock and roll in Asbury Park) and Are You Listening? The Top 100 Albums of 2001-2010 by New Jersey Artists. In addition, he runs New Jersey Stage and the online radio station The Penguin Rocks. He can be contacted at gary@newjerseystage.com.
---
---