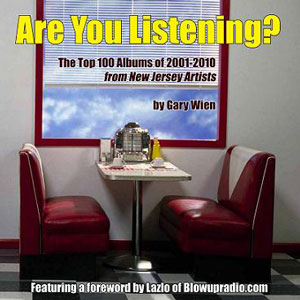 Dirt Waffle represented a major change of direction for The Commons.  This release moved away from the collective moodiness  and introspection of Come On Get Gone towards a mixed bag of rock, pop, and even jazzy numbers.  The result is somewhat akin to the music released by the Canadian band Barenaked Ladies during the '80s.  It was something entirely unexpected from The Commons, but they pulled it off well.  In fact, the album seems to get better with age.
When lead singer Keith Monacchio was informed that this release made the Top 100, he replied that he always believed this was a better album than many people thought.  While many fans of the band would have  been more likely to highlight American Ghost instead,  Dirt Waffle deserves a second look.  Within this album are several of the best songs the band ever recorded.
Ironically what makes it so good is also what makes people forget how good it is.
From the get go, the album runs through a potpourri of mellow tunes, rockers, and off-beat numbers that dare you to categorize them.  While Come On Get Gone and American Ghost both had specific themes running through their albums, Dirt Waffle is undeniably free of any such barriers.  It's not due to a lack of focus, the band just seemed ready, after the seriousness of their previous release, to have fun again.
There's the hilarious tale of the band on a roadtrip in "The Van Rolls On"; the new wave inspired paranoia of "It'll Go Away"; the bouncy fun of "Numbers" and friends who are doing time in prison.  In between lies the utterly beautiful "Simple Things" and wonderfully sentimental "Looking Back."  The album is like fine wine...
Highlights include "Don't Go On Me," "Numbers," "Back On The Bus," "Simple Things," "Three...Two...One," "The Van Rolls On," and "Looking Back."
---
From the book
Are You Listening? The Top 100 Albums of 2001-2010 by New Jersey Artists
by Gary Wien
---
---