---
New Jersey State Council on the Arts Names Allison Tratner as Executive Director Click here for the story!
---
#23 Bruce Tunkel: Sitting/Waiting
By Gary Wien
originally published: 01/26/2012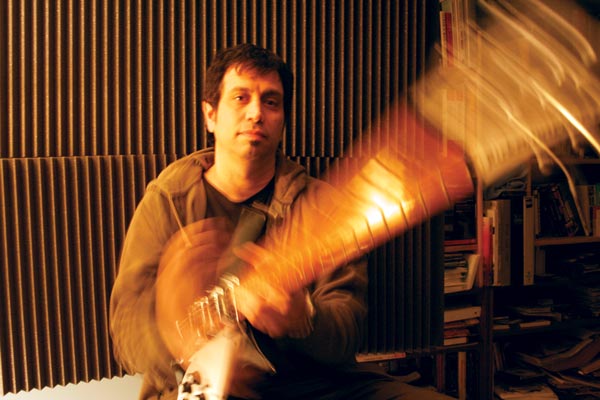 For a few years in the late '80s, Bruce Tunkel appeared poised to become the second musician named Bruce from New Jersey to hit it big nationally (or third if you want to include Bruce Willis).  At the time, the Linden native was the leader of a popular band called The Red House who released an amazing independent album in 1987.  That album led to a cover photo on the College Music Journal (CMJ), something unheard of for an independent band. Record labels soon took an interest in them and The Red House ultimately signed with SBK and released their self-titled debut nationally in 1990. 
The Red House consisted of Tunkel on lead vocals, guitar, and keyboards;  Bob Nicol on drums; Tony Stives on guitar; and Ron Bauman on bass.  One grueling tour later, they found themselves caught in the traditional record label  nonsense, broke up, and quietly became a footnote in Jersey music history.
Thankfully, Tunkel never stopped writing.
Bruce recorded a couple of fine solo albums in the '90s then released the brilliant Sitting/Waiting in 2005.  The album not only featured great songwriting, wonderful energy, and Tunkel's passionate vocals, but came with a nice surprise; it provided fans of The Red House with a glimpse of how things might have turned out for the band.  All four guys reunited for the song "The Edge of Your Words" and various members would play on an additional five tracks.
The album returns the trademark sound of The Red House: jangling guitars, made popular in the '80s through bands like R.E.M and Dumptruck, along Tunkel's strong vocals which remind me of Mike Scott from The Waterboys. A few gorgeous ballads are included for good measure as well.
---
The article continues after this ad
---
---
In addition to the full Red House song, highlights include "The Way I Feel," "Remember Me," "After All," "Brave Man," "She Waits," and "Jimmy Harper."
---
From the book
Are You Listening? The Top 100 Albums of 2001-2010 by New Jersey Artists
by Gary Wien
---
---
For more by this author, click here
---


South Jersey Pops To Present Holiday Shows On Sunday & Monday
(CHERRY HILL, NJ) -- The South Jersey Pops, the area's own non-profit orchestra, will take a world view of this magical season as it presents "Celebrate: A Global Holiday" on Sunday, December 16 in Medford. The second of its four performances during its 49th season, the program will feature holiday carols from around the globe including France, Germany, and Spain, local music to warm the hearts of Philadelphians, along with Hanukkah songs and popular and timeless holiday classics.
---
Experiment 34 To Hold CD Release At Asbury Lanes
(ASBURY PARK, NJ) -- Experiment 34 will celebrate the release of their debut full-length album, "What Dying Feels Like," on Saturday, February 16 at Asbury Lanes. E34 are a hard, heavy, aggressive mix of punk, funk, rap, metal and psychedelic rock with an inventive chemistry and explosive bond to which audiences of all kinds react well. Tickets for the CD release show are $15 at the door and $12 in advanced. Admission will include a free copy of the CD. 
---
Daniil Trifonov performs Schumann's Piano Concerto in NJSO debut
(NEWARK, NJ) -- Daniil Trifonov, Musical America's 2019 Artist of the Year, performs Schumann's Piano Concerto in his NJSO debut, January 25–27, in the final program of the New Jersey Symphony Orchestra's 2019 Winter Festival, "Music Speaks." Music Director Xian Zhang conducts the program, which also features Strauss' Also sprach Zarathustra and the NJSO premiere of Scriabin's Poem of Ecstasy. Performances take place on January 25 at 8:00pm at NJPAC in Newark, January 26 at 8:00pm at State Theatre New Jersey in New Brunswick and January 27 at 3:00pm at Mayo Performing Arts Center in Morristown.
---
Audible and NJPAC Present "Jazz in the Key of Ellison"
(NEWARK, NJ) -- The New Jersey Performing Arts Center (NJPAC) and Audible have announced the first three national performance dates of "Jazz in the Key of Ellison," celebrating the musical world of the esteemed African-American novelist, critic and scholar Ralph Ellison and his remarkable collection of jazz recordings.
---
Centenary Stage Presents Michael Davis and the New Wonders
(HACKETTSTOWN, NJ) -- Centenary Stage Company's annual January Thaw Music Festival returns to the Lackland Performing Arts Center featuring three musical guest artists throughout the month of January. The series launches on Saturday, January 12, 2019 at 8:00pm in the Lackland Performing Arts Center with Michael Davis and the New Wonders.
---


Melissa Etheridge LIVE! at the State Theatre
The lobby of the State Theatre in New Brunswick, NJ, is buzzing with activity this Friday, November 30, 2018 evening as rock music fans ready themselves for a special Holiday Show by singer/songwriter Melissa Etheridge!
---
Join The Greater South Jersey Chorus For "A Winter's Night" (Or Afternoon)
The holidays bring many special things and, for me, one of the best is the music. It sets a mood, invokes memories, soothes the soul and provides a seasonal soundtrack for my life.
---
An Interview with Chip Davis Of Mannheim Steamroller Christmas
You can experience the magic of the holidays — Steamroller-style — when Mannheim Steamroller Christmas by Chip Davis makes a tour stop this Thursday, December 6, 2018, at New Brunswick, NJ's historic State Theatre.
---
Max Weinberg's Jukebox LIVE! at the Grunin Center
Something is different about tonight's November 18, 2018 concert at Toms River, NJ's Grunin Center for the Arts starring Max Weinberg, celebrated drummer from Bruce Springsteen's E Street Band!
---
PHOTOS: Matt O'Ree Band at The Stone Pony in Asbury Park
(ASBURY PARK, NJ) -- The Matt O'Ree Band returned to The Stone Pony in Asbury Park on Friday, November 16 and photographer Estelle Massry of Coucou Photography was on hand to take some photos.  David Bryan from Bon Jovi was one of the special guests that night.
---
Event calendar
Sunday, Dec 16, 2018
---
MUSIC

---
---
---
ELEVEN ELEVEN

@ Lobby Bar at Hard Rock Hotel and Casino Atlantic City, Atlantic City - 2:00pm
---
SUNDAY JAZZ

@ Hard Rock Cafe at Hard Rock Hotel and Casino Atlantic City, Atlantic City - 10:00am
---
---
THEATRE

---
---
---
---
---
Peter pan

@ Axelrod Performing Arts Center, Deal Park - 1:00pm and 5:00pm
---
---
---
---
---
---
---
---
DANCE

---
---
---
---
---
---
KIDS

---
---
View all events
---