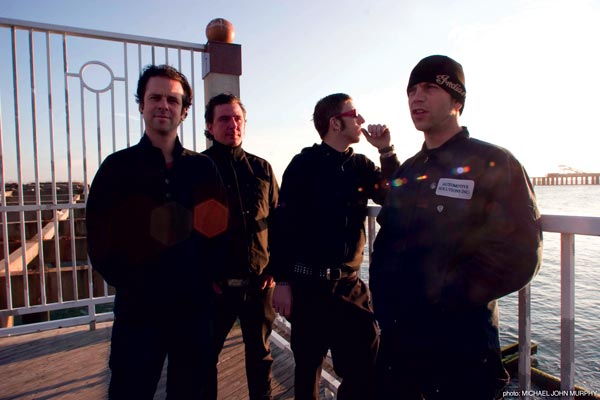 For over 20 years, The Bouncing Souls have been one of the most important acts to ever come out of New Jersey.  A seminal punk rock band, they started out as high school kids in Basking Ridge back in 1987.  The band released four studio albums in the '90s along with a handful of EPs, but an argument could be made that they truly hit their stride in the past decade.  During 2001-2010, they released four albums with three appearing in this book.
The band began with Greg Attonito on vocals, Pete Steinkopf on guitar, Bryan Kienlen on bass, and Shal Khichi on drums.  Khichi left in 2000 and was replaced by Michael McDermott.  Other than that, they have remained the same since the beginning.
Although the four didn't go on to college, they made a brilliant decision to move to New Brunswick where they became a legend with the university town's thriving punk scene and basement shows.
Anchors Aweigh, with its wonderfully melodic punk, is arguably The Bouncing Soul's best album.  They pay tribute to the band's first drummer in "I'm With There" and to the late Todd Eckhardt of The Pietasters in "Todd's Song."  Solid throughout, the album truly shines with the anthems "Kids And Heroes" and "Sing Along Forever."
I'm driving, listening to my radio,

Checkin' out the airwaves

For something to believe in,

Gimme something to hold true,

Gimme something to sing about.

Gimme a reason to care,

I'll sing along forever

 -- "Sing Along Forever"
---
The article continues after this ad
---
---
Highlights include "Kids And Heroes," "New Day," "Sing Along Forever," "Better Days," "Night Train," "Todd's Song," and "I Get Lost."
Photo by Michael John Murphy
---
From the book
Are You Listening? The Top 100 Albums of 2001-2010 by New Jersey Artists
by Gary Wien
---