By Gary Wien
originally published: 01/26/2012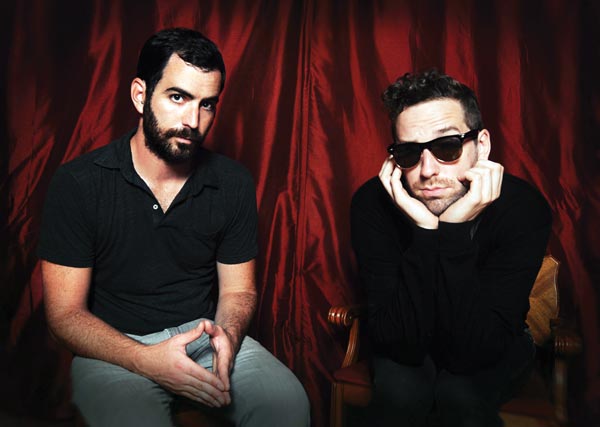 If there's a list of the most creative bands to ever come out of New Jersey chances are The Gay Blades would be among the names chosen.  The band features James Dean Wells on guitar and Quinn English on drums, with both sharing vocal duties.  And that's it.  Just two guys who happen to make loud, boisterous rock and roll, which they call "trash-pop."  It's a mixture of gritty guitars and dirty drums that shatters the myth that it takes three to have a power trio.  The Gay Blades are that and more.
Originally from the New Brunswick music scene from bands like Clever Hans and Hello Lovely, the duo, who both attended Rutgers University, moved to the Jersey City area and created the persona for The Gay Blades.  This includes their alternate identities (Wells is known as Clark Westfield and English as Puppy Mills); never giving straight interview answers; and inventing some of the craziest song titles you'll ever see.
All it takes is one spin to realize the two have got something special going on.  People generally either love it or hate it, which is probably how the band likes it.  The Gay Blades are a bit like hipster indie rock; if you don't get it, they'd rather have your seat at the bar taken by someone else.  But if you get it, you'll absolutely love it and rave about it to your friends, as so many people did when the band played multiple shows at SXSW.
Musically, the closest comparison is something like the David Bowie of the '70s joining the White Stripes for a set.  Songs are often like sonic nightmares, but in a good way.  And just when you think you've got the band figured out, they bring out an amazingly slow, dreamy number like "Dog Day Afternoon" and continue to surprise. 
Highlights include "O Shot," "Hey She Say," "Bob Dylan's 115th Nightmare," "Dog Day Afternoon," "NHDN," and "Robots Can F**k Your S**t Up."
Photo by Lucia Holm
---
From the book Are You Listening? The Top 100 Albums of 2001-2010 by New Jersey Artists by Gary Wien
---
---
Gary Wien has been covering the arts since 2001 and has had work published with Jersey Arts, Elmore Magazine, Princeton Magazine, Backstreets and other publications. He is a three-time winner of the Asbury Music Award for Top Music Journalist and the author of Beyond the Palace (the first book on the history of rock and roll in Asbury Park) and Are You Listening? The Top 100 Albums of 2001-2010 by New Jersey Artists. In addition, he runs New Jersey Stage and the online radio station The Penguin Rocks. He can be contacted at gary@newjerseystage.com.
---
---