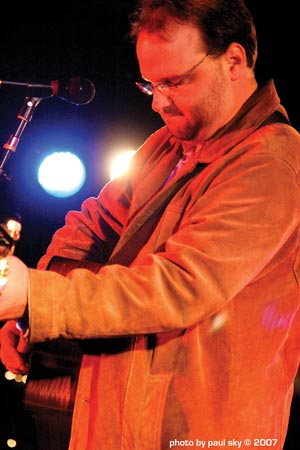 Keith Monacchio of Hamilton may be best known as the former lead singer of The Commons, but his solo career got off to a stunning debut with The Long Evening;  an album about growing older, looking at one's place in life, and peering over to the other side of the bed to see if it's empty or not.
In 2003, Keith's former band released the amazing Come On Get Gone album.  The Long Evening was released nearly a decade later.  Lyrically and musically the two albums could not be farther apart.  This is a solo acoustic release while the other was a full band rock effort; yet, the lead character in The Long Evening seems an awful lot like the person in Come On Get Gone just older, wiser, and with a more positive outlook.  It's as if this is the sequal to that first album.
This time around, the lead character talks of the excitement and nervousness of falling in love with the knowledge that the end of a relationship does not mean the end of the world.  While the character still has plenty of hopes and dreams, he's not looking at love the way someone does for the first time, but from the eyes of one who has had his own share of pitfalls and bad relationships.  Looking at both albums reminds me of the way the great American author, John Updike, revisited the life of his character Rabbit over and over again in ten-year intervals.

This album shows that the character in 2003 made it through all of the pain and hardship and grew up; and despite all he's gone through, he still hasn't given up on love. 
The Long Evening ranks up there with John Lennon's Double Fantasy and Bruce Springsteen's Tunnel Of Love as the best albums to tear down the defenses that artists normally try to hide.  It's damn near perfect.
Highlights include "I'll Know,"  "Altogether Happy," "The Set Up,"The New Normal," and the wonderful duet with Jo Wymer on "Under The Streetlight."
Photo by Paul Sky
---
From the book
Are You Listening? The Top 100 Albums of 2001-2010 by New Jersey Artists
by Gary Wien
---
---