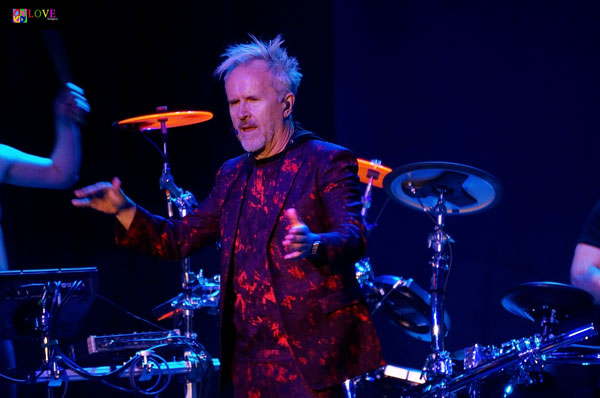 It's a clear and warm autumn night this Friday, October 27, 2017 outside the Newton Theatre, a jewel of a concert hall located in Newton, NJ, a pleasant and old-fashioned town, not far from the Pennsylvania and New York borders.
Like so many forty- and fifty-somethings this evening, we're here to recapture the synthesized sounds of the 1980s — and who better to do this with than British musician, singer, and songwriter, Howard Jones?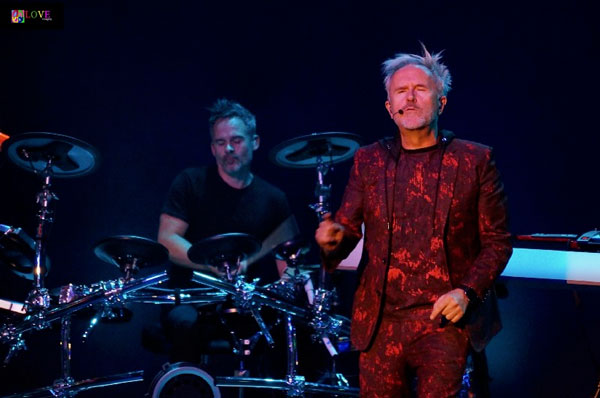 Jones classifies his music as electro-classical rock. He first burst onto the music scene in 1983 with "New Song" and with his first two albums, Human Lib and Dream into Action, which hosted several hits including "Things Can Only Get Better," "What is Love?" "Pearl in the Shell," "Hide and Seek," "Look Mama," and "No One is To Blame."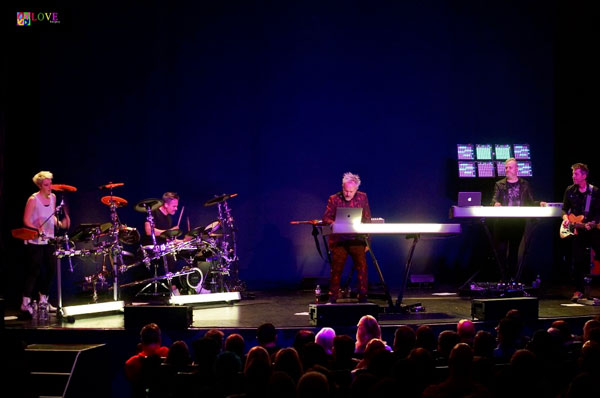 As we make our way inside the historic Newton Theater, we meet Richard and Cindy from Shamokin, PA. They are eager to tell us that this is the 32nd concert they've attended this year! Even though on their musical journey they have seen such groups as The Doobie Brothers, Journey, Tears for Fears, and Duran Duran, Cindy divulges that Howard Jones is her favorite artist because "he brings back the very best memories of junior high and high school."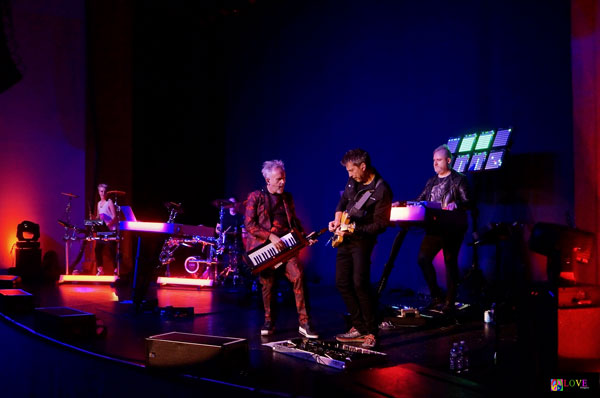 According to Richard, Jones is so special to Cindy that, in fact, this concert was an anniversary surprise. Richard instructed the couple's daughter to be sure Mom's calendar was clear for this special celebration. As Cindy picks up two of Jones' autographed CD's for sale in the lobby, she states warmly, "My life is now complete."
---
The article continues after this ad
---
---
We also have an opportunity to meet Christine from Hanna, PA, who reveals she was a huge Jones' fan in the '80s when she was a teen. She recalls that she faced hardships in her family and Jones' lyrics spoke directly to her.
"No matter how bad they are, 'things can only get better, '" she contends.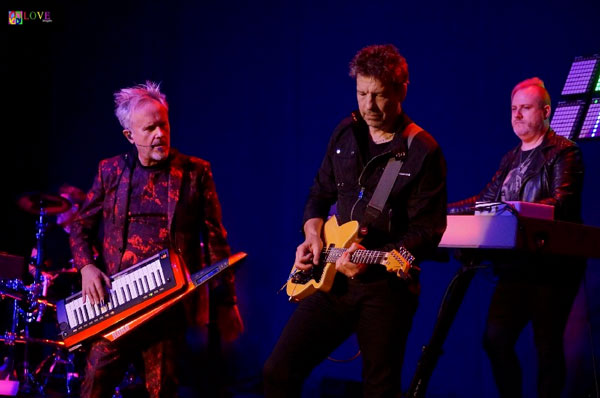 Bob and Marie from Sparta tell us that Howard Jones' music brings back special memories for both of them. They met in high school and Jones' music was the soundtrack to their dating years in the mid-eighties. They both enter the theater each holding a double CD, excited to relive a special time in their lives together.
As we take our seats in the pristine theatre, we notice the stage is set with electronic percussion gear, an electronic drum set, two digital keyboards linked to computers, and an electric guitar and amp combo.
When the house lights dim, the band takes the stage, and Howard Jones enters looking and sounding as young and sprite as he did in the eighties.
Taking the stage in his three piece outfit — pants, hooded jacket, and T-shirt which share a common pattern of maroon with red paint splatters — Jones has a strap around his neck sporting a handheld keyboard.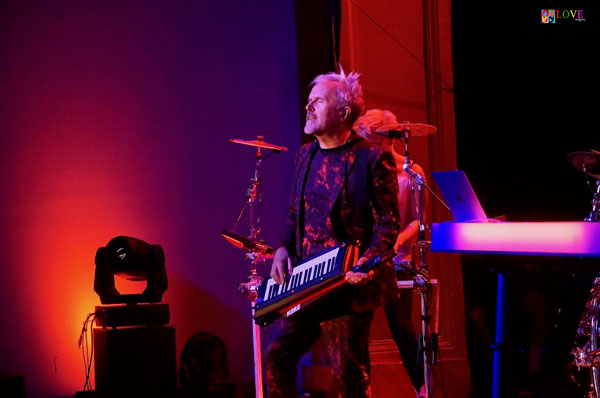 He begins the show with an electric performance of "Like to Get to Know You Well." Many in the crowd join in on the chorus while they clap their hands to the driving beat. Like to get to know you well/Like to get to know you well/So we can be one/We can be one together.
Some in the crowd are standing and dancing as Jones' electric guitarist rocks out on his solo.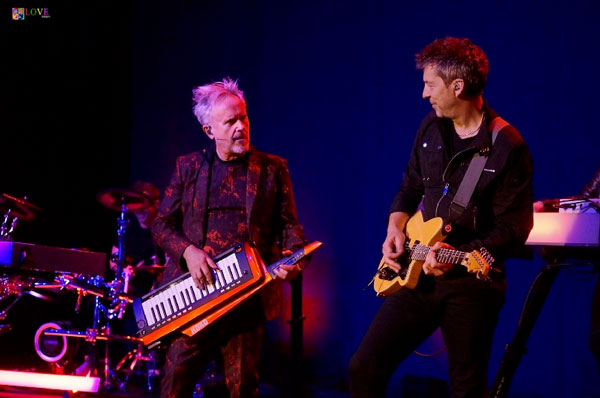 As the band wails, Jones yells out to the crowd in his thick British accent, "Come on! Let me see you!"
Now that the audience is warmed up, Jones plays a lively and energetic rendition of his 1983 single "Conditioning," as the synthesized beat pulsates through the theatre. The crowd takes in the yellow and blue alternating spotlights beaming onto the band, as various colorful images are projected onto two screens set up on each of the side stage walls.
Fans are delighted when the band begins it's recognizable — yet slow and steady — opening to "Everlasting Love." Jones jams on the keyboard as synchronized harmonies back him up.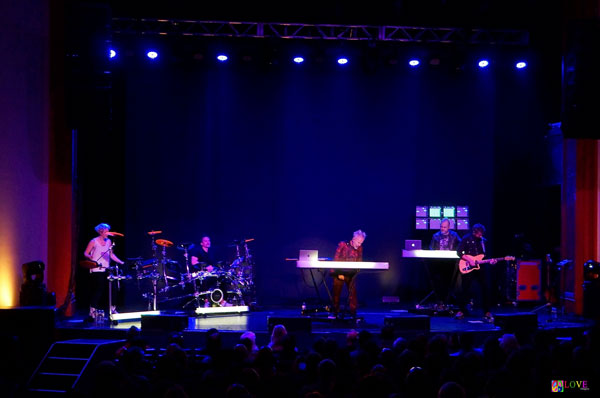 The audience sings and dances along with Jones as he sings, I need an everlasting love. I need a friend and a lover divine/And everlasting precious love/Wait for it, wait for it/Give it some time.
Soon, fog covers the stage and the screens display mime-like images resembling figures from the famous 80's video to this song. Colorful images of kaleidoscopes in motion appear on the screens.
Next, Jones' delivers on his 1986 single "No One Is to Blame" — his biggest hit in the United States.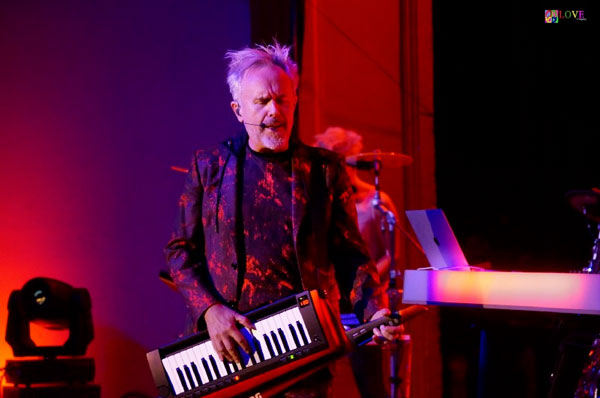 Jones sounds rich and clear, and his falcetto voice shows off his British soul. As he beautifully croons, the audience takes in the moving lyrics about insatiable dreams and desires that can never be met: And you want her/And she wants you/No one, no one, no one ever is to blame.
Without a doubt, the highlight of the evening is the show's finale, when Jones and the band rock out on the upbeat and infectious "Things Can Only Get Better"— Jones' 1985 Top 5 U.S. Billboard pop hit which also crossed over to the R&B charts.
Jones cooly jams out on the keyboard, once again proving his skill as both a singer and musician.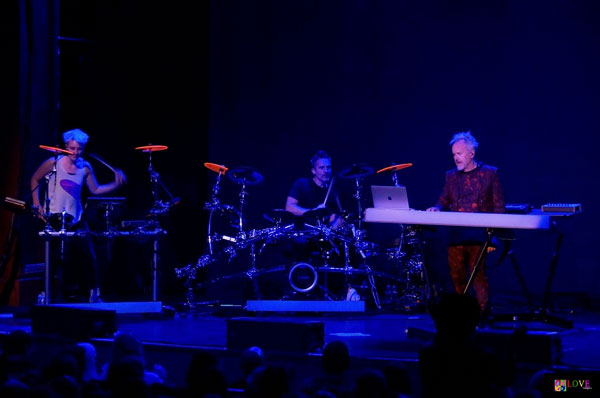 Everyone is up on their feet, moving to the driving synthesized beat and belting out the lyrics that taught an entire generation how to look on the bright side. They joyfully sing along with Jones: And do you feel scared, I do/ But I won't stop and falter/And if we threw it all away/Things can only get better.
As we leave the theatre — still singing this tune now imprinted in our minds — we take a moment to catch up with several audience members and find out what they thought about this evening's performance.
States Steve from Jefferson Township, "Jones is an amazing singer. The evening definitely brought me back to my teenage years." His wife, Adele agrees, adding, "Howard Jones is a talented musician who surely knows how to put on a great show!"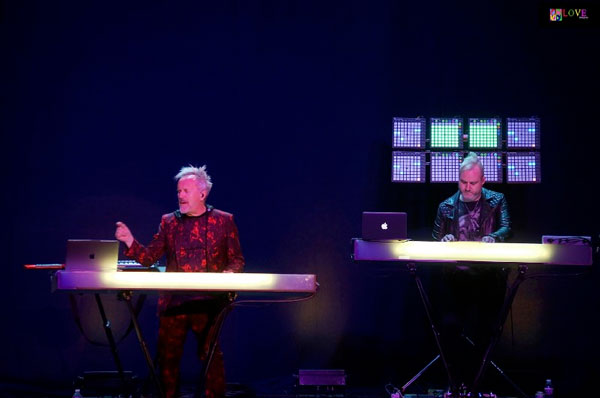 Marian from North Bergen tells us she's a long-time Howard Jones' fan. She reveals she's "always treasured 'No One is to Blame,'" and — as a result — was "delighted to learn he'd be performing here in Newton, NJ."
When asked what she thought of the concert, Marian exclaims, "Howard Jones is still number one! He still has all of the moves of the '80s minus the big hair!"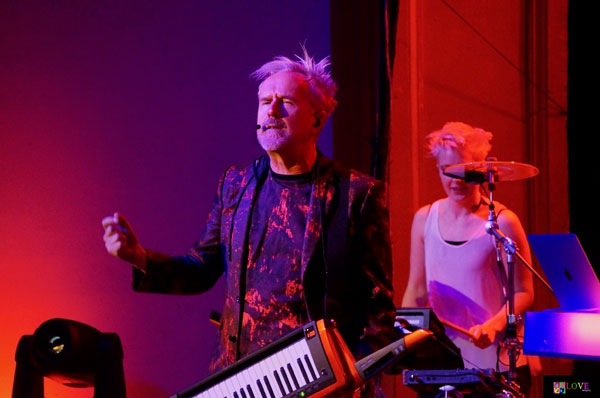 Lastly, we meet up once again with married couple Bob and Marie and ask them what they thought of tonight's show.
Bob states that "I've always like Howard Jones' music, and tonight I could see what a really gifted keyboard player he is." Marie agrees, telling us,"The show was spectacular — I had an amazing time!" before concluding, "It was like going back to the '80s for a night!"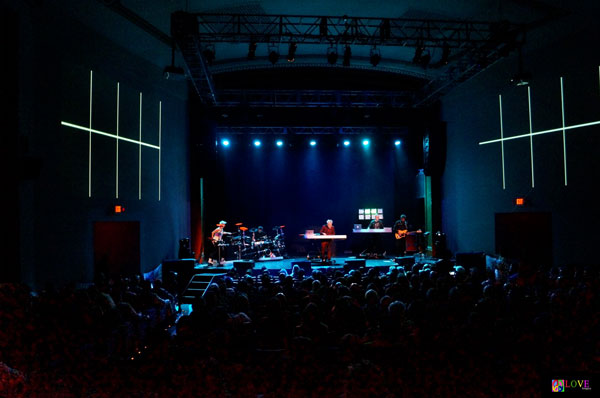 To learn more about Howard Jones, please go to howardjones.com. For information on future concerts at the Newton Theatre — including The Stanley Clarke Band on November 12 and Max Weinberg's Jukebox featuring Glen Burtnick and The Weeklings on December 8— please click on thenewtontheatre.com.