By Gary Wien
originally published: 02/26/2020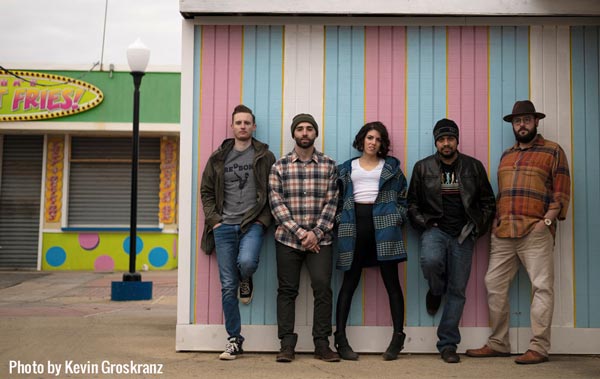 It's rare that a band plays its first gigs in August, releases its first EP in November, and winds up with the Makin Waves Song of the Year ("Don't Call Me Baby"). But that's the story of Honey Wild, a bluesy rock band led by Hana Denson which is comprised of musicians from Central and North Jersey that has been playing shows in New Jersey and New York.
"I started the band with basically a handful of songs that I had written," recalled Hana Denson. "I set up a Craig's List and I found Cristian (Fernandez), my guitarist, first. We found the drummer Russ (Grimm) soon afterwards.
We basically spent a year together before we did a show, just couldn't find the right bass player. People came in and out. We couldn't find a keyboard player we wanted to work with so we decided to go into the studio and put out a demo with some session musicians. Then after that we were able to attract the kind of talent we were looking for. Got ourselves together a little more and here we are."
Fernandez is a veteran of the NJ music scene, having played in several local and touring acts at festivals such as Bamboozle and Warped Tour. Grimm also has years of experience playing with various acts across several genres which helps him produce an eclectic, drum sound.
"I was impressed with Russ and Cristian and the way they worked with me because I anticipated having to bring in a lot of different people," said Denson. "I didn't think I'd get that amount of dedication. When Cristian first came into the band he was like, 'I want to play live' - that was what he was there for. But I think we all knew that in order for us to play the type of shows we wanted to play and attract the kind of band members we wanted we were going to have to put in the time to make the songs what they needed to be. It's like we were all in a rush and getting impatient, but, at the same time, we were all willing to get in there, do the work, and work as hard as we need to until that time came."
---
The article continues after this ad
---
---
The band was rounded out by bassist Michael Notarmaso, and pianist Daniel Rofer. The former has a background with jazz and alt-indie rock bands. The latter is a Brazilian pianist and composer, who studied at EMESP (Sao Paulo State School of Music) in Brazil.
The band's efforts with practice, patience, and determination paid off. When the band played their first show, they had enough material to fill a 40 minute set with mostly originals. Since then they have been able to get gigs at the type of venues they've been looking to play like The Saint in Asbury Park and Muchmore's in Brooklyn; places where original music is appreciated.
What makes Honey Wild's music so interesting is that Denson's own musical tastes are so varied. She grew up in musical theater, became a trained vocalist at the Manhattan School of Music Precollege Division, and has experience with opera, choir, acapella, hard rock, jazz, blues, and pop. This background offers her an extensive palette to work from and songwriting is her main focus right now.
Despite being the co-parent of a 5 year old son, working full-time, and being heavily involved with the band's marketing and bookings, she has challenged herself to write a new song every month.
"Time is always of the essence to me," said Denson. "Lately I've realized how important my music is - maybe even especially as a mom because I think I'm inspiring my son to be creative and ambitious about what he wants. So that's part of the motivation for me. It's definitely challenging to get alone time, but I believe in writing all of the time and not giving myself too much of a lull between creating new songs. I want to always be creating and making new things."
"The spark comes easily," she continues. "I'll be wandering around my day and lyrics or a melody will pop in my head, but that's just the beginning. I always have to have a moment - sometimes weeks or months - where I make myself sit down at the piano and figure out the harmony for the song even if I have the whole melody or all of the lyrics. And then I always make sure I'm going back, editing, revising, and having other people listen to it. It's one percent inspiration and ninety-nine percent perspiration for sure."
She says it can take her a long time to decide on what type of music she wants the song to be. Often she tries to incorporate elements of various genres she loves into a song. And if she notices that anything in the songwriting is becoming too expected for the listener, she will change it and put in a little surprise. The goal is to have no songs sound too much alike and having a background and appreciation for many musical genres helps her with that.
Denson says she hopes Honey Wild can get back into the studio this year to record a single and then return to the studio for another EP. The single will also have a music video shot. The band has the material already for the EP, but needs to find the time, the budget, and the right person to record it. After that, the goal is to keep expanding their tour area and build on the momentum they've already started. It's a band with a plan… one that is working.
---
Gary Wien has been covering the arts since 2001 and has had work published with Jersey Arts, Elmore Magazine, Princeton Magazine, Backstreets and other publications. He is a three-time winner of the Asbury Music Award for Top Music Journalist and the author of Beyond the Palace (the first book on the history of rock and roll in Asbury Park) and Are You Listening? The Top 100 Albums of 2001-2010 by New Jersey Artists. In addition, he runs New Jersey Stage and the online radio station The Penguin Rocks. He can be contacted at gary@newjerseystage.com.
---