By Gary Wien
originally published: 04/24/2018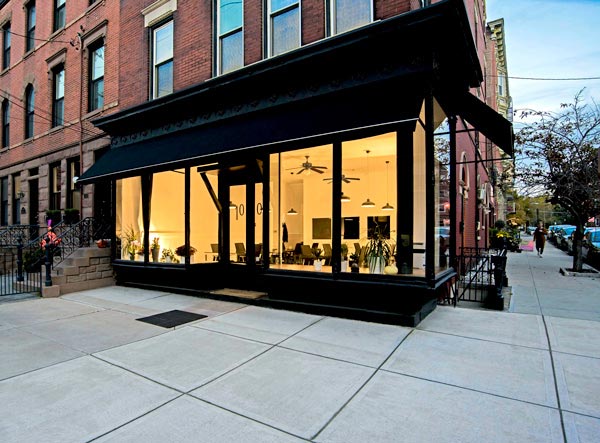 "Every child is an artist. The problem is how to remain an artist once we grow up." -- Pablo Picasso
Throughout history, artists have consistently helped revive downtrodden city areas into vibrant locations, bursting with life. Unfortunately their reward has often been rents too high for the artists to remain in the area.  And so they move out to a new city or area of a city and watch the process repeat.  Aaron Boucher and Laura Vaccarella opened Field Colony in November 2017 to help prevent the cycle from happening to artists in Hoboken.
Field Colony is a boutique co-working space within an art gallery aimed at the creative community in Hoboken. In addition to co-working, the facility offers a series of workshops, classes and lectures with the goal of becoming a community arts hub. 
"While a great city to live in, we recognized that there was a need to support our arts community and local New Jersey artists," explained Laura Vaccarella. "The concept of the venue was to bring together people from different fields into one space to enable new collaborations and to build a destination welcome of new thoughts and ideas."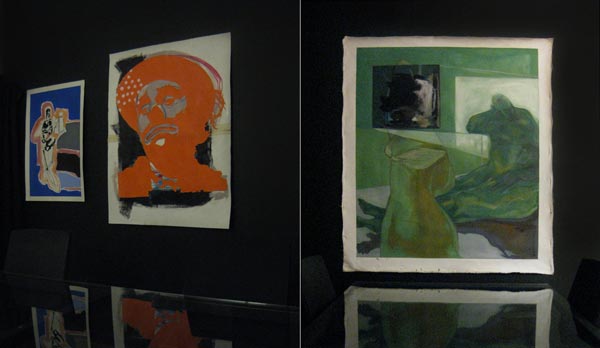 Field Colony held its first exhibition in mid December 2017 featuring works by Hoboken Artists.  The gallery then held a solo exhibit by Walter John Rodriguez, which ran from February to April.  
---
The article continues after this ad
---
---
"The immediate focus is on artists who work in Hudson County with the scope expanding throughout New Jersey," said Vaccarella. "We will next be exhibiting the senior 'capstone' thesis projects from Stevens Institute's School of Visual Arts & Technology at the end of April and immediately after we will open our third art exhibition, a group show, featuring artists working at Mana Contemporary in Jersey City."
Aaron Boucher and Laura Vaccarella met at a mutual friend's barbecue in Brooklyn.  He is originally from Texas, while she is a Jersey girl.  Boucher moved to New York City a little over 13 years ago after finishing graduate school for architecture. He worked primarily on contemporary high-end residential projects for severable notable firms and was living in Bushwick (Brooklyn) when he met Vaccarella. Shortly thereafter, the couple moved to Hoboken together, and Boucher began working at a high-end fabrication company in Jersey City designing and building furniture. 
Boucher had a vision about a decade ago for a multi-media work space, but the recession began before the space was realized. After moving to New Jersey, it became readily apparent that studio space was priced at a premium and the solution for a collective evolved into Field Colony; a space where people who work in creative fields could collaborate in a shared venue.
 "My wife and I first experienced the outstanding art scene in Hoboken eight years ago at an open studio tour featuring the Neumann Leathers Building and the Monroe Center," recalled Boucher.  "It was an amazing experience and one of the aspects of Hoboken that I am most fond of.  I think the art scene in Hoboken is still vibrant but is constantly being diminished with each new development and increasing rents that make it difficult for artists to work and live here. However, there is a resurgence that we are actively taking part in to shine the light on the Hoboken art scene once again."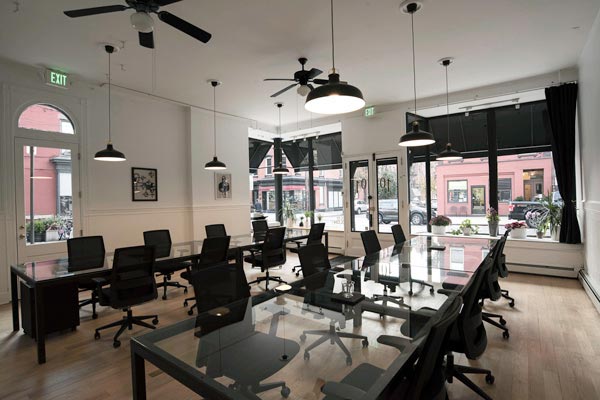 Field Colony does that by being more than just an art gallery. It offers artists a place to work with either open seating for part-time users or dedicated seating for monthly members.  The facility has lounge seating and two conference rooms for private meetings.  All of this is within an art gallery outfitted with modern amenities.
Classes and lectures are also offered by Field Colony.  The schedule is evolving, but currently includes classes in painting, drawing, Adobe Suite, entrepreneur/business workshops, wellness workshops, and panel discussions featuring artists and experts from a variety of fields.  Field Colony is actively searching for new partners to work with who are interested in teaching or hosting workshops to expand their business.  They are primarily focused on adult offerings, but are considering classes for young adults and are open to new ideas.
Their first exhibitions were well-attended by people from Hoboken, Jersey City, and the surrounding areas in Hudson and Bergen counties. Several pieces of artwork were sold among the hundreds of visitors to the gallery.
"Hoboken is not immune to the changes currently occurring with redevelopment and gentrification," continued Boucher. "Two of the largest industrial buildings in Hoboken, the Monroe Center and Neumann Leathers, for decades provided affordable space for a vibrant artist community in Hoboken for those who were priced out of New York City. Those times ended at the Monroe Center after a complete renovation a few years ago resulted with most artists priced out and unable to renew their leases. Some of these artists left in search of affordable studios in Jersey City while the remaining moved into the Neumann Leathers building. However, after years of legal battles, Neumann Building was recently approved for a controversial renovation by the city council that includes an extensive renovation and the addition of luxury residences atop the existing buildings. This will undoubtedly further displace the last major art community in Hoboken and is reminiscent to the exodus that artists in the city experienced in SoHo, Chelsea, the East Village, Williamsburg, and now in Bushwick." 
 "We believe that the strength of a city lies in the strength of its artist community," said Boucher. "Neighboring Jersey City has a vibrant art scene in no small part due to the administration that actively supports the arts. One solution for the city of Hoboken is to establish a fund that provides grants for artists to enable them to cover their ever-increasing rents. Field Colony is another solution by providing affordable studio and gallery space to promote and encourage learning and practice in the arts and design. Our vision includes further expansion to more completely compliment the spatial needs of artists and entrepreneurs and to provide a venue that strengthens the community support for the arts in the region."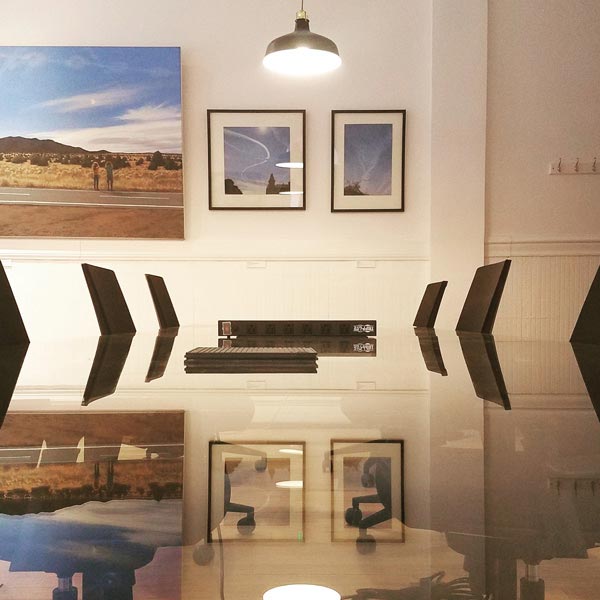 Field Colony is located at 1001 Bloomfield Street in Hoboken NJ
---
Some other new developments they have in the works include:
"Curate the Night"  - In partnership with Ricardo Roig and Al Barsky, both of whom have galleries in Hoboken, Field Colony will host a monthly ticketed tour where patrons are transported across town to all three galleries in private coaches narrated by a guide. At each space, patrons will spend time viewing the art while sipping on libations and nibbling on small plates before moving to the next gallery. The first event is scheduled for Wednesday, May 9. See www.curatethenight.com for more information.
---
Hoboken Restaurant Affiliation  - While you can rent part or the entirety of Field Colony for meetings and private events, the facility has just partnered with Anthony Pino, the owner of two highly regarded restaurants (Anthony David's and Bin 14) in Hoboken. This partnership will transform Field Colony into an intimate setting for private dinners catered by Anthony David's located right across the street and allow for his larger parties to experience his impeccable platings within Field Colony's refined interiors graced by the art from the current exhibition.
---
Hoboken Arts & Music Festival - Field Colony is working on building a calendar of events to hand out to visitors at festival. They are also planning an impromptu event at Field Colony the same day that will introduce festival goers to the venue and take part in a special workshop that offers introductions to art, their classes, and the events they host.
---
Gary Wien has been covering the arts since 2001 and has had work published with Jersey Arts, Elmore Magazine, Princeton Magazine, Backstreets and other publications. He is a three-time winner of the Asbury Music Award for Top Music Journalist and the author of Beyond the Palace (the first book on the history of rock and roll in Asbury Park) and Are You Listening? The Top 100 Albums of 2001-2010 by New Jersey Artists. In addition, he runs New Jersey Stage and the online radio station The Penguin Rocks. He can be contacted at gary@newjerseystage.com.
---