originally published: 11/09/2017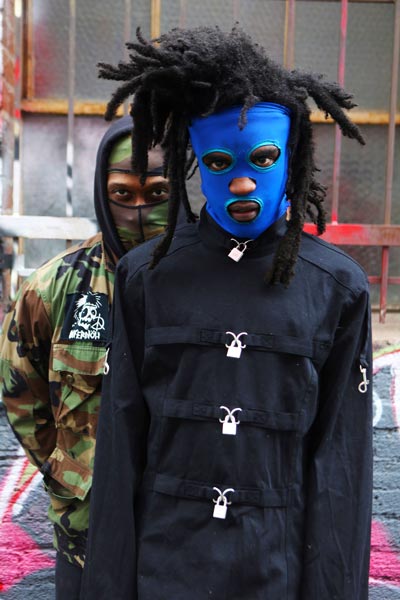 (JERSEY CITY, NJ) -- In their last state-side show before kicking off a major European tour,  the hip-hop phenomenon Ho99o9 (pronounced Horror and also known as HO99O9 DEATH KULT) plays White Eagle Hall in Jersey City on Wednesday, November 22 at 9:00pm.  Opening the night is Pink Mass, GDP, and The Bennys.
Ho99o9  songs feature apolitical and dystopian horror imagery, combining dark experimental hip-hop with the aggression of hardcore punk. The White Eagle Hall gig is a homecoming of sorts for Ho99o9. The group was founded in New Jersey by  theOGM, who grew up in Elizabeth and Linden, and Eaddy – raised in Newark and Union. But to find success they headed west. The duo relocated to Los Angeles in 2014, where a series of incendiary performances attracted an enthusiastic cult-following and the notice of critics, who raved about their blending of diverse musical genres. LA Weekly to declare: "Their music features noise and rap, but their anti-establishment, post-conformist ethos is 100 percent punk rock."
Rolling Stone named Ho99o9 as one of the "10 New Artists You Need to Know" and The Guardian named Ho99o9 as "New Band of the Week." The band also performed at the Afropunk Festival and the SXSW Music Festival, a show described by Jon Pareles of the New York Times as "… at SXSW, Ho99o9 was a welcome charge of adrenaline."
Ho99o9 has toured extensively in the U.K. and Europe, including a high-profile gigs at the Reading and Leads music festivals. About their grindhouse ethos, music eclecticism and multinational fan-base, an official bio from the band says "The first spores of Ho99o9 were identified by the CDC's infectious disease unit in the outsourced offices of purgatory that are peppered all throughout New Jersey in places like Linden, Elizabeth and Newark… A congregation gathered in a scene of like-minded mutants and L.A. quickly became the HQ of Ho99o9.  More minions manifest with Horror spores started spreading all throughout North America and the European Union - a pandemic of fools gettin' woke as the fringe becomes the majority."
After well-received Eps – Mutant Freax and Horrors of 1999 – Ho99o9 released their first-full length album, the United States of Horror, in May. The new songs may be more political, but the band's motifs of mayhem, gore and horror have never been more cutting. As Pitchfork raved, "Ho99o9 see a party in the West's spiral towards oblivion—and United States of Horror is a compelling invitation."
---
The article continues after this ad
---
---
Opening for Ho99o9 are Pink Mass, a hard-care band from Montclair who are self-described as "militant necrosexual satanic hedonists," GDP (the stage name for Matthew Miller), hip-hop artist from West Orange, and The Benny's, a New Jersey-based Rock & Roll band.
Originally constructed in 1910, the newly restored White Eagle Hall is an impressive new venue for arts and entertainment, including concerts, theater, performances and other events in the New York/New Jersey Metropolitan area. White Eagle Hall features complete food & beverage service, with two bars on the mezzanine level and one on the balcony level. The restoration enhanced the intimacy and charm of this historic venue while adding the latest in sound and lighting technology, creating a distinctive and memorable audience experience.
White Eagle Hall is located at 335-337 Newark Avenue in Jersey City, New Jersey.