By Gary Wien
originally published: 04/26/2017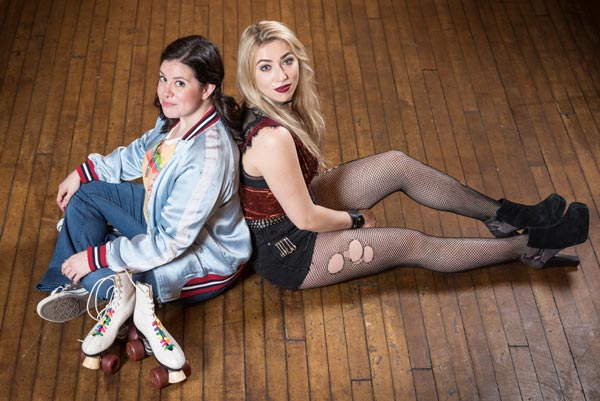 "It was a time when we had our differences, but when it all came down to it you got out on that floor, whether it be the dance floor or the roller rink floor, and all of the difference melted away and we'd just come together and have fun," said Christine Rea, who wrote Hit Her with the Skates with her husband Rick Briskin.
Hit Her with the Skates is a musical that will have its World Premiere May 12-27 at Hamilton Stage in Rahway, NJ.  This is a major step in the development of any play, but even more so for a musical.  The play has been in development since its 2009 with a few (public and private)  staged readings along the way bringing it to this point.
The story deals with Jacqueline Miller, a rock star who is headlining her first national tour and returning for a hometown concert at Windy City Skates in 1994. When complications hit her head on, Jacqueline comes face-to-face with her 12-year-old self and all the things she learned during the golden age of the roller rink in 1977.  From the wisdom of the Ouija Board to the power of Smarties candy, Hit Her with the Skates is a coming-of-age story of becoming wiser and feeling sure of yourself, while exploring the magic and hope of finding your one true love.
And with plenty of music…
"I chose 1977 to specifically set the past because musically it was such a wonderful mixture of popular mixture," said Rea.  "You had the disco stuff going on, but you had R&B, hard rock and classic rock, and country.  There was just a wonderful mix of popular music at that time.  So, the show itself is not about the roller rink, it's more about the worlds that collided at the roller rink.  We don't live at the roller rink, we meet the family and the friends of Jacqueline as we course through the action.  And it harkens back to that nostalgic period of time."
---
The article continues after this ad
---
---
The play was inspired by a moment in time that has always stuck with Rea.  She was 13 years old and the student body class treasurer with a skating party planned for the student body.  Even though she has grown up going to the skating rink every Saturday for years, she did not want to go to the party.  Rea had a bad feeling that something was going to go wrong.  The rink attracted a mix of kids from throughout the Chicago area where she lived.  Within that mix were kids who would make things a bit rough in the rink.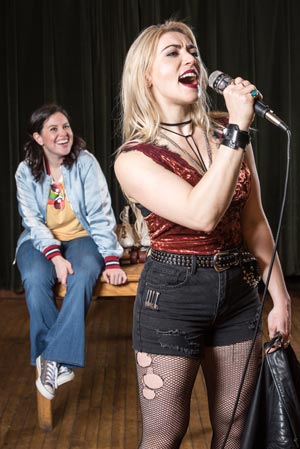 "Bad things always happen at the rink," she told her sponsor.  But her sponsor said that as treasurer, she had to go.  Sure enough, something bad did happen.
"It was a surreal thing," recalled Rea.  "But it was just a random thing, me defending a friend of mine and this crazy girl picking a fight with me.  It unfolds similarly in the show where she literally slapped me across the face in front of a huge crowd.  Then I let loose on her! I just sort of knew it was going to happen.  I was doing everything in my power to keep it from happening, but she crossed the line!"
The play takes a look at what might happen when a 29-year-old women who seeks advice and the wisdom of herself back when she was a confident young girl.  "At its core, it asks the question: What would my 12-year-old self think of the choices I've made as an adult? As you course through life there are times where you feel lost at sea and you're wondering why the heck did I do that? How did I find myself in this situation? And you think back to times in your life when you were very sure of yourself and you didn't question… you just did.  So, Jacquelyn is that grounding.  She really knew who she was when she was an awkward adolescent.  She is now finding her way back to her core - her center.  She's realigning back with her authentic self."
Hit Her with the Skates has assembled a great cast for the production.  The cast includes John Treacy Egan (Broadway: Nice Work If You Can Get It, Producers); Madeline Fansler (NYC: Dogfight, Regional: Rent, Chicago), Kyle Jurassic (Regional: Million Dollar Quartet, Rock of Ages); Heather Patterson King (Tour: Mama Mia); Kristin Piacentile (Lost in Love: The Air Supply Musical); Andy Savage (Regional: West Side Story, A Little Night Music); Matthew Schatz (NY: Heathers: The Musical); Kelsey Stalter (National Tour: Teacher From the Black Lagoon); Amy Toporek (National/International Tour: Hairspray, Regional: The Marvelous Wonderettes); and Chris Walker (Regional: The Wiz, Aida). The production is directed by Michael Schiralli with musical direction by Brandon Ethridge and choreography by Gina Ventura.
This isn't the first time Rea has collaborated with her husband. The couple, who lives in Hawthorne, first met while working on a project together.  Rea had been out on the road doing a tour of Tommy and wanted to get an album of hers produced.  A mutual friend suggest Rick as the producer and the two of them got together to discuss the project.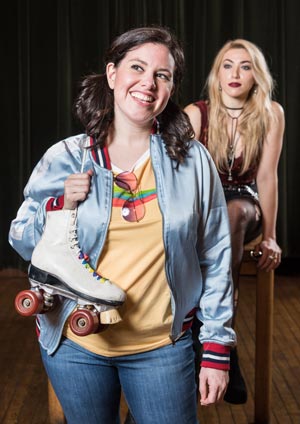 "He talked his way out of doing the album and asked me out on a date," recalled Rea.  "Later on we collaborated on it.  He's like, 'You're no dummy.  You knew I'd do it for free if you went out with me!' But Hit Her with the Skates was the first time writing musical theatre together."
Rea knew husband was perfect for the project because he understands all of the different genres in the show. She was able to simply describe the character and give Rick an idea of what type of musical signature she envisioned and he knew exactly what to come up with whether it was genres as varied as doo-wop or punk rock or disco.
"That's what I loved as a kid in 1979 going to the rink," said Rea.  "You could be out on the floor dancing to a Bee Gee's tune and the next song was from the Ohio Players.  The same people who were dancing to the disco tune would be slow dancing to 'Beth' by Kiss.  There was something great about this time in U.S. history."
The show has steadily moved forward since Rea invited some friends to her living room to hear the play read for the first time.  Each reading helped them learn a bit more about the play, tweak it, and see how it worked with a revision.  After the play's last industry reading last year, they knew that it had come as far as it could go.  It needed to be staged to move forward on the path to its goal of a Broadway run.
"I think understanding exactly what the ultimate goal is and remaining flexible as to how to get to that place is the key," explained Rea.  "There are a million different developmental pathways that a play or a musical can take.  Remaining in tune to what this particular piece requires - for example, there's no skating in the show and the movement is a big piece of this.  It's something you can't get there by doing a reading.  There are things for this piece that we're not going to discover and we're not going to develop upon without having the play be up on its feet."
"I'm thrilled to be doing this in New Jersey," continued Rea.  "We did an evening at Feinstein's/54 Below in the city and a number of people asked me 'Where is Hamilton Stage?' My response to all of them (fellow producers) was 'You're going to come out and you're going to see this and wonder why all of your productions aren't started there!'"
The play is described as Grease meets Hairspray with a sprinkle of Xanadu.  This pre-New York developmental run is your chance to see a future Broadway musical in the Garden State.  The show runs May 12-27 at Hamilton Stage at Union County Performing Arts Center in Rahway.  Tickets are $25 and may be purchased at www.hhwts.com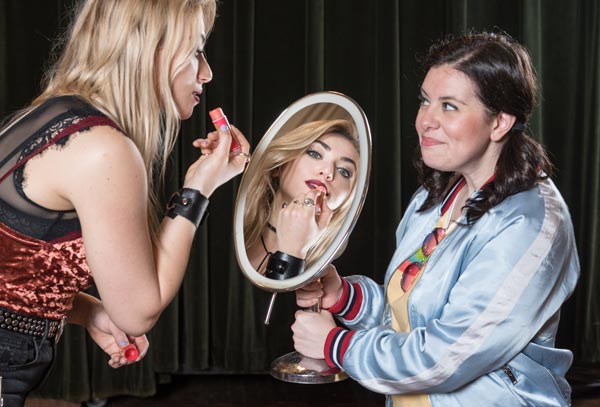 All Photos © Russ Rowland
---
Gary Wien has been covering the arts since 2001 and has had work published with Jersey Arts, Elmore Magazine, Princeton Magazine, Backstreets and other publications. He is a three-time winner of the Asbury Music Award for Top Music Journalist and the author of Beyond the Palace (the first book on the history of rock and roll in Asbury Park) and Are You Listening? The Top 100 Albums of 2001-2010 by New Jersey Artists. In addition, he runs New Jersey Stage and the online radio station The Penguin Rocks. He can be contacted at gary@newjerseystage.com.
---