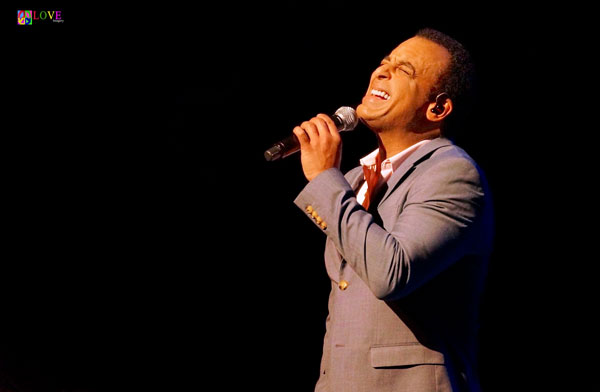 Singer/songwriter Jon Secada was born in Havana, Cuba, but emigrated with his parents to the United States at the age of twelve after previously living in Spain. As a teen, Secada discovered his gift for music after being exposed to a variety of styles and genres including salsa, merengue, R&B, and pop.
In the '80s, Secada was hired by Gloria Estefan as a background singer for her group, The Miami Sound Machine. He also started composing songs for Estefan including her hit, "Coming Out of the Dark." During her Into the Light World Tour, Estefan gave Secada an opportunity to be featured on stage, a fortuitous break which launched his career as a solo performer.
In 1991, Secada released his debut album, Jon Secada, which sold over six million copies worldwide and was certified triple platinum in the United States. His second album, Heart, Soul, & a Voice — which featured members of the Miami Sound Machine backing him up — also went platinum in the U.S.
Secada went on to write songs for Ricky Martin and Jennifer Lopez. He also recorded with artists like Mandy Moore and Enrique Iglesias, in addition to performing with such luminaries as Luciano Pavarotti and Frank Sinatra.
In the '90s, Secada starred in the hit Broadway musical Grease, and in the 2000s performed in revivals of Cabaret and Joseph and the Amazing Technicolor Dreamcoat.
---
The article continues after this ad
---
---
On June 3, 2011, the community of Union City, NJ, honored Secada with a star on their Walk of Fame at Celia Cruz Plaza, and on Saturday, February 24, 2018, Secada returned the favor by giving a special performance for his New Jersey legion of fans at the Union County Performing Arts Center in Rahway!
We arrive early at the historic UCPAC where me meet executive director Brian Remo. Remo takes us backstage to chat with several Jon Secada band members, notably Secada's talented drummer David Chiverton.
Chiverton, who hails from Miami, FL, tells us he's been performing with Secada for four years, revealing, "To be a part of this band is surreal — to be with someone who is a three-time Grammy winner is a blessing and amazing — just a great opportunity!"
In discussing tonight's concert, Chiverton describes Secada's band exclaiming, "It's like the Miami Sound Machine — you'll feel the force tonight!"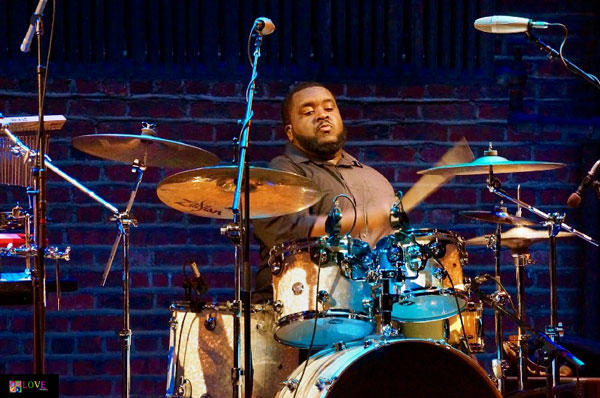 Explaining that, as the drummer, his job is to "keep everything together," he also goes on to note that, with the help of his percussionist, Tony Succar, the pair works together to "make sure everybody else in the band is comfortable" singing and playing.
When asked about performing here in the Garden State, Chiverton remarks, "I've never been to Rahway before, but everybody here is straightforward and super helpful," before concluding, "and I just love this theater — the sound here is incredible!"
We make our way into the beautiful UCPAC auditorium where Brian Remo welcomes the excited crowd and introduces Jon Secada and his band.
The lights come up and the members of the group — Josh Lawrence and Kiku Collins on trumpet, David Gibson on trombone, Anibal Rojas on woodwinds, Camilo Velandia on guitar, Eric England on bass, Tony Succar on percussion, David Chiverton on drums, and musical director Peter Wallace on keyboards — take the stage before Secada makes his entrance to applause and cheers!
Opening with the infectious "Do You Believe in Us," the band rocks the house on this upbeat dance number, the crowd screaming for Secada whose voice sounds even better than it does on his recordings — full and rich, with lots of energy!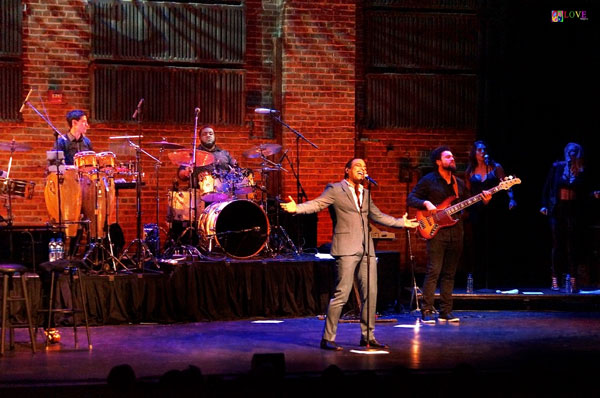 Thanking the crowd for their spirited response, Secada says, "This is my first time performing at UCPAC, and I hope it won't be the last. Get ready for all kinds of music tonight!"
Introducing a number from his self-titled first album, Secada says that his next song was "inspired by my father's advice," adding, "I try to live like the words of this song."
Launching into the spiritual and inspirational "I'm Free," Secada's band and background singers provide deft support as Secada sings, "'Cause I'm free, I'm free/And things are only as important as I want them to be/We'll have a breath of sunshine/When the rain goes away I pray, I pray, yeah."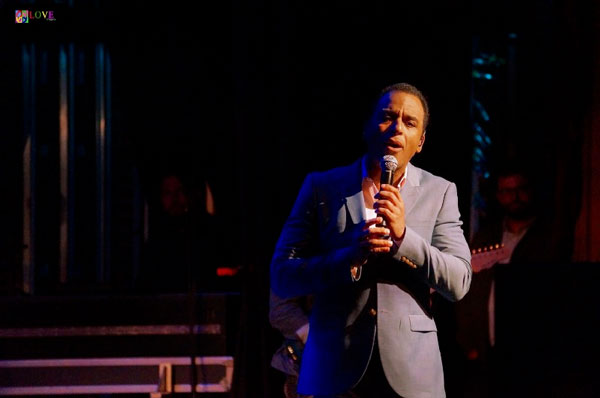 As the musicians perform onstage, audience members clap along to the beat of this pop ballad with a message, rising to their feet at the end!
Saying, "It's great to be home! When my career first started, I was here to conquer this part of the country — and to earn your love and respect means so much to me," Secada elicits cheers and applause from the crowd.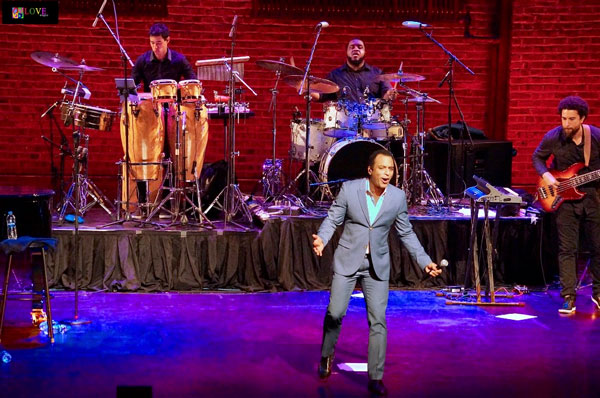 Secada goes on to reveal, "Last year, I celebrated 25 years since the release of my first CD by recording a tribute album to the first mambo singer, Benny Moré — which won a Grammy." Announcing, "I'm going to take you back to the golden era of the '40s and '50s," he performs his own rendition of Moré's "Bonita y Sabrosa." As spotlights bounce over the stage, percussive rhythms dance around Secada's sultry lead vocal as he croons in Spanish on this classic mambo number.
Following appreciative applause, Secada says, "I've done a lot of duets in my career. We were able to get an original recording of Benny Moré and we took his voice and added it to our recording." Launching into another number in Spanish — the bossa nova-like "Como Fue" — Secada's smooth live vocal contrasts nicely with Benny's pointed pre-recorded voice track.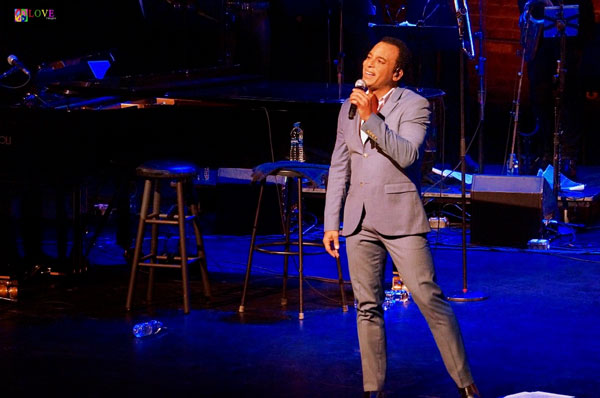 Moving on to an audience favorite from his debut album, Secada and the band perform "Angel." Following a lovely Peter Wallace piano intro, Secada's voice is powerful and moving as he sings with his whole body, "And, baby I/ I've tried to forget you/But the light of your eyes still/Shines, you shine like an angel."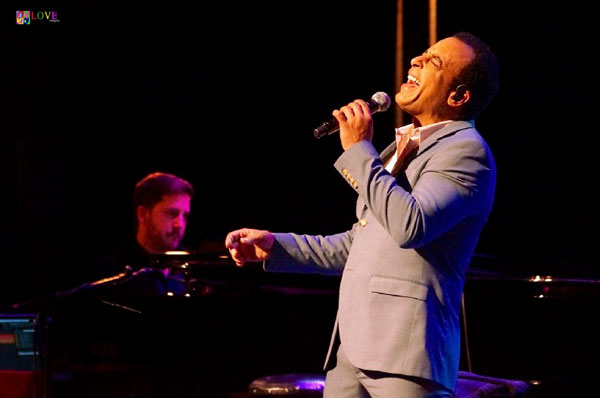 Baring his soul with his voice, Secada is supported by an electrifying Camilo Velandia guitar solo. The rest of the band members play off each other's energy and talent to make this number shine as the audience sings along in time.
After huge applause, Secada says, "Songs like 'Angel' — from early in my career — are special, and doing Sinatra's Duets II was a big part of that. I got a call from Frank Sinatra saying he wanted to do a duet with me. He was a legend — an icon," before exclaiming, "I studied him!"
Playing a snippet of the Duets II recording for the crowd, Sinatra's voice and presence fills the theater before Secada and his musicians seamlessly segue into a live version of the song in big band style. Here, they demonstrate their versatility and musicianship while showing Secada to be a class act in yet another musical genre.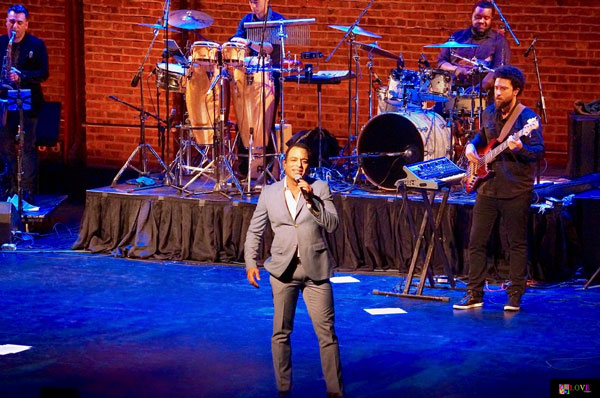 Announcing, "I went to Broadway for two shows — first playing a Cuban Danny Zuko in Grease and then The Emcee in Cabaret," Secada acknowledges that performing in Cabaret was "difficult in every way and changed my career as an entertainer."
Secada takes off his jacket and rolls up his sleeves as the band vamps and the audience claps along. Loosening up his arms, Secada's body and voice transform before the audience's eyes into the character of The Emcee.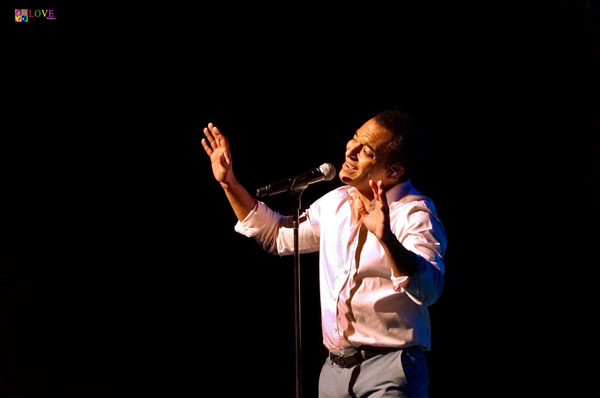 The crowd adores his energetic and theatrical version of "Willkommen," which he follows up with a slow version of "Cabaret."
After cheers and applause, the band offers up a hip-hop beat to a lively song from Secada's second album, Heart, Soul, & a Voice, entitled "Whipped." The backup singers rock out to Secada's dynamic lead on this catchy number as spotlights circle around the brick wall behind the band.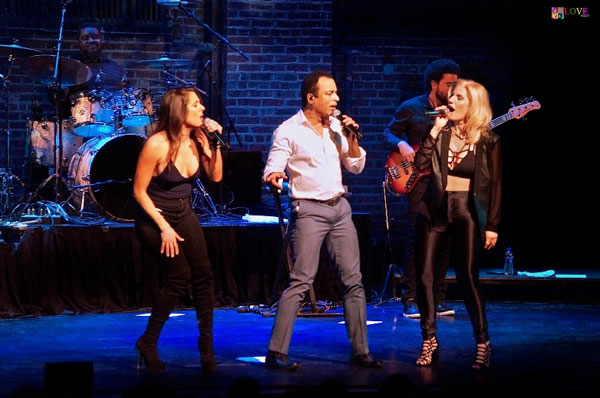 Sequeing into Michael Jackson's "Human Nature," the band pauses as Secada physically and emotionally reaches out to his audience, adding to the drama of this dynamic pop classic.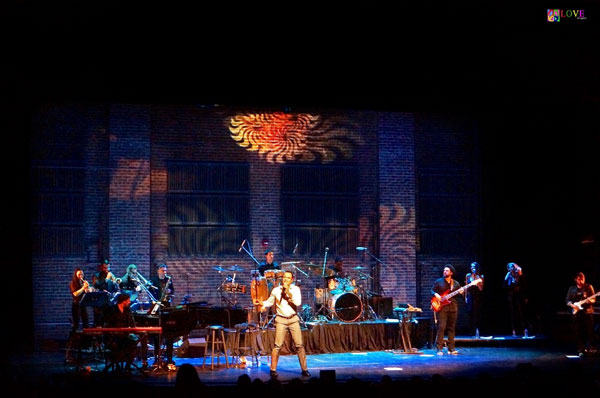 Revealing, "When I was on tour with Gloria Estefan, every night, she gave me three and a half minutes of time on her stage, allowing me to sing this next song by myself."
Here, Secada performs the powerful "Always Something." Demonstrating his vocal prowess and range, Secada dances across the stage as he sings this bouncy number. The tight horn section punctuates the rhythms of the drums and percussion as keyboard, guitar, and bass rock out on this potent pop tune.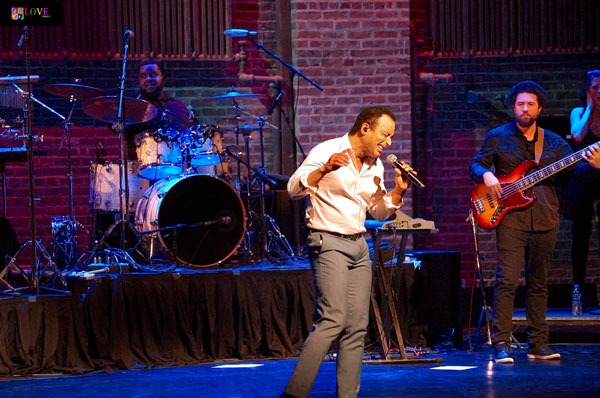 Spotlighting his backup singers, Secada invites them downstage. Here, they perform a medley of Gloria Estefan and the Miami Sound Machine tunes as Secada takes leave of the stage, starting off with the popular "Conga."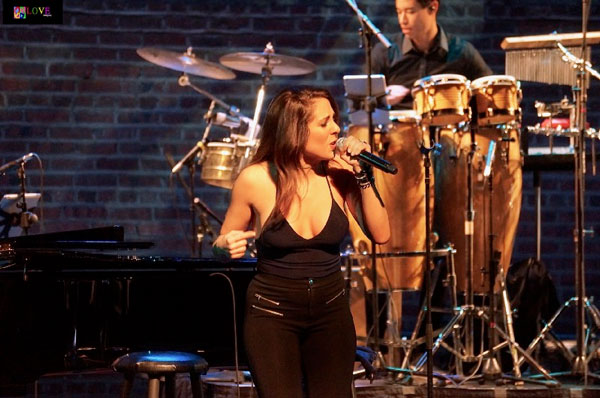 After introducing the band, the backup singers segue into the rhythmic "Get On Your Feet" where they invite the entire UCPAC audience to get on their feet as everyone sings and dances!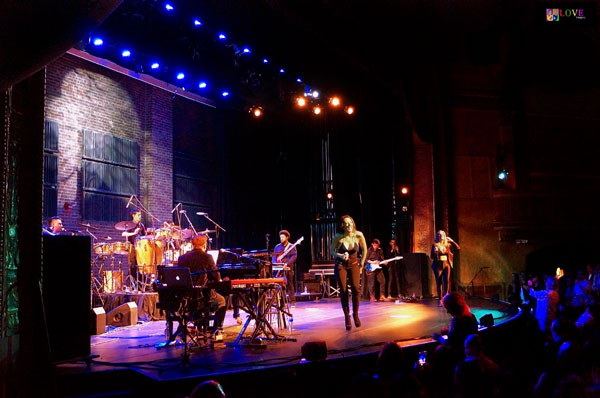 Following tremendous applause, Secada returns to the stage to perform a slow, pretty ballad entitled "Mental Picture," an emotional song featuring just voice and piano.
Moving on to a number which Secada refers to as "my first #1 song as a songwriter," he adds," I wrote this with Gloria Estefan during a tough time in her life." On this tune — which also only features voice and piano — he performs a poignant and heartfelt rendition of "Coming Out of the Dark," accompanied by Peter Wallace.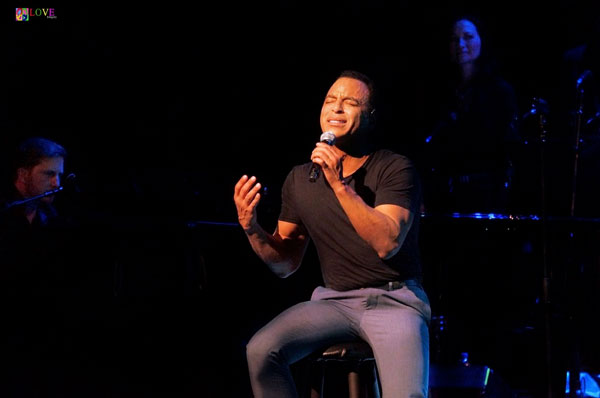 Secada tells a story about how he wrote his next number for himself, but his friend, Ricky Martin, loved it and wanted to record it so much that Secada allowed him to do just that. According to Secada, Martin went on to make it a #1 hit.
Starting with piano — before the band joins in on this ballad — Secada performs "She's All," demonstrating his vocal chops and power as he wails on the song to audience whistles and cheers.
Electronic bass introduces the next number, "One of a Kind," before the funk ensues and Secada enters crooning, "Our love is one of a kind/Make no mistake/Make no mistake."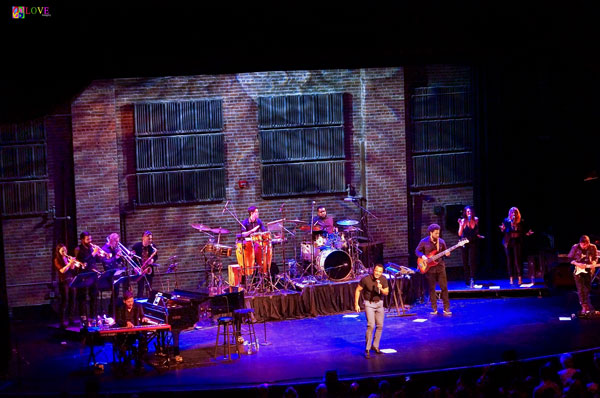 The sax screams on this catchy tune and the band builds and wanes before the song ends — just as it began — with a singular bass line.
Moving on to a slow story song, Secada and the band perform "Too Late, Too Soon," where lush background singing supports Secada's heartfelt lead vocal.
For the final selection of the evening, synthesizers and percussive rhythm guitar rule on the techno-pop tune, "If You Go." Secada moves to the music as he sings, and audience members spontaneously wave their phone flashlights in the air as Jon's voice captures their hearts.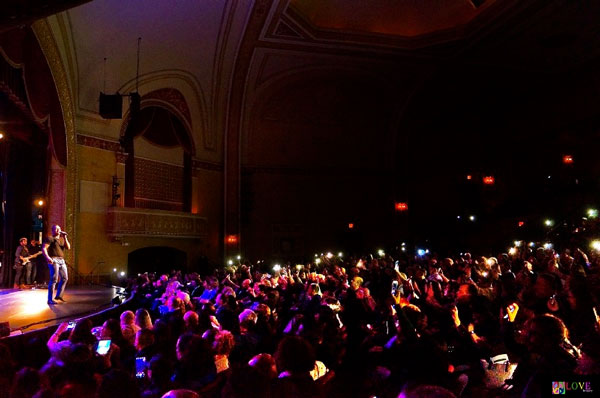 Even before the song has concluded, audience members are standing, cheering, and waving Cuban flags!
Taking leave of the stage, Secada returns to perform an encore, his mega-hit "Just Another Day," where he invites everyone to sing along — and they do!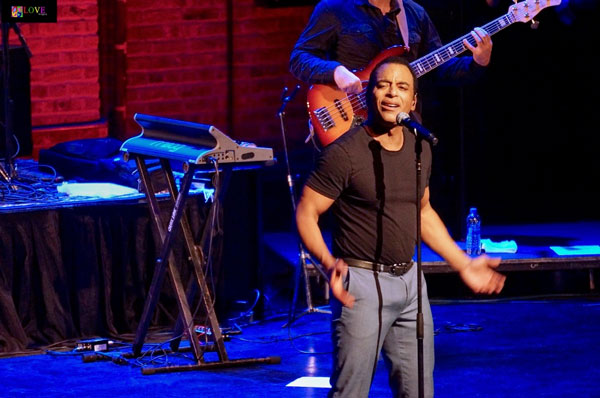 Standing, clapping, singing, and dancing, the entire audience not only connects with the song's infectious beat, but with Secada's irresistible charm.
At the show's conclusion, we take a moment to chat with several members of the audience who share their thoughts regarding this special performance by Jon Secada.
Comments Joanna from Colonia, "It was really amazing! It was both beautiful and emotional."
Jun from Piscataway remarks, "We enjoyed it," and Amy from Piscataway agrees adding, "My favorite was the last song — 'Just Another Day' — I was waiting for that, and it was worth the wait!"
Veronica from Perth Amboy — one of the audience members who waved a Cuban flag on "If You Go" — says, "Tonight was awesome! I first saw Jon Secada 20 years ago — he's unbelievable," noting, "He's very entertaining, yet extremely humble."
Likewise, Anita from Elizabeth, recalls, "I first saw him 20 years ago at Radio City Music Hall. It was exciting and nostalgic to see him again tonight!"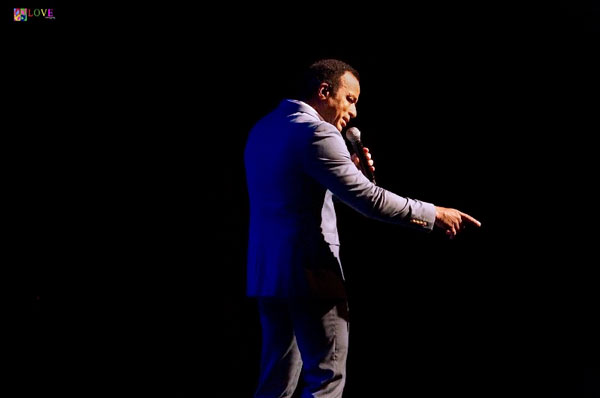 Susan from Mt. Laurel calls Jon Secada's performance this evening "Awesome," revealing, "My family and I have seen him many times — the first time in 1996 in Atlantic City."
Adding, "I like how he covered so many different songs," Susan says, "but I'd have to admit, 'I'm Free' is my favorite. I listen to it every day. It even came on my alarm clock radio on the morning of my wedding day!"
Disclosing, "I brought my husband, my kids, and my best friend and her daughter with me to tonight's concert," Susan further acknowledges, "We are all big fans — we've met Jon before, and he and his wife are two of the most down-to-earth and talented people we've ever met."
Susan's daughter, Nicola, agrees with her mom before chiming in, "And he sounds just as good as when we saw his show in 2010."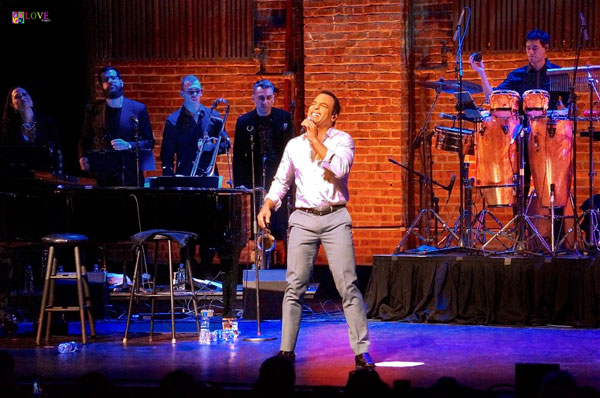 Susan's son, Peter, concurs, commenting, "Personally, I like how Jon Secada is able to combine all different kinds of music," adding, "and even when he sings in Spanish, I can still enjoy it, even though I might not understand the lyrics."
Whereas Susan's friend, Lisa from Pennsauken, calls Secada "an amazing singer," her daughter, Alyssa, says, "I know — and enjoy — his music from my mom playing it."
Lastly, Susan's husband, Glenn, sums up his feelings about tonight's show — not to mention a lifetime of concert memories — with four simple words when he states about Jon Secada: "His passion never diminishes."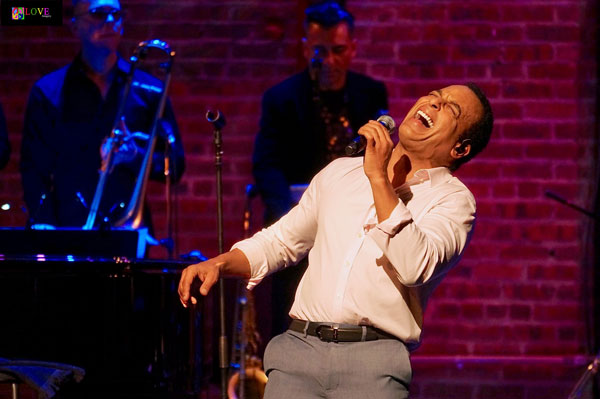 To learn more about Jon Secada, please go to jonsecada.com. For information about upcoming performances at UCPAC — including Footloose on March 15, 16, and 17; Dream Theater Productions' presentaton of Mamma Mia on March 23; and hip-hop trailblazers Arrested Development on April 14 — please click on ucpac.org.
Photos by Love Imagery
Spotlight Central. Your source for Jersey entertainment news and reviews
Love Imagery Fine Art Photography. all you need. peace/love/flower/power