By Gary Wien
originally published: 09/27/2018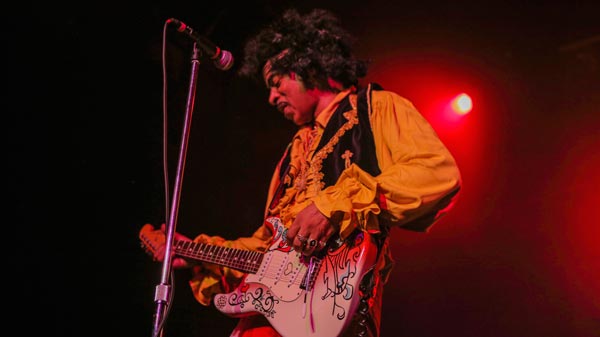 Imagine getting to see Jimi Hendrix and Eric Clapton perform on the same night? That's physically impossible, but the next best thing will take place on Saturday, October 13th when Monmouth University presents Kiss The Sky and Heavy Cream - two tribute bands that do all they can to provide the most authentic concerts around.
Kiss The Sky is led by Jimy Bleu, a man who has been performing Hendrix songs since Jimi was still alive. In fact, as a teenager, he once asked Jimi to come to one of his gigs. As an original artist, he once was signed to Columbia Records and still performs with his own funk rock and soul band.
The Hendrix band is backed by world-class touring musicians from the New York City metro area who have recorded and performed with artists such as Pearl Jam, Aretha Franklin, Teddy Pendergrass, James Cotton, John Mayall, Billy Joel, Lady Gaga, LL Cool J and more.
At this performance Heavy Cream will feature as Eric Clapton, Broadway star JT Curtis formerly of the show "Let It Be".
New Jersey Stage had a chance to talk with Jimy Bleu about the show, Jimi's legacy, and what it's like to perform Hendrix songs for nearly twice as long as Hendrix was actually alive.
---
The article continues after this ad
---
---
In classical music, symphonies have performed the works of composers like Bach and Mozart for hundreds of years. In the last 15 years, it seems like tribute bands in the rock and roll world are becoming more prominent.
Yes, but it's not the first time. In the early 90's, I was part of a documentary for MTV and they were talking about the resurgence of tribute bands. I think it periodically happens. Hopefully it sticks around for a while, but there is a big resurgence now. I think people are starting to see the value of tribute bands whereas before people used to be like, 'Aw, it's a tribute band' but what's happening now is they're going to see the actual bands and are very disappointed. That's what I hear a lot. Yet, when they go to see a tribute band who's playing for their lives, it's a different energy.
It's like you're seeing a band at their best rather than seeing somebody going through the motions.
Great point. I couldn't have said it better.
Does your show stay the same each night or does it change?
Oh yeah, it definitely changes each venue and each show because of the audience. We make sure we do the regular hits, but it changes.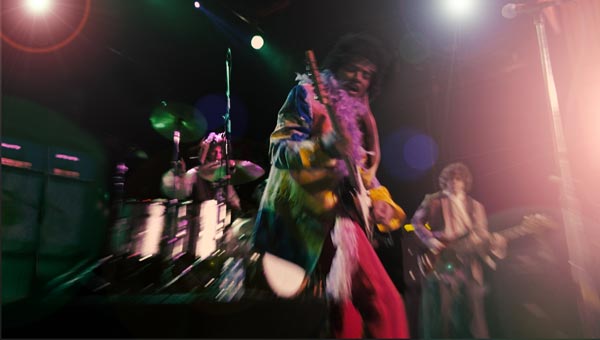 Have you done shows with Heavy Cream before?
Yes, we've been doing quite a few of them. A lot of people want that package and it's great because you're getting to see a real Eric Clapton guy and a real Hendrix guy.
It's pretty cool that your show tries to replicate everything from the clothing to the music and the light shows. How important is being authentic to the show?
It's very important considering that two movies have been done on Jimi that reflect nothing - understand that I'm emphasizing the word nothing - about what this guy was about musically. They get into this history somewhat, but musically people would come away from those movies with no kind of idea what this guy was about. So, it's very important what we're doing because not even his family and estate are doing something like this.
What you're getting is the real deal. You're getting Jimi Hendrix from even before he made it until he died. All of his iconic concerts, which actually he wasn't even able to pull off - maybe he would have if he had been able to have more time. But he wasn't even able to represent all of the periods in his life.
You've been playing Hendrix songs for a very long time. What originally inspired you to create a tribute band?
I was in his fan club and we got Jimi to speak at our high school (School of Performing Arts in New York City). Everything just led from there. Once I start getting into him a little bit more, I figured I would have to do the show. And then he died. I'm like, 'Ok, that's not going to stop me.' And this is my 50th year!
So you started playing his music while he was still alive?
Oh yeah. Matter of fact in November 1968 - just after the Electric Ladyland album - is when I formally did it. We were all sitting on the steps of the Performing Arts. Buddy Miles and Jimi were there with a couple of members of the fan club. I tried to impress him. I was 14 or 15. I'm like, 'I've got this gig coming up in the Village.' I was actually playing for free.
I'm trying to talk out loud so he can hear and he turned my way. He looked at me and said, "Oh really? What songs are you doing?" I said, "I'm going to do Purple Haze, Fire…" and then he put his hand out to stop me from talking and he said, "When you do you, I'll come and see you play." That was the most profound thing anybody's ever said to me.
Is doing a show like Kiss The Sky draining?
We do the different time periods. Let's say we're doing a show and we're doing Monterrey Pop, the Band of Gypsies, and closing the show with the greatest hits. That's three different sets and I don't leave the stage unless it's to change clothes. So there's different musicians in each set, but I'm carrying it through the whole way. I am kind of tired after the concert, but while I'm playing it's important for us to do this and it's important for people to see how Jimi did it with no little tricks. We're not playing with you here. When you're up front and seeing what this guy did with a guitar, you come to appreciate him more.
Do ever get lost in the moment?
No, because it's very spiritual. I'm very present to what I'm doing and Jimi emphasized that. A lot of people don't realize that before he died, he was very spiritual and getting more into spirituality. He emphasized that with us.
Do you ever think where he might have gone with future albums?
Oh yeah, and you get an idea on the stuff released right after he died. But you have to keep in mind he was hassled not only from bad management but from the government. What he was doing was race mixing. That was a no no back then. I mean, it's a no no now, so you can imagine what it was like back then. He was hassled so much. Maybe if he would have been left alone then it would have been skies the limit, but I don't think he would have been left alone.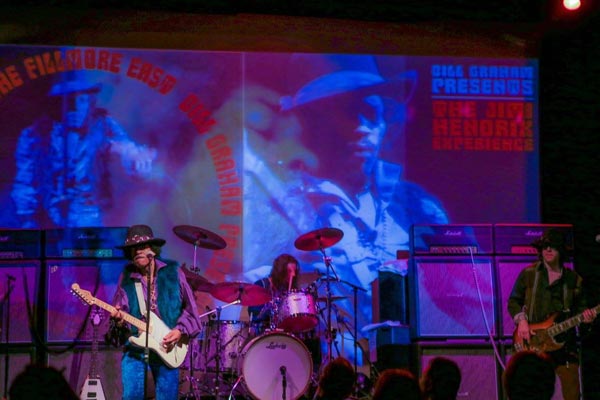 Jimi had a relatively short recording career. Do you think it would blow his mind to know people like you are still performing his songs 50 years later?
I'm pretty sure he would be psyched about it as long as we don't get lost in it. He used to emphasize that in his little talks with us. Be who we are. If we're doing a tribute or doing somebody else's music not to get lost in it.
What do you mean by getting lost in it?
Thinking I'm Jimi Hendrix. I'm very happy with who I am. I love who I am. I'm an actor playing a part. When I leave the stage, I put that part in the closet.
Where would you say Hendrix ranks in your list of top performers of all time? Not guitar players, but performers.
He would be up there with the big three. You've got to put in James Brown and Prince. Jimi was amazing - as a performer, musician, producer, everything about him. He just revolutionized the industry. We're living in a time now where musicians don't matter. People are not getting what he did. Jimi was doing certain things that I point out in my lectures. I do lecture demonstrations on Hendrix and I show what the guy was doing and how different it is from what other people do.
He had a certain touch, which is what Miles Davis loved about him. He had a certain touch that I don't think is being duplicated.
Is that touch harder to replicate than his voice?
Yes.
Is it hard to sing like Jimi?
I would say it is. He had more of a balladier or a roaming minstrel type sound that he picked up from Bob Dylan. He used to always think he couldn't sing. A lot of people don't know that before he died he was taking singing lessons from Buddy Miles. He didn't like his own voice. He had more of a talking style that became a great stylist, but technique wise he wasn't a singer.
Before he died, he was also starting to learn more about jazz wasn't he?
Oh totally. Miles Davis and Larry Coryell were his favorites. Matter of fact, I used to have an FM radio station in New Jersey for 12 years and I interviewed a lot of stars - especially with the Hendrix story. I interviewed Larry Coryell and I let him know how much he affected Jim. He didn't know about that and was thankful to hear it. Jimi used to always talk about his jazz chordings and things like that.
I wonder what his music might have sounded like if he had brought in better vocal techniques and more jazz chordings. It might have been a totally different sound.
That's a good point. As far as the playing, you could hear hints of it at Woodstock when he does the ballads. You can hear these special jazz chords that he's utilizing in that. He's just jamming on it.
---
Kiss The Sky and Heavy Cream perform at Monmouth University's Pollak Theatre on Saturday, October 13th. Tickets range from $25 to $50. Heavy Cream is led at this performance will feature as Eric Clapton, Broadway star JT Curtis formerly of the show "Let It Be".
---
---
Gary Wien has been covering the arts since 2001 and has had work published with Jersey Arts, Elmore Magazine, Princeton Magazine, Backstreets and other publications. He is a three-time winner of the Asbury Music Award for Top Music Journalist and the author of Beyond the Palace (the first book on the history of rock and roll in Asbury Park) and Are You Listening? The Top 100 Albums of 2001-2010 by New Jersey Artists. In addition, he runs New Jersey Stage and the online radio station The Penguin Rocks. He can be contacted at gary@newjerseystage.com.
---