By Gary Wien
originally published: 05/27/2019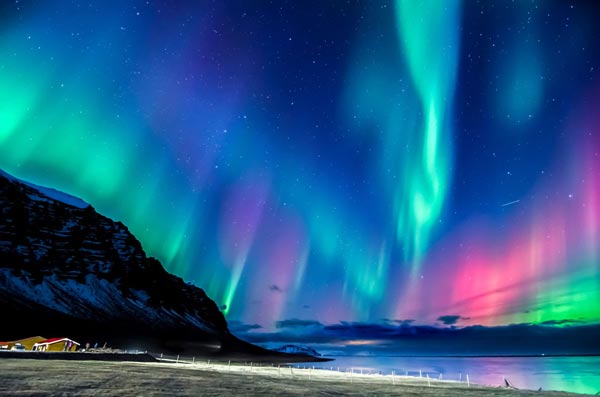 Imagine spending four months on the other side of the world in a place where the sun doesn't rise for about nine weeks. That's where New Jersey natives Matthew Runciman and Danielle Galietti found themselves as they created interdisciplinary, multi-sensorial artwork in Iceland.   
The two first collaborated in July 2018 when Galietti was accepted into an artist residency for the Vermont Studio Center.  She had previously worked with a jazz percussionist based on the idea of translating movement into sound or vice versa - creation using multiple senses.  She knew Runciman was a musician and wanted to get back into exploring the idea of using sound as well.
"I like to think of art as an umbrella term," explained Galietti.  "Within it, there are all these different types of languages of expression but when you start to bring them together it's like when you're one person you can express yourself, but when there are two people together you can start to have a conversation. I wanted to start having conversations in our first artistic languages - mine being visual art or movement based visual art and Matt working in sound and music.  So while at Vermont Studio Center I invited him to collaborate with me."
Runciman was brought on to one of Galietti's last projects during her residency and it received a great response.  Serendipitously, she came across an artist residency in Iceland that was interested in collaboration.  
Since the residency would involve three months in complete darkness, the application asked, "What is darkness? What does it mean to you?"
---
The article continues after this ad
---
---
"I liked this idea of using the idiom of being in the dark or not knowing and communication and talking helping you to step into the light," said Galietti whose proposal was accepted and the two soon found themselves in a town of 800 people who were big fans of the arts.
"We lived in a town situated between two mountain ranges, so instead of actually seeing the sun we just sort of saw twilight because the sun never got above the ridges," explained Runciman. "So for that time period we never saw the image of the sun; it was just the residual glow of the sun moving around us."
"It was pretty wild," added Galietti.  "It's like you know the sun is there, but you don't actually see it.  Your eyes get very sensitive.  For me, it was kind of amazing because I got to experience twilight or dusk - that moment right after the sun sets and you start to pick up on all these different colors and subtle nuances.  You become more aware of the light and the quality of the light.  So as a visual artist that was incredible for me to get to experience the moment of light, but not direct sunlight. And that being my only basis of seeing."
The art installation and performances they did were largely done indoors, but Galietti (who previously was a competitive figure skater) and Runciman (a former hockey player) took advantage of skating outdoors during the dusk period.  They skated on a half fresh water, half salt water lake that was fed by both mountain springs and the Atlantic Ocean.  It would freeze and then refreeze every night, giving them a skating surface similar to a freshly zambonied rink.
"It was beautiful with the idea of two types of water coming together," said Galietti.  "And then my movements and Matt would sort of translate them into sound.  I liked that I was composing with my body and Matt was reading my movement and translating it into sound.  It was quite opposite with dance and figure skating where you usually start with the music and then you translate it into movement."
They essentially combined dance, art, music, and performance art into their work.
"That's the cool thing, it starts to open up all these other pathways creatively," said Runciman.  "Especially for myself coming from a traditional songwriting background and playing music with other instruments.  It can become pretty one dimensional quickly in terms of writing and how you write.  After a while, I found myself more responding to the things that were happening immediately in front of me instead of an idea floating around my brain that might have been from an experience or watching people have a conversation. It definitely changed the way I saw my own creativity.  I was constantly watching instead of turning in and just thinking about music and arranging.  It was kind of fun being set off by visual cues."
When you watch videos of their performances you can see how the two senses create something unique and bigger than itself when combined.  People have often thought that music brings out colors and emotions; what these two do together is bring those out along with art and sounds, while combining everything into its own element.
"I personally am inspired by the idea that one can see sound or hear colors," said Galietti. "And one can sort of create in that way.  It would be interesting if someone experienced one of our installations and perhaps they were blind.  Would they still be able to see the colors through the sounds? Or if they couldn't hear, could they still see the sound or see the symphonies that were being created with the color and light?"
Interestingly, the process of creating art changed for them over time.  They began with Galietti bringing a lot of reflective materials like compact discs (which tend to reflect rainbows) and metallic foil board paper.  The process started with thinking about the visuals and the music in response, but it evolved to the point that when they moved on to their second residency in Iceland they had started to work the other way around.  Music was created first and the visuals were a response to the music.
"We sort of surrendered leadership," said Galietti. "Which actually happens in a conversation when someone starts to take over and then the next person jumps in and adds to the conversation."
"We invited a local vocalist at our first residency to join the conversation and at the second one we invited a double bass player from Switzerland and a novelist from Madrid," recalled Runciman.  "They became largely improvised performances where a group of people were having a conversation, which we think worked out very well and added a whole new element to it."
Galietti agreed, saying the conversations unfolded organically and began to play off one another as people took cues and found inspiration in the other person's form of expression.  "We would then find these common grounds and build our own little creative lexicon between all of us.  I always think of this idea like the German word Gesamtkunstwerk, which means the total work of art which incorporates everything even architecture and space."
Galietti had traveled to Iceland a few times since first visiting during a spring break period in college, but this was Runciman's first trip to Iceland.  He discovered that the weather is not nearly as cold as he thought it would be, but the wind was often ferocious - almost hurricane-like levels.  Both remarked they will always remember the Northern Lights and the people they met.  They were in communities in which art is revered.
"The Icelandic people think about creation in terms of music or art in way that is a contrast to the framework I grew up with," said Runciman.  "You don't do an artistic practice or musical practice in the sense that you don't need to do it to be the best in the world; you're not always practicing to be great, you do it because it's good for you and good for the soul.  I think that will be the most memorable thing for me. No matter what happened, everyone seemed to appreciate what was going on because it was an authentic self expression. It felt good to have that acceptance and understanding."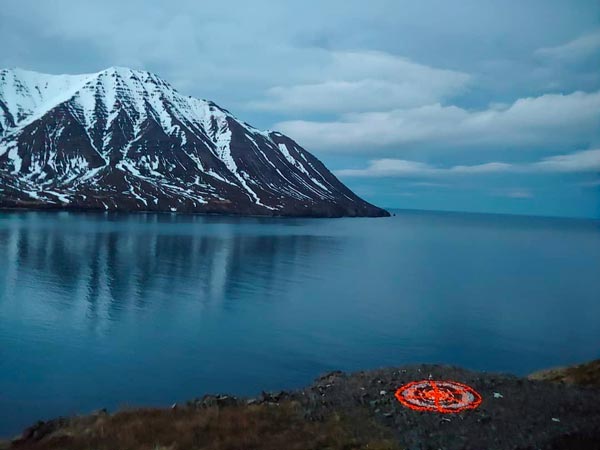 Galietti left thinking about the importance of art in the Icelandic society. "They live in such an extreme environment where you have the midnight sun in the summer and two and a half hours of residual light in the winter, along with the wind and natural elements. Art becomes this beautiful thing that is necessary.  After talking to some of the people there and other artists, they reiterated the fact that just making art and expressing yourself is important.  When you are in the dark, depression and sadness can be a real thing and art has a powerful healing effect. I read a quote once that said, 'And on the 7th day, God forgot about Iceland' which is funny because in a way it is raw, wild, and untamed.  It's kind of left to its own devices.  Something about that resonates with my heart and my soul. It's like an external embodiment of my internal artist."
 Runciman grew up in South Orange and Galietti grew up in Lincoln Park.  Ironically they both used to skate at the same ice rink but their paths never crossed until she was living in Manhattan and his band came to the area on tour.  The two collaborate under the name The Bull and Arrow.  It's partially based on astrology (Runciman is a Taurus) and partially a word play on bow and arrow.
"I liked the word play and that it also had an individual or personal effect," explained Galietti.  "It relates to both of us, but there's also this inter-dependence between the two.  It makes you think of bow and arrow and how you need the two of them to work.  As we start to invite more and more artists into the collaborations, I love the idea of how we as people need each other to support one another.  And when everyone comes together and everyone brings their A game, it just raises the bar that much more.  It becomes this beautiful thing."
You can catch Matthew Runciman performing live at the following places:
Sunday, June 2 @ Columbia Kettle Works, Columbia, PA
Thursday, June 20  @ Summit Street Sounds, Summit, NJ
Saturday, June 22 @ New Brunswick Community Farmers Market
Sunday, July 7 @ Warwick Valley Farmers Market, Warwick, NY
Thursday, July 11  @ Sidewalk Sounds, Madison, NJ
Friday, July 12 @  Millbrook Vineyards, Milbrook, NY
Sunday, July 14 @ Nutley Farmers Market, Nutley, NJ
---
Gary Wien has been covering the arts since 2001 and has had work published with Jersey Arts, Elmore Magazine, Princeton Magazine, Backstreets and other publications. He is a three-time winner of the Asbury Music Award for Top Music Journalist and the author of Beyond the Palace (the first book on the history of rock and roll in Asbury Park) and Are You Listening? The Top 100 Albums of 2001-2010 by New Jersey Artists. In addition, he runs New Jersey Stage and the online radio station The Penguin Rocks. He can be contacted at gary@newjerseystage.com.
---