By Gary Wien
originally published: 03/22/2016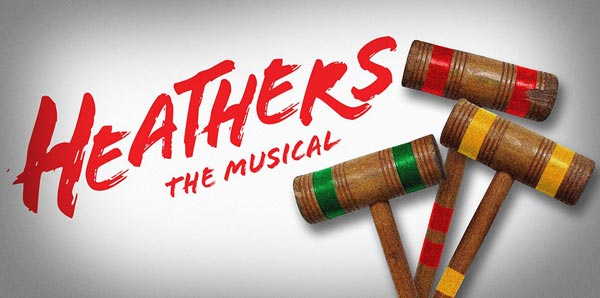 If you were a teenager in the eighties, there's a good chance you have a special bond with the cult classic film, Heathers.  While the decade was filled with John Hughes films placed in a high school setting, there was only one film that went as far into the dark, sinister world of popular cliques like Heathers.  This was a dark comedy if ever there was one, involving everything from bullying to teen suicide to violence in schools.  But it also was hilarious and introduced dozens of catch phrases into the lexicon and became a film that often appears in lists of the top 5 teen comedies of all-time.
Heathers tells the story of Veronica Sawyer, a brainy, beautiful teenage misfit who finds herself in the most powerful and mean clique at Westerberg High, one run by the Heathers — three girls all with the same name.  Veronica falls in love with the new kid, a rebel named J.D. who thinks he can eliminate the school's social class warfare once and for all.  Unfortunately, as one Heather falls another Heather is always there to take over.  Just like high school, the nightmare never seems to end.
A little over 20 years after the film was released, Heathers, the Musical was born.  Featuring witty and edgy lyrics and a rock and roll score by Laurence O'Keefe and Kevin Murphy, the musical traveled from Los Angeles to Off-Broadway, having success wherever it went.  And the Eagle Theatre has brought it to New Jersey.
Directed by Ed Corsi (co-Artistic Director at Eagle Theatre), the production stars Cailene Kilcoyne as Veronica Sawyer (the role introduced by Winona Ryder in the film and done by Barrett Wilbert Weed in a Drama Desk nominated performance in the musical). Adam Hoyak plays Jason "JD" Dean (the role made famous by Christian Slater) while the trio of Heathers is played by Jessica Huch (Heather Chandler), Jordan O'Brien (Heather McNamara), and Justina Ercole (Heather Duke).  Kilcoyne laughed when she mentioned that each Heather was played by someone with a similar first name, "I'm never going to know who they are!" she said.
"It's funny, I'm the right age for it, I'm the demographic," said Corsi.  "I'm 41, I grew up with the movie.  When it came out, it didn't do much until it went to video.  Once it hit VHS, it became the cult classic that it is now.  The resurgence of movies like Mean Girls — every decade has a movie like that.  When someone watches Mean Girls on Netflix, it recommends movies like that and Heathers is generally at the top of that list."
---
The article continues after this ad
---
---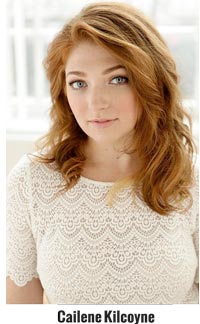 Cailene Kilcoyne who plays Veronica, is in her twenties, says she first watched the film before seeing the musical Off-Broadway.  While she thought the film was rather creepy, the musical blew her away — especially the role of Veronica.
"I definitely feel very honored to play this role," said Kilcoyne.  "I'm super excited! It's a role I've wanted to do since I saw the play.  There are a few shows I've seen where I've had a gut feeling that I know I'm going to play the role someday and this was one of them.  So, to audition and be cast was very cool."
Kilcoyne was one of about 350 actresses seen for the role.  Eagle Theatre, which is developing a solid name for itself with its musicals, saw over 1,300 actors from across the country for the current season.  Kilcoyne herself is from California.  She happened to be living in New York City when the auditions were held, which made it easy for her to audition in person.  Knowing that both Winona Ryder and Barrett Wilbert Weed left substantial impressions on the character, Corsi knew he had his work cut out finding the lead.
"We looked for a girl that could bring her own performance and be her own Veronica, but also have a little bit of what Barrett Wilbert Weed did and a lot of what Winona Ryder did," explained Corsi. "Not that we're dissing the musical by any stretch, but ours will be a little darker.  When they did it in New York, it was ultra campy, bubble gum, and colorful.  We took a slightly different approach.  Ours is a little darker and more like the movie.  It has more of a cinematic feel with the set, the lighting, and everything we're doing in that respect."
"If anything, I'm driving our cast to stay away from the obvious want and need of the script to develop camp and overplay," continued Corsi.  "I'm asking them to underplay and they're doing a great job because the play is funny on its own.  I think the hardcore movie fans are going to respect that and the hardcore musical fans are going to get something they haven't seen because there's only been a couple of productions of it so far."
Ted Wioncek III, the co-Artistic Director at Eagle Theatre adds, "If you love Heathers the film, you will love Heathers, the Musical.  And if you do not like Heathers the film, you will love Heathers, the Musical.  They masterfully captured a likeability factor for both audiences, which is incredibly hard to do."
One of the things people remember most about the film (which continues in the musical) is the never-ending supply of classic one-liners and catch phrases.  It's hard to hear lines like, "Our love is God. Let's go get a slushie" or "If you were happy every day of your life, you wouldn't be a human.  You'd be a game show host" without hearing the words flow out of Christian Slater or Winona Ryder's mouths.
Despite hearing them over and over during rehearsals, Kilcoyne still loves the catch phrases.  "I don't think I'm tired of any of them, they're all so quintessential to the movie," she said.  "I love them all.   Probably my favorite is the 'F**k me gently with a chainsaw.'  I mean that's just a classic!  And I like the one that I say after I throw up on Heather Chandler.  I say, 'Lick it up baby, lick it up.'  It's kind of a classic Winona Ryder line.  I actually have a sticker of that on my laptop!"
Kilcoyne says she never had a clique like Veronica's in high school.  She was a bit of a loner during those years, often acting in theatre outside of school.  "I wasn't picked on, but there are a few moments I remember when someone gave me a compliment, but looking back on it now that I'm older I see they were definitely giving me a back-handed diss."
Heathers, the Musical has shattered Eagle Theatre presale records.  As luck would have it, Corsi is friends with Deirdre Murphy whose brother Kevin wrote the play.  Deirdre was the company manager of the play off-Broadway and she has helped get Eagle Theatre show information on the play's official social media pages.  The end result is that people from hundreds of miles away are interested in coming to Hammonton for it.

As a contemporary theatre, Eagle is always looking for new works to present.  The edginess of the music was one of the things caught the theatre's ear.
"The first time we heard this music," recalled Corsi.  "It's catchy, it's driving, and it has that 80s pop/rock feel.  We fell in love with the score.  I think it's one of the better written scores in the last 10-15 years.  What I love about the musical, in addition to the movie, is the love story between J.D. and Veronica.  It's way more center stage here.  When you throw music into the mix, you can obviously do a lot more with it.  There are a lot of nice duets and moments with them that develop the love story more than the movie had a chance to."
Kilcoyne says she loves the opening number in which the audience gets to meet everybody and her favorite to sing is towards the end of the show when J.D. is going to the school to blow it up. "I have my crochet mallet and I have sort of a Braveheart moment where I rally myself to save the day," she explained.  "It's called the Dead Girl Walking (Reprise)."
Looking back at how high school was in the 80s and what it's like today, the Heathers' story might actually be more relevant today.  Bullying has not only failed to go away, but has been enhanced with the addition of cyber bullying.  Likewise, social media has only increased the power of evil cliches looking to demean those outside their group.  Meanwhile school shootings, which were very much a rarity when the film came out, have sadly become the norm.
"I don't think anything between the 80s and now has changed much as far as bullying and violence in schools and things like that," said Kilcoyne.  "I think it's extremely relevant today."
"The play is so smartly done because they manage for it to be incredibly funny and witty and energetic while tackling teen issues like suicide, bullying, and all of the stuff it did in the movie," added Corsi.  "These issues are probably even more in the forefront now."

---
Gary Wien has been covering the arts since 2001 and has had work published with Jersey Arts, Elmore Magazine, Princeton Magazine, Backstreets and other publications. He is a three-time winner of the Asbury Music Award for Top Music Journalist and the author of Beyond the Palace (the first book on the history of rock and roll in Asbury Park) and Are You Listening? The Top 100 Albums of 2001-2010 by New Jersey Artists. In addition, he runs New Jersey Stage and the online radio station The Penguin Rocks. He can be contacted at gary@newjerseystage.com.
---