By Candace Nicholson
originally published: 05/26/2018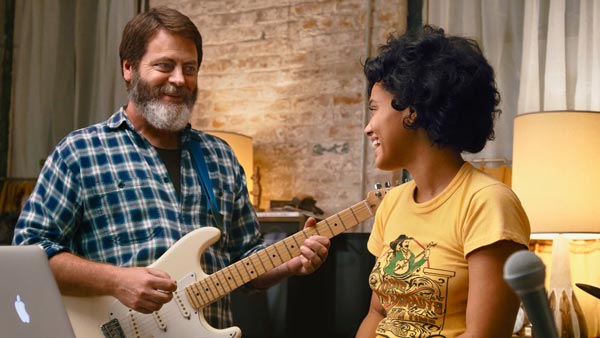 The phrase "feel-good movie" tends to get an unfair rep these days. But Brett Haley and Marc Basch's Hearts Beat Loud is certainly not to blame for that. This make-believe tale of a father and daughter on the cusp of an empty nest transition has more sincerity and virtue than most films submitted for Oscar nods each year, and a lot of that is due to the script, the tone and the performances of its perfectly complementary cast.
This is not the tearjerker you are looking for, but it is the film that will warm your air conditioned-chilled heart this summer as, little by little, you learn what makes this quirky parent-child duo work in their tiny Brooklyn microcosm of Red Hook. We begin our story in a last-on-the-vine record store owned by our bearded padre, Frank Fisher, played by Nick Offerman. He's a no-nonsense man who's quick with a cheeky joke and a sly smile, living and breathing the music he sells while fondly remembering his early career as a musician and all the joy it brought him. 
Frank -- albeit good-spirited -- is coping with a record shop in decline, an aging mother who enjoys exercising her shoplifting skills, and a smart-as-a-whip teenage daughter heading to UCLA come fall. Needless to say, he's a man with a lot on his mind. But Frank isn't the only soul questioning what the future may bring. His offspring, Sam Fisher, played by the always delightful Kiersey Clemons, may act like she has it all figured out, but like many teens, it's a carefully crafted facade. Add in a blossoming "Where do we go from here?" romance with her girlfriend, and this kid has a full plate too.
Wait, is this an angst-ridden dual coming-of-age journey posing as a musical indie flick? Rest assured, it is not. … Well, maybe it is. But only in the best of ways. Sure, father and daughter butt heads over her practical aspirations and his dreams deferred, but their common ground is found in the music and with the music. And in its own special way, that common ground is the ballast they both need to weather this storm. 
The film not only features original music by Keegan DeWitt and Jeremy Bullock, who worked with director Haley and writer Basch on their other indie darling, The Hero, but it also sports a supporting cast that reminds you there are no small parts. In addition to Blythe Danner's turn as Frank's offbeat, yet incredibly astute mother, we're treated to Ted Danson as Frank's friend/barkeep confidant who lucks out with the best lines in the film. Or was it luck at all? Not to be outdone, we're also joined by newcomer Sasha Lane and powerhouse of the stage and screen Toni Collette as the budding love interests of our daughter and father team, respectively.
---
The article continues after this ad
---
---
Hearts Beat Loud may not be flawless -- it treads a little close to sentimentality at times, and drags a wee bit in the fourth act -- but it is a bittersweet film that is never bitter. It could choose to languish in the message of our small business neighborhood institutions closing their doors faster than we can blink, but instead, it makes a point to assert that Frank is closing up shop because he simply doesn't want to sell records anymore. It could choose to treat the reveal of Sam's mother's fate with all the melodrama such a moment could command, but instead, it treats the revelation in an understated, yet respectful manner of both the character and the audience's ability to grasp the outcome fully without exposition. 
For those who don't appreciate the singer-songwriter genre or the indie music scene, Hearts Beat Loud may not strike a chord. But for music lovers of any genre, the songs in the film are a cherry on top of the story sundae. They help inject purpose in our characters' behaviors, exposing them emotionally, while at the same time grounding the film with a realistic musical journey. Plus there's a cameo that gives the film its own moment of cool cred. 
Hearts Beat Loud was written specifically for Nick Offerman, and he carries the film fearlessly. The audience walks away wondering what took Hollywood so long to see the unique strength and unvarnished insight Offerman brings to the table. So if you're searching for a "feel-good movie" this Father's Day, Hearts Beat Loud will remind you why that label isn't the kiss of death, but is instead a breath of fresh air.
Hearts Beat Loud was screened at the 2018 Montclair Film Festival, which took place April 26-May 6, 2018.  For more information on the festival visit www.montclairfilm.org
---
---

Candace Nicholson is a freelance writer, editor and blogger covering arts & culture, small business and community. When she's not pitching magazines, editing creative genius or penning blog posts, she's a regular contributor to LAFRA's Widows, Orphans & Disabled Firemen's Fund. Visit her blog at www.incandescere.com
---