By Gary Wien
originally published: 04/21/2016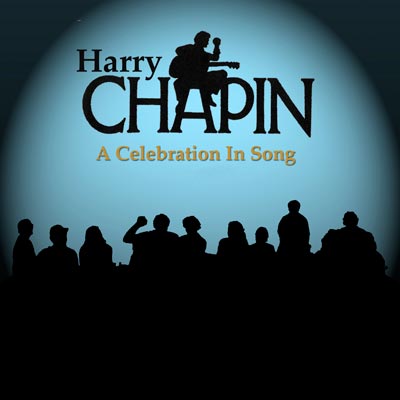 Harry Chapin may have died 35 years ago, but his music and spirit live on.  There are Harry Chapin fan communities on the internet, his strong legacy of activism and charitable work continued on by his family, and songs like "Cats In The Cradle" and "Taxi" are still played each day on radio stations around the world.  And on Friday, May 13, the Chapin family will pay tribute to Harry's songs along with their own originals at the Bergen Performing Arts Center (BergenPAC).
It's always special when Tom, Steve, and Jen Chapin,  along with The Chapin Sisters (Abigail and Lily) get together on stage.  The night is basically split between half of Harry Chapin songs and half of their own.
"We all kind of mix it up, overlap, and help each other out on different songs," said Jen Chapin, Harry's daughter.  "But it's fairly eclectic."
It's also a very interesting mix of music from the traditional folk of Tom Chapin to the jazz-infused sounds of Jen Chapin; the harmonies based Chapin Sisters to Steve Chapin, whose style might most closely resemble Harry's.
While many in the audience might get chills hearing these songs - some that will be performed by many members of Harry Chapin's actual band - Jen says that her father has been gone for so long that it's a different experience for the family.
---
The article continues after this ad
---
---
"This is more of a fun, professional challenge for us versus what the audience goes through," explained Jen.  "They may go through years without thinking of Harry.  We're trying to put together a show and do a great job.  We've heard each other grow in these songs as musicians and it's not quite work because the play is so mixed in.  We have such a relaxed time backstage and in front.  I think the chills have happened, but that's not what we're doing.  We're putting on a show."
Songs in the show do change, but you can expect to hear many of the best loved hits like "Mr. Tanner" (usually done by Steve) or "Cats In The Cradle" (usually done by Tom).  Jen's cousin Lily usually performs "Shooting Star," a song Jen sang for years and says is fun to perform.
"The songs that I do, I do them because they make sense for my musical perspective and I love them," said Jen.  "There's a song we do called 'Tangled Up Puppet' which is kind of the daughter counterpoint to 'Cats In The Cradle' because it's about having a teenaged girl.  She's in and out; one minute she's hugging and the next she's disgusted.  I love to sing that song.  It's a very moving ballad.  And I'm not sure if we'll do it this time, but there's a song about education and imagination called 'Flowers Are Red' that I love to do.  We have a fun arrangement for that one."
Normally, Jen performs her set with a trio that includes her husband Stephen Crump on bass and Jamie Fox on electric guitar, but her husband will be on tour in Europe so it'll be her and Fox at BergenPAC. Jen mentions two songs of hers as the ones she's most proud to contribute to the show.   
"I have a song called 'Let It Show' which is the song that's requested the most and that hits people almost immediately," said Jen.  "It's a simple song, but there's a challenge in singing it.  It's very engaging to perform; different lines in the lyrics take on different resonation depending on what's going on in the world.  That one feels good to play.  And I have another song from my latest album which I've done at a few family shows.  I play 'Let It Show' pretty much every time, but the others are up for grabs.  But last time we played a song called 'Gospel' which is very much an anthem like a protest march.  It celebrates social movement from the Civil Rights movement to Occupy Wall Street and Fight for 15.  It's political, but sort of optimistic.  It has the big picture.  It feels good to add that to the conversation as far as my father's activist legacy."
Jen has played a large role in keeping that activist legacy alive, having held a seat on the Board of Directors for Why Hunger (an organization started by Harry and Bill Ayres in 1975) for many years.  The organization went through a key transition last year when Ayres left his position as Executive Director and Noreen Springstead took over.  
"That was a crucial transition," explained Jen.  "It can be dangerous for non-profits to move beyond the founders.  We've weathered some storms over the years — the most significant being when Harry passed.  The organization, for me, is so powerful because we're a grassroots support organization.  We're looking at what amazing innovations and wisdom exists in communities that are dealing with hunger and poverty themselves.  And we're connecting between hunger and food as a human right and nutrition, obesity, the diabetes epidemic, sustainable agriculture, climate change, and racial justice.  It can sound overwhelming or confusing, but it's actually empowering because you see that a lot of the issues are addressed by the same kind of solutions.  And you can't look at them in isolation."
"We're very much as we were from the beginning," she added.  "Why hunger? It's asking a why question and looking systemically at the big picture and the root causes and building solutions from the grassroots up."
---
Gary Wien has been covering the arts since 2001 and has had work published with Jersey Arts, Elmore Magazine, Princeton Magazine, Backstreets and other publications. He is a three-time winner of the Asbury Music Award for Top Music Journalist and the author of Beyond the Palace (the first book on the history of rock and roll in Asbury Park) and Are You Listening? The Top 100 Albums of 2001-2010 by New Jersey Artists. In addition, he runs New Jersey Stage and the online radio station The Penguin Rocks. He can be contacted at gary@newjerseystage.com.
---