originally published: 07/01/2018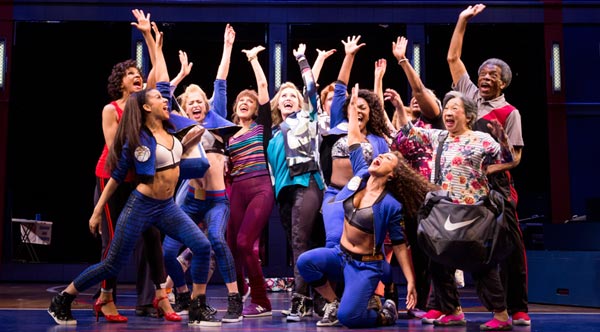 Dori Berinstein knew she wanted to tell a story about celebrating life, grabbing opportunities and living life to its fullest. She found that story in Newark, New Jersey.
It all started the day she came across an audition notice for the New Jersey Nets, who were seeking to create a rather unique dance team – one that featured senior citizen dancers. The documentary filmmaker grabbed her camera and went to the auditions at the headquarters of the Nets, who gave her permission to shoot and granted her access to whatever she needed.
The story was originally told in Berinstein's documentary "Gotta Dance," and has since developed into "Half Time" – a musical having its East Coast premiere at Paper Mill Playhouse in Millburn now through July 1st.
"In the beginning, it was very clear to me that by shooting the documentary I was laying the ground work for a Broadway show," explained Berinstein. "I wanted this very much to be a documentary film that captured the real story, but, at the same time, I wanted for this to make its way to the stage because it sang to me. It was about singing and dancing, and it belonged on stage."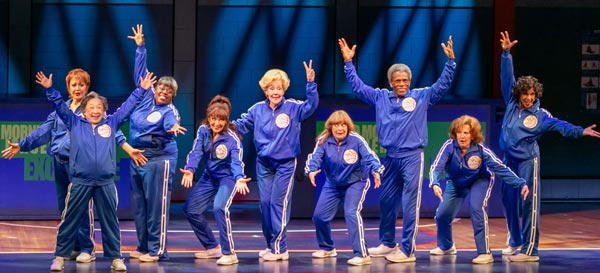 "Half Time" tells the true story of 10 determined dreamers who audition to dance at half time for the New Jersey Nets. They all have three things in common: they love to dance, they have something to prove and they are all over 60.
If that concept isn't fun enough for you, there's another twist – they're dancing to hip-hop music!
The New Jersey Nets may no longer play in Newark, but the amazing story of the first senior hip hop dance team lives on. Ironically, it is now being performed less than 10 miles from where the original story took place. And like the Nets, this play has New York in its sights as well. "Half Time" is directed and choreographed by Tony Award-winner Jerry Mitchell with an award-winning cast that includes Georgia Engel, Lillias White, André De Shields and Donna McKechnie.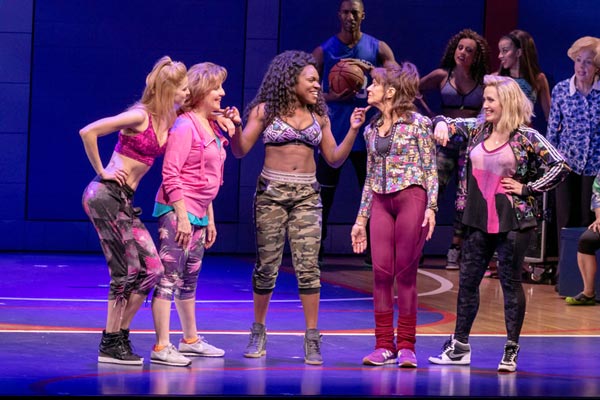 Berinstein's career is one of both film and theatre. She has directed six documentaries including "Marvin Hamlisch: What He Did For Love," "Carol Channing: Larger Than Life" and "Show Business: The Road to Broadway." However, her true success has come on stage. As a Broadway producer, she has been part of a string of Tony Award winning plays. The list includes "Who's Afraid of Virginia Woolf," "Thoroughly Modern Millie," "One Flew Over the Cuckoo's Nest" and "Fool Moon". She's also had three plays ("The Crucible," "Flower Drum Song" and "Golden Child") nominated for Tony Awards.
"I had in my mind for a long time the idea of making a documentary film that was about celebrating life and grabbing every opportunity to live life to the fullest," said Berinstein. "I wasn't sure how to tell that story, but when I saw that audition notice, I thought this was the story I wanted to tell – to be able to say loud and clear: go for it, grab life. No matter your age, no matter your obstacles, live life to the fullest!"
Discovering that the dancers would be moving to hip-hop was an added bonus.
"That was a great moment," recalled Berinstein. "I loved when I learned they were dancing to hip-hop. It cemented everything. This was definitely the film I wanted to make and it was the Broadway show I wanted to create."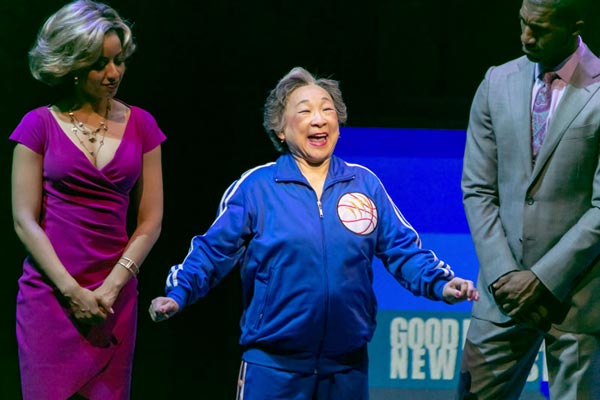 "Half Time" takes the audience on a journey with these women and the young coaches who inspire them along the way. The dancers battle self-doubt, stereotypes and even each other for a chance to perform in front of 20,000 screaming fans. Together they achieve Berinstein's goal – they remind us that you're never too old to try something new.
The original women Berinstein encountered while shooting the documentary were not professional dancers. She describes them as people who otherwise would never have met. They came from very different walks of life. The group included a kindergarten teacher, a paralegal and a postal worker. But they all had one thing in common – they all loved to dance.
"It's a beautiful thing how the team came together," said Berinstein. "They're such different people. They really bonded as a team. That is such a big part of the documentary and is a big part of the musical as well."
"Half Time" features a book by Bob Martin and Chad Beguelin, music by Matthew Sklar, lyrics by Nell Benjamin and additional music by Marvin Hamlisch and Ester Dean. The production reunites director and choreographer Jerry Mitchell with his collaborators for "Kinky Boots" including Tony Award winners David Rockwell (Scenic Design), Gregg Barnes (Costume Design) and Kenneth Posner (Lighting Design). The crew also includes Nick Kenkel (Co-Choreography), Randy Hansen (Sound Design), Jason Lee Courson (Projection Design), Drama Desk nominee Josh Marquette (Hair and Wig Design), Tony Award winner Larry Hochman (Orchestrations) and Telsey + Company (Casting).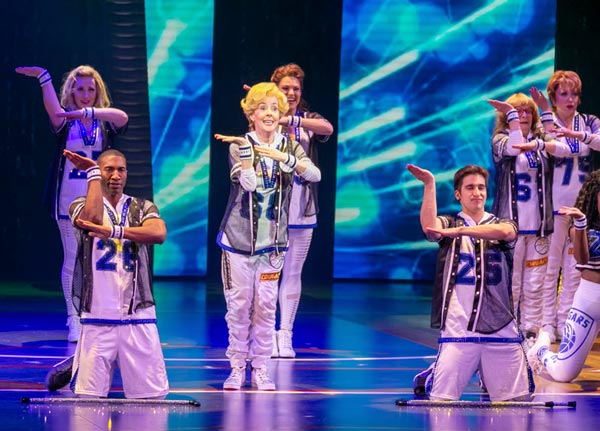 The play had its World Premiere in Chicago prior to coming to New Jersey. With any luck, "Half Time" will likely become the next play to go from Paper Mill Playhouse to Broadway, joining a list that includes shows like "Newsies!," "Honeymoon In Vegas," "A Bronx Tale" and "Bandstand." The successes from productions like these earned Paper Mill Playhouse the 2016 Regional Theatre Tony Award.
Berinstein says there are two takeaways she hopes audiences leave the theatre with: "One is that no matter your age or whatever obstacles you are facing, go for it – grab life! The takeaway is very joyous and exuberant. So many people have left the theater and gotten back in touch and told us that this has inspired them to take a class or do something they had never done before. That the play is infectious; it makes people think about doing more and grabbing opportunities that they might have shied away from in the past. And that is absolutely thrilling to me.
"The other takeaway that is very important to me is that this is a multi-generational story," continued Berinstein. "It's very much about these generations coming together and finding tremendous common ground. What we found in Chicago and what we're finding at Paper Mill is that people are coming to see the show and then they're coming back and they're bringing their kids and their grandkids. It really is a multi-generational show; it's for all audiences, and the message is as relevant for someone 15, 18 or 25 years old as it is for someone 50, 70 or 90 years old."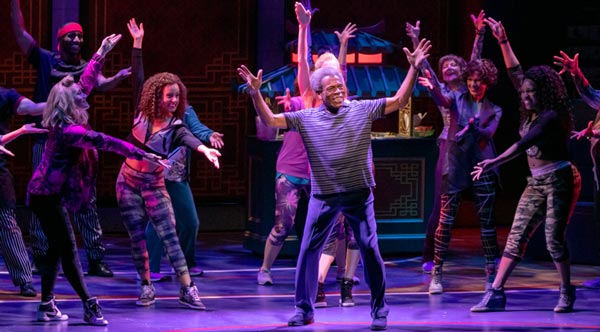 Berinstein loves when her two worlds (film and theatre) collide and she gets to tell a story on film about the creative process behind the theatre curtain or show the joy that comes from singing and dancing. She says she does not purposely seek out such projects, but they seem to be drawn to her. With "Gotta Dance" and now "Half Time," those worlds have again combined to tell a story that would be an amazing premise for a fiction tale. But this isn't fiction, this was real life… and it happened in Jersey.
"Half Time" runs at Paper Mill Playhouse, 22 Brookside Drive, Millburn, NJ, now through July 1st. For more information or tickets, visit https://papermill.org.
ALL PHOTOS BY JERRY DALIA