---
For great Jersey music and much more, tune into our radio station at AsburyMusic.com
---
Grunin Center Presents An Evening with Peter Yarrow of Peter, Paul, & Mary
originally published: 04/08/2018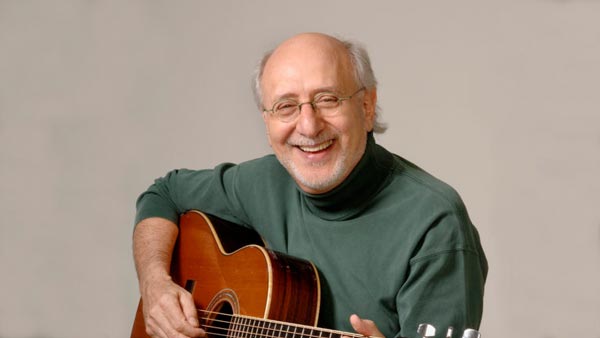 (TOMS RIVER, NJ) -- The Grunin Center for the Arts at Ocean County College will present An Evening with Peter Yarrow (of Peter, Paul, & Mary) on Friday, May 11 at 8:00pm on the Main Stage at the Grunin Center. Tickets are $30-$35.  
Legendary musician Peter Yarrow weaves a narrative of his life in music and politics, punctuating the major events with renditions of the iconic songs we all know and love.  From his life in Greenwich Village in the 1960s, his connections to Bob Dylan and Pete Seeger, to his career as part of the trio Peter, Paul, & Mary, Yarrow shares a part of American history influenced heavily by music. Yarrow creates community within his audiences through his reflections in both words and music.
Purchase Tickets online grunincenter.org, call 732-255-0500, or visit the Box Office, Monday to Friday, 10:00 a.m. to 5:00 p.m.Prices, dates, times, performers, and shows are subject to change.
Grunin Center is located on the Main Campus of Ocean County College on College Drive in Toms River, NJ. Please use Parking Lot #2.
---


The THE BAND Band Comes To Darress Theatre
(BOONTON, NJ) -- The Darress Theatre presents The THE BAND Band on Saturday, December 15th. If you like the music of The Band, you'll love The THE BAND Band, the most acclaimed and exciting tribute to The Band on the scene today. The show begins at 8:00pm.  Tickets are $25.
---
Spiral Sounds Hosts Abbie Gardner & Craig Akin
(JERSEY CITY, NJ) -- Spirals Sounds' next concert on Friday, December 14th, is a duo with Abbie Gardner and Craig Akin.  Abbie is a key element in the Americana vocal powerhouse, Red Molly, who are well known throughout the U.S. for their impressive harmonies.  Craig has performed extensively with Roosevelt Dime and Red Molly. Doors open 6:30pm, concert at 7:30pm sharp.
---
NJSO presents Chinese New Year Celebration
(NEWARK, NJ) -- The New Jersey Symphony Orchestra presents its first annual Chinese New Year Celebration on February 2, 2019 at the New Jersey Performing Arts Center (NJPAC) in Newark. The event includes an NJSO performance led by Music Director Xian Zhang, as well as pre-concert cultural festivities and a post-concert gala dinner.
---
State Theatre Presents Salute to Vienna - New Year's Eve Concert
(NEW BRUNSWICK, NJ) -- State Theatre New Jersey presents Salute to Vienna - New Year's Eve Concert on Monday, December 31, 2018 at 6:00pm. An annual tradition at the State Theatre for 13 years, this year's program features Viennese conductor Christoph Campestrini and The Strauss Symphony of America; along with Viennese soprano and tenor, Iva Schell and Martin Piskorski; members of the Europaballett St.Pölten (Austria); and International Champion Ballroom Dancers. Tickets range from $55- $125.
---
Wharton Institute for the Performing Arts Presents CAFE Choir Concert in Chatham
(CHATHAM, NJ) -- The Wharton Institute for the Performing Arts (WIPA) presents a holiday concert featuring the CAFÉ Choir on Friday, December 14 at 5:00pm at the Chatham United Methodist Church located at 460 Main Street in Chatham. The concert is free and open to the public.
---


An Interview with Chip Davis Of Mannheim Steamroller Christmas
You can experience the magic of the holidays — Steamroller-style — when Mannheim Steamroller Christmas by Chip Davis makes a tour stop this Thursday, December 6, 2018, at New Brunswick, NJ's historic State Theatre.
---
Max Weinberg's Jukebox LIVE! at the Grunin Center
Something is different about tonight's November 18, 2018 concert at Toms River, NJ's Grunin Center for the Arts starring Max Weinberg, celebrated drummer from Bruce Springsteen's E Street Band!
---
PHOTOS: Matt O'Ree Band at The Stone Pony in Asbury Park
(ASBURY PARK, NJ) -- The Matt O'Ree Band returned to The Stone Pony in Asbury Park on Friday, November 16 and photographer Estelle Massry of Coucou Photography was on hand to take some photos.  David Bryan from Bon Jovi was one of the special guests that night.
---
"How Could You Not Love Them?" The Buckinghams and Herman's Hermits LIVE! at BergenPAC
Although it's a chilly Saturday, Nov. 17, 2018 evening in Englewood, NJ, music lovers are lined up outside the Bergen Performing Arts Center waiting to hear classic songs of the '60s as performed by two quintessential groups of the era — The Buckinghams and Herman's Hermits starring Peter Noone!
---
If It Ain't Baroque... Bach's Brandenburg Concertos With Symphony in C
You know the old joke: If it ain't Baroque, don't fix it? Well, put away those tools, dear reader. Bach's Brandenburg Concertos ARE Baroque, so no fixing necessary. This Saturday, December 1, Symphony in C is performing Johann Sebastian Bach's Brandenburg Concertos Nos. 2 through 6 at the Rutgers-Camden Center for the Arts. Officially presented in 1721, these collective works are considered to be some of the finest orchestral compositions of the Baroque era (generally 1600 to 1750). These six concertos are among the most recorded, performed and beloved works by Bach. – And that's J.S. Bach, for those of you keeping score at home. There are a LOT of Bachs.
---
Event calendar
Sunday, Dec 09, 2018
---
MUSIC

---
---
---
---
---
---
---
---
THEATRE

---
---
---
---
---
Peter Pan

@ Axelrod Performing Arts Center, Deal Park - 1:00pm and 5:00pm
---
Annie: The Musical

@ Centenary Stage Company - Sitnik Theater of the Lackland Center, Hackettstown - 2:00pm
---
---
---
---
---
KIDS

---
---
---
MISC

---
---
View all events
---