By Gary Wien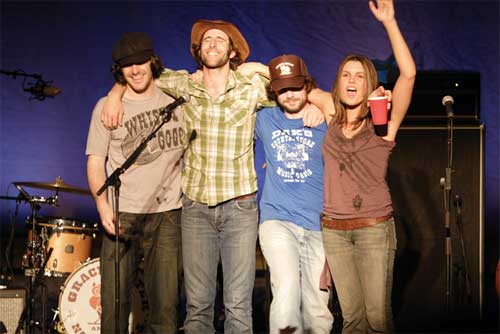 Grace Potter and The Nocturnals are a band from Vermont that's as close to breaking big-time as you'll ever find. You've most likely heard their song "Ah Mary" blaring on the radio over the summer or read about their debut record, "This Is Somewhere", that critics everywhere are raving about. The band returns to New Jersey for a date at The Stanhope House on Wednesday, September 5th. Upstage had a chance to talk to Grace Potter during a brief break in the band's touring schedule.

Congrats! The record is getting incredible reviews.
Awesome! I don't read them, but that's really great.

One review stuck out for me. The first line from a USA Today review of the CD said, "Proof positive that signing with a major label doesn't necessarily screw things up." I know the band held off signing for a while, were you worried a label would screw things up for you?
Well, I do think that labels can get their mitts on a little more than a band is willing to let go of. Obviously, Hollywood Records is not one of those labels. But when we were looking into label possibilities there were even some indie labels that pretty much point blank said, 'we're not going to let you do what you want to do because we're a smaller label and we need to make sure that it's done right. We don't have enough money to be mucking around letting you guys have all the freedom in the world. We know what we want and what we will and won't let you do.' And that's why it took us so long to find a label become some labels were pretty brutally honest about what they weren't going to sacrifice.

It seems like there's a struggle in the way the media tries to portray you as above the band. Were there labels trying to change things about the band as well?
Not so much. I think most of the label people that have been excited about us were always after my voice... the voice. It's not really about the music. My songwriting took a backseat and especially the other members of the band that have put so much time and energy into what's going on, people just want to brush that aside. That can really be frustrating, but there was no one particular label that clearly wanted to "Gwen Stefani" me and another that didn't. It was really just everybody. I'm a woman and I do sing really loud and I write the songs so naturally they are sometimes going to stick me up front more than I deserve to be.

Were there people trying to approach you with songwriters you should be working with?
Oh totally! Songwriting in general is considered a disposable object. If the lead singer's pretty or if he or she has a good voice then just stick some songwriters with them and that will fix everything according to the industry. And I think that's a very universal thought - even for the indie places. They'll be casual about it; they'll find your favorite songwriters - someone you respect greatly - and they'll pair you with them. So, at least you think you're co-writing.

It's a frustrating thing and it happens all of the time. It's the whole 'don't tell the band theory' and it's very easy to get roped into all of that, but we're aware of it. We've read lots of biographies, so we kind of know what traps to avoid. But it is a constant struggle. I think we're lucky. The label we're at has a lot of freedom and they've had success in completely other realms like High School Musical and Hillary Duff. We actually have more freedom because of that.

It seems like this record plays into the idea that the band has been stressing the desire to build a long career. When labels start wanting you to work with certain people, they're obviously looking for hits.
Yeah, they want hits and they want it to all happen really quickly. The thing is that we're not a fast moving band. We've been together for five years now and we're only just hitting this point now - which a lot of bands don't even get to because of how fast they're trying to run and how hard they're trying to succeed. The immediacy is not important to us, so trying to get a hit is the opposite of what we're doing. Obviously, I would love to write a great pop song that gets on the radio because it would deter some of the other shit music that's on the radio right now!

Songs from "This Is Somewhere" are doing really well on NPR and Triple A stations.
Sure, I mean it would be nice to spread outside of that, but I'm very happy and content in that world. That's kind of the music I grew up listening to.

And that's where music fans nowadays are listening.
Absolutely! People who remember what rock and roll was.

The band definitely made its mark with live shows and festivals. You've always been referred to as part of the jam band scene, but the record is much more straight forward. Do you think of the band as a jam band? Or as a touring band?
I think we're a touring band. I think rock and roll was always jam. Back in the '70s before they made up that word, I think that's what was actually going on. There's really no genre to jam. There are a few bands that sound the same and are all trying to sound like Phish or The Grateful Dead, but we're not like that.

I think the great rock bands of the '70s that we loved - The Who, Led Zeppelin, The Band, The Rolling Stones - these guys were all what would now be construed as jam band music because they toured their asses off.

Tell me about the band's name. How did The Nocturnals come about? Late night parties, rehearsals, insomnia?
Rehearsals. There was only one space on our college campus where you could rehearse at and there were so many other bands on campus that the only rehearsal times we could get started at two in the morning. So our rehearsals started at two and moved on from there. The sun would be coming up as we'd be loading our amps in our cars and getting ready to finish our homework and go to class. The reality sunk in. Late night is where the creative stuff happens, I guess!

Well from the outside, it definitely seems like the band is pretty closeknit. It that how it really is?
Very much so. We're very collaborative and we love each other. I think there's a real sense of camaraderie. I didn't just hire these guys to be my backing band, that was never the idea. We're all in this together. We've all been together since before there was any level of success.

Did you all start together when you were at college?
All of us except for our bass player, Brian.

Tell me about how the band joined up with your manager, Justin Goldberg, after reading his book on the music industry.
His book put into words what we thought we understood already and clarified some things that we did not understand.

Basically the idea was that we didn't need a record label. We never wanted a record label. Even before we knew Justin we had known we weren't really that kind of band. We just wanted to tour and what we were looking for was a manager that could allow us to do that and not push us too far too soon. Someone to recognize that our music is still growing and developing and once we get the right sound together we might be ready for that, but not yet. When the labels came a knockin' a few months after we signed with Justin, he knew just what to do.

Reading that book was reality. It put into words all of the things that we knew were going on in the music industry but because we're from Vermont we didn't have access to the reality of it and he paraphrased it perfectly.

Did it help you guys to be living away from the big cities like New York and Los Angeles? Was it good sort of being on the outside of all that?
I love it. We call L.A. the mouth of the dragon because being there is like being constantly bombarded by what is going on, what your chart ratings are, how many records have you sold, and
questions about what are you going to wear for the next TV event. Where we are you're not in front of that all of the time. It's not slapping you in the face, which is nice. Being in Vermont is the perfect way of escaping all that and grounding yourself amidst all the insanity.

Tell me about the title of the record "This Is Somewhere". It's been said that part of it is a play on the classic Neil Young album, but is there a particular somewhere that you're talking about? Is it like a state of mind?
Yeah, you're dead on. It's the idea that we as a collective have been together long enough to know who we are and what we want and no matter where we are we're still ourselves. And that we have to carry our torch with us wherever we go because nowhere you go is going to define you. We found that out while making a record in L.A. because that place can swallow you whole and turn you into what it wants you to be. So, the title for me was much more about that than it was the Neil Young reference; although I love the Neil Young reference.

Finally, I think the song "Lose Some Time" is an incredible ode to life on the road. I know you were a film student at Saint Lawrence, do you ever do any shooting of life on the road?
Totally man! Actually, the director of photography is our drummer, Matt. He has a video camera with him all of the time and we edit it together. We have some really great behind the scenes stuff.

Have you released any of it?
We have a couple of two-minute videos up on YouTube that are from the sessions in the studio. It brings you through the drama and the exciting moments. We are actually planning on releasing a DVD that walks you through our whole crazy life and shows you some tidbits from the road. That's still in the works, but being a film student I am certainly inspired to pursue that side of things. I would love to illustrate it for people in a cool little package.

---
Gary Wien has been covering the arts since 2001 and has had work published with Jersey Arts, Elmore Magazine, Princeton Magazine, Backstreets and other publications. He is a three-time winner of the Asbury Music Award for Top Music Journalist and the author of Beyond the Palace (the first book on the history of rock and roll in Asbury Park) and Are You Listening? The Top 100 Albums of 2001-2010 by New Jersey Artists. In addition, he runs New Jersey Stage and the online radio station The Penguin Rocks. He can be contacted at gary@newjerseystage.com.
---