By Gary Wien
originally published: 11/21/2015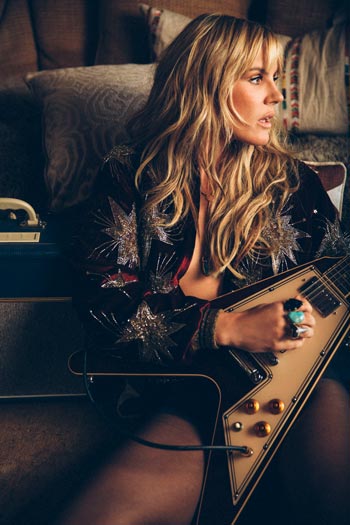 For more than a decade, Grace Potter and The Nocturnals have been a fixture on the jam band scene, playing the largest music festivals with a distinctive rock and roll sound that defied easy categorization.  Some songs were bluesy, some rocked hard, some sounded like alternative rock and some sounded rootsy, but they were all held together via the powerful and soulful vocals of Grace Potter.  In August, she released Midnight, her first solo record and she's currently on a tour that will bring her to the tri-state area in December.
The record surprised many long-time fans of the band because it takes her songwriting in completely different directions. In fact, some say it's closer to a pop album than anything else.
"I wouldn't say this is a pop record," explained Potter.  "It's poppier than anything I've done before, but more than anything it was great to unleash the preconceived notions and parameters that I've set for myself about having to write for the band and write for my fans.  I was in this very people pleasing mode for many years where I wanted to write what I thought other people would like and what other people would dig.  And so this record was an opportunity for me to explore the things that make me happy and fulfill me as a songwriter."
"The bands and artists that captivate me are the ones who are always pushing it, always taking risks," she continued.  "A great musician can shine in any genre.  I refuse to make the same record over and over — that's not how art works for me.  The worst thing an artist can do is what is expected of them."
The record's title holds special meaning for Potter. She was born at midnight, on the cusp of Gemini and Cancer.  And even though she says she's not very much into astrology, the fact that if she had been born just a few minutes later would have changed her astrological sign has meaning for her.
---
The article continues after this ad
---
---
"From the day I was born I was ready to jump off into another thing," said Potter.  "My momentum has always been very much forward.  I'm more of a river than a lake.  I don't like being stagnant.  And so, for me, midnight is this transient term.  It is a sense of timeliness, a sense of where we are at any given moment.  The tour, the album, and everything about the record is meant to feel like a moment frozen in time.  Midnight only lasts for a moment, but the feeling of midnight lasts for the rest of the night.  You get the sense that now we've crossed the point of no return.  Once it's midnight, then it's one in the morning, two in the morning.  Suddenly your space time continuum shifts in some way and your perception of time changes."
Midnight was recorded and mixed at Barefoot Studios in Hollywood with producer Eric Valentine, who has worked with bands like Good Charlotte, Third Eye Blind, Smash Mouth, Queens of the Stone Age, and Nickel Creek.  Even though the record is a solo project for Potter, members of The Nocturnals (guitarists Scott Tournet and Benny Yurco, drummer Matt Burr, and bassist Michael Libramento) contributed to the sessions along with former tour-mates and friends like Rayland Baxter, Audra Mae, Noelle Skaggs of Fitz & the Tantrums, Wayne Coyne of The Flaming Lips, and Nick Oliveri of Queens of the Stone Age.
The songs on Midnight began in her Vermont home two years ago.  She had been experimenting with making demos that featured the types of sounds, beats, and melodies that she had never tried before.  For her, taking a chance was more about breaking away from the sound The Nocturnals was known for rather than worrying about creating something that wouldn't be played on the radio.  In the end, she created an album that showcases her musical influences and creativity in unexpected ways.  Many artists release solo albums that rarely stray from the same music they've been creating with their band.  Potter's record does the opposite.  This is a true solo project.  One that dares to go into new corners and offers a message of embracing life's unexpected twists and turns; a message that largely originated from a single song.
She recalls the night the album's first single, "Alive Tonight," was conceived. "It was a dark, stormy, moody day and I could hear the thunder in the distance — these big ominous clouds were rolling in fast.  There was something about that threat of inclement weather beyond my control that just made me vibrate with anticipation and adrenaline, so I channeled it into this heavy boogie song —it goes right for the throat and says, 'Own your existence on earth, because who knows what's gonna happen next.' That solitary moment guided everything that followed, and 'Alive Tonight' was the beginning of it."
Grace is excited to bring these songs to life alongside the music she's written for her band over the past 13 years.  Her tour includes stops at BergenPAC in Englewood, NJ and the Paramount Theatre in Asbury Park.   She describes the upcoming tour as a "dynamic combination of rock and roll, psychedelic explorations, pop music, dancing, sitting down, and standing up" — a little of everything.
"There are a lot of very passionate and powerful moments in the show that play out for me like a movie," she explained.  "I like to write out the setlist according to the mood of the day.  It's always different and it's always about the energy in the room, but the show, if anything, has been pumped up on steroids! All of the music that I've written over all of these years is presented in a way that is very much more true to the album version.  It's the closest we've gotten back to the original arrangements.  There's not quite as many long and extended jams. There's more musicality and more exploration with less infrastructure.  That was just muscle memory in the way we became a band, we jammed.  I had to remove the jam in order to put it back in and make it feel musical.  And now it's flowing effortlessly from the new album to all of my work with The Nocturnals."
A mix of interesting covers from big band swing to psychedelic rock to new wave, grunge, and even disco helps make this tour unique.  The tour has already seen her cover a Nirvana song, perform a song she's done with Kenny Chesney, and even do "Something That I Want" (a song she had on the Tangled film soundtrack) after someone screamed for it from the audience.
While this is Grace Potter's first solo album to be released, it's not the first time she's recorded one.  Several years ago, she recorded an album with T Bone Burnett during a period of time in which The Nocturnals were having some troubles as a band and their future was in doubt.  To this day, Potter isn't sure why the record was never released.
"I don't know, I really wish it had come out," said Potter.  "It's a record that I'm proud of.  I just recently listened to it again and it's a special body of work.  I can't speak for the record company, but maybe they felt it was a little too mature for me.  I was still a young woman in my early twenties when I made that record and it is very mature, very timeless the way T-Bone's records sound.  A lot of T Bone's stuff is not aiming for a market as much as aiming for a vibe and an atmosphere, and that is definitely captured.  But who knows? I'm sure it will see the light of day at some point."
When the news hit about the record, fans were confused and worried about the future of The Nocturnals.  While the future of the band is still unknown, it's common for lead singers who write the songs to release solo projects from time to time.  Sometimes it is a sign that they have moved on from the band, but generally it's just a side project.  The fact that band members contributed to the disc is a positive one for fans of The Nocturnals, as is this quote from Potter.
"Loyalty has always been really important to me and so has evolution," said Potter.  "It's hard sometimes to understand that they don't need to be at odds.  The band is an extension of me.  They are my family and a huge part of my life.  I have no intention of burning bridges or leaving it in the dust."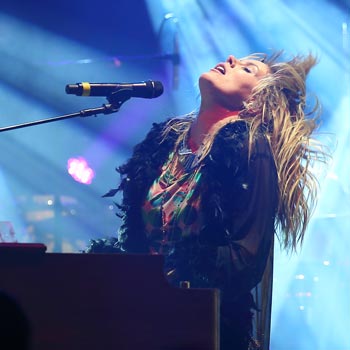 UPCOMING AREA SHOWS FOR GRACE POTTER
Wednesday, December 2  

Bergen Performing Arts Center

Englewood, NJ
Friday, December 4

The Paramount Theatre

Asbury Park, NJ
Friday, December 11  

The Fillmore

Philadelphia, PA
---
Gary Wien has been covering the arts since 2001 and has had work published with Jersey Arts, Elmore Magazine, Princeton Magazine, Backstreets and other publications. He is a three-time winner of the Asbury Music Award for Top Music Journalist and the author of Beyond the Palace (the first book on the history of rock and roll in Asbury Park) and Are You Listening? The Top 100 Albums of 2001-2010 by New Jersey Artists. In addition, he runs New Jersey Stage and the online radio station The Penguin Rocks. He can be contacted at gary@newjerseystage.com.
---