By Gary Wien
originally published: 12/26/2017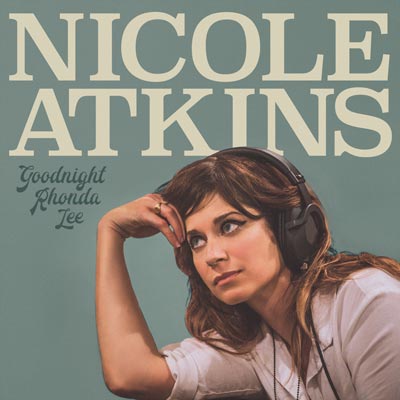 One of the hardest things for musicians is learning when they should listen to the advice given by others and when they should simply trust their gut instincts.  For years, Nicole Atkins fought her natural talent and tried being what others wanted her to be.  The result was several critically acclaimed albums that always felt as if something was being held back.  On her latest release, Goodnight Rhonda Lee, she is finally at peace with her life and her music.  And she's never sounded better.
Atkins grew up in Neptune City and remembers going to Asbury Park as a young child long before the revitalized city of today.  Back then the beach town still had rides and games in the Palace Amusements and Carousel buildings, but crime and drugs lurked around the corner.  It was a far different town than the one Atkins sees when she returns home, but a town that she never doubted would come back someday.
"I remember going there with my grandfather and my parents and always being mystified by it because it was always such a weird, unique, and fun place," said Atkins.  "I just always had the feeling that a place like that can't go away forever.  If the juju and the magic is in place, it's always going to be there.  It just needs some people with the creativity and money to get the place back in working order."
Soon after Atkins began playing publicly as a musician, she became a star in the local venues.  It was clear early on that she had that something special about her.  She earned several Asbury Music Awards for her songs and vocals, and began being part of bigger shows.  It was at the Jersey Shore that the dreaded "next big thing" tag first got placed on her.  But things truly got crazy when a writer for Rolling Stone happened to catch her set at a club in New York City and placed her on a "Top 10 Artists To Watch" list. Her career immediately went into overdrive and she was soon signed to Columbia Records.  She released an EP called Bleeding Diamonds in 2006. This was followed by her debut full-length, Neptune City, a year later.
---
The article continues after this ad
---
---
Atkins found herself playing larger and larger festivals with appearances on late night television, and in national commercial ads.  She would release a bunch of EPs and albums in the years that followed and flipped back and forth between living in Asbury Park and Brooklyn.  Fast forward to today and she has left the northeast for life in Nashville, is happily married, and sober. The latter helping to inspire many of the songs on Goodnight Rhonda Lee.
"I just got into a really bad rut," explained Atkins.  "I think a lot of people in my position think that's the way it is.  A lot of people are depressed and it's like this is my life.  I'm just a depressed person or a drinker. And I was always at odds with that.  I knew that's what I was doing, but that's not who I was.  So it was a lot of work to try to get out of that because I wanted to be a better wife and a better band leader.  I wanted more head space for the things I love and not be just dealing with a hangover all of the time."
Her husband Ryan, a tour manager for several bands, was extremely supportive when she told him that she was entering rehab.  While some artists believe that struggles in life bring about great art, she doesn't think her experiences were needed to come up with good songs.
"I'm a songwriter, so I'm always working on songs," said Atkins.  "But that definitely was the place I was in at that point in my life.  I probably could have created this album without those experiences but it wouldn't have been as much fun.  It was fun to know what I'm doing and feel confident about it and get the work done and not have a monkey on my back so to speak."
What is most striking about this record is the way she abandons the approach of trying to avoid writing music or singing like Roy Orbison; instead she dives right in.  Atkins has been portrayed as a female Roy Orbison and for good reason - her voice soars and reveals emotions just like Roy's did.  Her previous records have always shown hints of this in a song or two, but Goodnight Rhonda Lee comes straight out with a wink and a nod to Orbison in the very first song.  As Atkins sings "A Little Crazy" she croons the word "trying" in the same vein as Orbison sang "crying."  It's like a signal that she is no longer going to fight the comparisons; she is writing the way she feels is natural for her and it just happens to be reminiscent of Orbison's style as well.  From there on out, the album is full of various musical styles and lyrics that create mini films just as you'd find if you put on a greatest hits CD by Orbison.  It's a wildly inventive record that has deservedly found itself on many year end best of lists.
"When I made my first record, I had worked on that record pretty much my whole life," she explained.  "My head then got stuck in the business side of it.  People said this didn't really connect with that many people, what else can you do? They said you should do this, you should do that.  So, I was fighting against my natural style in order to, I guess in a way, please others."
She continued, "I remember having dreams in which other people would be covering my songs or covering a Roy Orbison song and I'd wake up in a panic all mad saying 'no, that's my song!' It was more like you never know what's going to happen in your life so you have to do exactly what you want to do and try to have less self doubt.  Stop listening to the static and chatter of others because no one knows you as well as you know yourself.  It just took me a long time to realize that.  I guess that's what comes with age."
Atkins says her natural style of songwriting is very much placed in the soulful songs of the 1950s and 1960s with a touch of Broadway and theatrics mixed in.  She recalls that during her days in musical theatre as a child, she thought you had to be a soprano - had to sing the highest  range - in order to be a good singer.  Looking back, Atkins thinks she was probably a terrible singer at the time because she was always trying to sing like others.  It was only when she began singing covers of Roy Orbison and Led Zeppelin that she developed her own way of belting out vocals.
One of the best songs on the album is "A Serious Night of Drinking." This was the first song she wrote music for when she moved to Nashville.  She says it reminded her of a Frank Sinatra / Lee Hazlewood type of song, which are among her favorite types of music.
"I guess it's like growing up on the Jersey Shore and having an Italian family that listened to those Cruising Classics gas station compilation tapes with artists like Jay Black & the Americans, Jackie Wilson, and Frankie Valli - that's the kind of music that's in my D.N.A." she explained.  "I could go and write a French pop record if I wanted to.  I'm a musical person, but as far as what kind of music is in my blood, it's that kind of music."  
"When Jim Sclavunos and I were writing the lyrics, it started out about this relationship that was tainted by alcohol," recalled Atkins.  "And now as months go bye and I'm living with the song, I remember when we were writing it.  I had very bad writer's block and I didn't have any plans to put out an album.  And then looking at the lines, '9 years ago… 7 years ago… 3 years ago' - those were all of the timelines of when I released albums before.  It almost became this metaphor for my career in a way.  So, it's way more than just a romantic relationship now."
Even though one might think the song would conjure up bad memories for her now that's she's sober, she says it's her favorite song to perform on stage.  
"I feel like when I go on stage, I'm a different person than I am off stage," said Atkins.  "I go into the song and enter the song and feel every bit of what the song is about.  I like to play the role.  And when I get off the stage, I have a minute to myself and a cigarette, and then I become Street Atkins again."
For an artist whose career started with an album called The Party's Over, to be able to sing songs like "A Serious Night Of Drinking" is anything but depressing.  In a strange way, it's almost as if Atkins enjoys being able to look back now that she knows she can move forward again.
"The party's just starting!" she exclaims.  "It's weird.  I've been having a better time now than I think I ever had in the past, probably because I can remember it.  I guess my biggest wish is to have it continue to slowly build; to have the shows get bigger and the music to get bigger and to just keep writing better albums that can help me and help other people."
Atkins will be returning to New Jersey on January 27 for a show at Outpost in the Burbs in Montclair.  The night also includes Kirsten Maxwell on the bill.  A month later she begins another brief tour of the UK with stops in Glascow, Manchester, Dublin, London, Bristol, and Brighton before returning to the states.
When asked if she would ever drag out any of her truly early numbers for a Jersey crowd, she laughs at the mention of "Billy Baloo" - a track that was named Song of the Year in the 2002 Asbury Music Awards.  At the time it was credited to Nicole Atkins & Tres Dirt Clods.
"I was actually thinking about that song the other day," she admits.  "That wasn't a bad song.  I recorded that at Retromedia.  It was the first album I ever made.  I looked them up in the phone book under recording studios! It's funny because my songs always had a '60s vibe and that was always the aesthetic of John Noll (the famed producer who owned Retromedia) as well.  It's funny how weird synchronistic things happen via the Yellow Pages!"
A lot has changed over the years, but one thing that hasn't changed is the tag of being the next big thing. She says it has followed her and haunts her wherever she goes. The difference is that instead of being a budding star in a small town like Asbury Park or one in the sprawling world of Brooklyn, she's living in Nashville where there's an artist living with that tag on every other block.  It's an environment that has also helped place her in a better frame of mind as an artist.
"It's put me into more of a flow of work," she says.  "I have a giant circle of friends who are all musicians in different bands.  And it's not just country music. Some guys are in My Morning Jacket, some from Wilco.  I have this group of friends and peers. I can wake up on any day and be like let's make something.  I love New Jersey, but it's kind of tough being in a work flow because most of my friends don't do music there.  A lot of them have families and jobs."
She does offer one piece of advice for music fans who swear their favorite artist will be the next to make it big - don't come to shows alone.
"The one thing that always boils my blood about the next big thing tag is that the people who say that are also the people who come alone to my shows," said Atkins.  "It's like next time bring five of your friends - be part of the solution!"
---
NICOLE ATKINS - SATURDAY, JANUARY 27@ Outpost in the Burbs 
First Congregational Church of Montclair, 40 S Fullerton Ave. Montclair, NJ 07042
---
Gary Wien has been covering the arts since 2001 and has had work published with Jersey Arts, Elmore Magazine, Princeton Magazine, Backstreets and other publications. He is a three-time winner of the Asbury Music Award for Top Music Journalist and the author of Beyond the Palace (the first book on the history of rock and roll in Asbury Park) and Are You Listening? The Top 100 Albums of 2001-2010 by New Jersey Artists. In addition, he runs New Jersey Stage and the online radio station The Penguin Rocks. He can be contacted at gary@newjerseystage.com.
---