By Gary Wien
originally published: 11/27/2018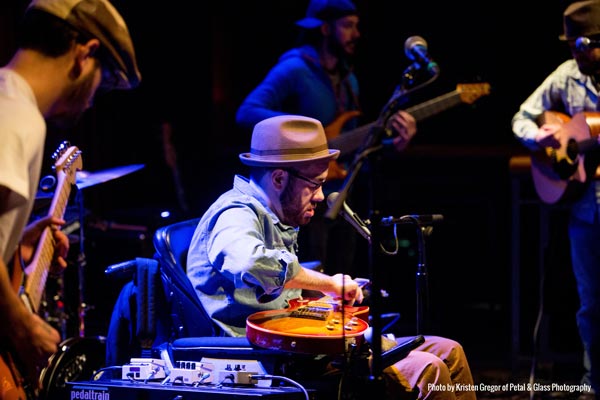 This New Year's Day will be 15 years to the day that Ryan Nelson's life changed forever.  The Salem County musician crashed his pickup truck head first into a tree, smashing his C7 vertebra, leaving him paralyzed from the neck down.  Doctors told him he died three times on the helicopter ride to the hospital.  He would move on to a second hospital for spinal cord surgery and a third for rehabilitation.  It was there that music literally saved his life by giving him a purpose.  
Ryan, best known as "Gooch," leads the band Gooch & the Motion.  If you close your eyes and simply listen to the music you'll hear an artist unlike any other in the Garden State.  Vocals that evoke Dr. John; slide guitar that mixes the blues with southern rock, country, and funk; and stories from the southern part of the state.  Music is the story Gooch would rather tell and he looks forward to releasing the second album by his band in 2019, but he knows he cannot hide the struggles he's overcome and the inspiration he is to many.  It's a burden he's come to accept.
"It's a catch 22," said Nelson.  "Sometimes I wish that people would just focus more on the music and sometimes I think it almost holds me back in a way.  Like maybe people think I'm getting attention because I'm paralyzed before they even give me or the music a chance.  But, on the other hand, I've helped inspire many.  People used to tell me that and I didn't know how to take it. Now I take it as a responsibility.  I see what giving people hope and inspiration - and whether it's the music doing it or my story, it doesn't matter to me.  I just want to leave a legacy and put a positive meaning out there.  There's a lot of negativity out there already; I'd rather contribute to the positive stuff."
One way he does that is the Music in Motion Foundation, a 501c3 non-profit organization created by Nelson that raises money for music programs in hospitals, rehab centers, schools, prisons, and anywhere else music can be used to educate, motivate, and affect change in a positive way. Gooch & the Motion held their 3rd Annual Music in Motion benefit concert at Rowan University in November. Proceeds go to a music scholarship for a new music therapy program at the university.
Nelson knows music therapy works because he's seen it work firsthand. While he was in the hospital, a woman came in with a guitar, bongos, and other instruments.  Those visits helped pave the way for Nelson to learn a new way of playing guitar.
---
The article continues after this ad
---
---
"For me it was a unique experience because I had never heard of open tuning," explained Nelson.  "She would take this wood block violophone and take away certain notes.  She would play like three chords, so no matter what block I hit I was in tune with her. I had played guitar before my accident, so I started playing this thing and she was like, 'Wow, that's really good!' It was cool.  Anything I played went along with those chords.  That's how I learned open tuning and what harmonica and slide guitar is played in.  So the music therapy opened a huge door in that aspect for me."
He now plays guitar by laying it on his lap and using a slide to play because his hands are still paralyzed.  The style lends itself to the blues.  Nelson says he grew up listening to lots of different music styles but was drawn to Southern rock blues bands like ZZ Top.  As he began learning to play slide guitar, he started getting a deeper appreciation for the blues and researched far into its history.  He began listening to everything from country slide guitarists to pedal steel gospel guitarists.
Two years after his accident, Nelson began performing  with his friend Brian LaPann as a duo in coffee houses as 61 North.  They would add Joe Bross on drums and Bob Comfort on bass to complete the band, which epitomized the southern rock he and his friends had grown up with.   61 North would go on to open for many national acts, record a pair of albums, and regularly perform on the festival circuit.  But a few years into that run, Nelson faced another major twist to his life story when he was diagnosed with chronic myelogenous leukemia.  He's cancer-free today but still has to take medication for it every day.   The band was together for eight years when Nelson realized he wanted to go a different route.  
"I had decided to leave 61 North because I heard this sound in my head that I wanted to pursue," said Nelson. "It was a huge decision because we were doing well."
Nelson thought about creating out a three or five song EP and sought out a producer. Through a mutual friend, he was introduced to Joe Nicolo, a prominent producer in the Philadelphia area who won nine Grammy Awards for his work on James Taylor's Hourglass album and releases by Jazzy Jeff, The Fugees, and Lauryn Hill. He was also nominated for a Grammy for his production of Billy Joel's album, River of Dreams. When the two first met, Nelson finally got the opportunity to have someone judge him on his music rather than his personal story.
"When I first met Gooch, I listened to him perform with my eyes closed," said Nicolo.  "I didn't want his condition to affect my opinion of his music.  He totally sold me.  He's so unique.  There's nothing out there really like him.  It's one of the finest compliments I can give an artist."
As luck would have it, Nicolo was looking for acts to be part of a new record label he was starting and Comin' Home by Gooch & the Motion would be his first release.  The album contained originals written by Nelson with a few covers like Tom Waits' "Diamonds On My Windshield" and R.L. Burnside's "Shake 'Em on Down" and "Sitting On Top of the World." The two are working together for the followup, which will be out early next year. Nelson says the music is along the same line, but is more focused.
"I feel like we are finding our own sound," said Nelson.  "This new album is going to be 100% original.  I feel like I've taken a full step forward in my lyrics and writing, and the over sound is more cohesive.  It's a bit more original, while still invoking that kind of nostalgia of Dr. John and some of the great artists that people like."
When you listen to Gooch & the Motion it's hard to believe that this is Nelson's first time as a lead singer.  His voice is so distinctive and so memorable, it gives his self-described "rusted-dirt" sound the perfect partner for his slide guitar.  Thinking back to his days in 61 North with LaPann handling lead vocals seems like a lifetime ago.
"He would sing my songs and I never thought anyone would want to hear my deep voice or that I could even sing with it," recalled Nelson.  "Ironically, I started dating this girl who played guitar.  She would always say, 'Your voice is so sexy, you need to sing.' So, that obviously encouraged me.  And then I enjoyed it so I took some vocal lessons from my old choir teacher.  I began taking it seriously and wanted to give it a try. Never in a million years did I think I'd take it to where I am now.  I never thought anyone would want to hear my voice."
While 61 North was aggressive in booking gigs, Gooch & the Motion is more selective.  Nelson would rather play one or two shows a month that can be promoted well than play a bunch more.  His band is now a full eight piece with horns and keyboards, so that has to be taken into consideration.  And, unfortunately, his disability needs to be factored in as well.
Many venues have upgraded their facilities to meet ADA (Americans with Disabilities Act) accommodations for patrons with regards to seating, restrooms, and exits; however, there isn't as much discussion about ADA accommodations for performers.  With many stages four feet above the audience, wheelchair access to performance areas is a topic of concern for artists like Nelson.
"My mom always says you should be grateful that your disabilities are on the outside," said Nelson.  "There's a lot of people with mental illness who are disabled on the inside.  I disarm people immediately because they see me in a chair.  It's like they're almost on my side already before they see me on stage.  And they're on your side because who doesn't want to see a guy in a wheelchair succeed?"
If a hard life is behind every good bluesman then it's no wonder Nelson has such great songs inside him. His story is told in the film The Motion: Gooch's Journey. His challenges help define him, but it's only part of the mix. Nelson is based in a part of the state that is below the Mason-Dixon line; surrounded by farms, forests, and vineyards; and is known for the Cowtown Rodeo - the longest running weekly rodeo in the United States.  That world and the challenges he's faced are the recipe for his music.  
Listen to his songs with your eyes closed and think about the music that saved him. It gave him a purpose and someday it will do all his talking for him.
---
Gary Wien has been covering the arts since 2001 and has had work published with Jersey Arts, Elmore Magazine, Princeton Magazine, Backstreets and other publications. He is a three-time winner of the Asbury Music Award for Top Music Journalist and the author of Beyond the Palace (the first book on the history of rock and roll in Asbury Park) and Are You Listening? The Top 100 Albums of 2001-2010 by New Jersey Artists. In addition, he runs New Jersey Stage and the online radio station The Penguin Rocks. He can be contacted at gary@newjerseystage.com.
---