By Diego Allessandro
originally published: 10/06/2017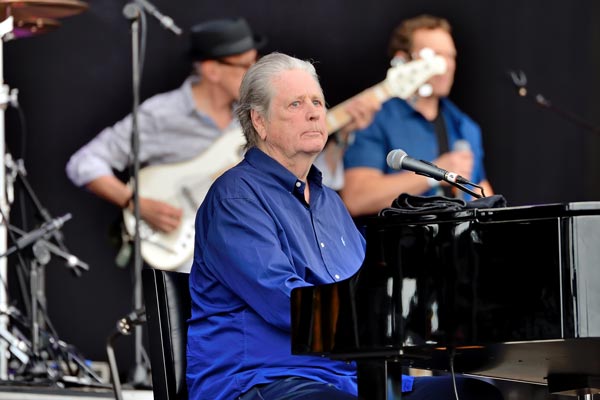 In 1965 The Beatles released Rubber Soul, an eclectic mix of songs influenced by folk psychedelia and even African-American soul music after returning from their North American Tour. At the same time Brian Wilson, the creative force behind The Beach Boys was taking time off from the road due to intense anxiety attacks to focus purely on writing and recording music. Seeing Rubber Soul as the first complete album he was set on creating the best album ever made. Most have argued, and I personally tend to agree, that full length LP's (that's a 33 and 1/3 RPM 12-inch record kids, ask your parents) were mostly two or three good songs and ten pieces of filler. Rubber Soul was a collection of all good songs that thematically fit together and with Brian's 1966 artistic masterpiece Pet Sounds the concept album was born. 
In celebration of 50th anniversary of the Beach Boys immortal 1966 Brian Wilson took the road last year to perform a series of shows in which the second act was comprised of performing Pet Sounds in its entirety. The 2016-2017 50th Anniversary Pet Sounds Tour includes founding Beach Boy Al Jardine, his eldest son Matthew who not only shares lead singing duties with his father (masterfully I might add) but also former Beach Boy and Rolling Stone Blondie Chaplin. Darian Sahanaja leads a band of pros, all of whom with the exception of drummer Mike D'amico and bassist Bob Lizik sing. As the tour winds to a close this October it's important to note that this is the final time that the 75-year-old Wilson will perform the album in its entirety, hence why I was so desperate to see it September 26th at The Count Basie Theater in Red Bank. With Mr. Springsteen in the audience until the encores, I watched a frail but proud icon of music and personal hero play his masterpiece. 
The first act was full of some hits, some lesser known songs and some great guitar work from Blondie Chaplin. Matthew Jardine's beautiful falsetto which reminded me who I love "Don't Worry Baby" a song that could have fit wonderfully on 'Pet Sounds.' The second set the band returned to the stage after a short intermission to perform the album in its entirety. Al Jardine hasn't lost anything and can still sing beautifully. If you closed your eyes you can hear the ghosts of Dennis and Carl Wilson serenade your soul from the ether. The eleven musicians did a great job filling in for The Wrecking Crew who performed on the original album and wonderfully created the lush harmonies the Beach Boys were famous for. In the encore the band kicked it into a whole different gear and had the whole house rockin' boppin' shakin' dancin' and explodin' with the Beach Boys biggest hits, excluding Kokomo. The night ended with Brian's wonderful ballad from his self-titled solo debut "Love and Mercy."  
The album Pet Sounds has since gone on to be beloved by fans and musicians alike. Rolling Stone placed it number 2 on it's list of 500 Greatest Albums of All Time. Uncut, Mojo, New Music Express and The Times all placed it number 1. Paul McCartney was inspired to create Sgt. Pepper's Lonely Hearts Club Band with The Beatles, released in 1967 and regarded by many as the best album of all time, it was the album that was number 1 on the previously mentioned Rolling Stone list. The album is at the center of the 2014 Brian Wilson biopic Love and Mercy in which Paul Dano plays young Brian creating his lasting masterpiece and John Cusack plays the elder Brian struggling later in life to reconnect with the world after years of being a recluse under the care of Dr. Eugene Landy. 
I spent most of my 20s trying to make an album that was conceptually tight and musically pleasant as Pet Sounds. The results were 2013's Magical and 2014's The Losin' Kind and while I'm still very proud of both albums I know they aren't Pet Sounds. The closest I came was the lone Lot 25 release, 2016's Eden Boulevard. Lot 25 was a big reason why. The arrangements and instruments used to create its post-apocalyptic tone and the lightning fast, relentless tempo of the album wouldn't have come about without the influence of Reid Weinman, Brian Morelli and James McIntosh our original drummer. Joey Preziosi added the climatic solos on the second half of the album I couldn't have played and Marissa Cohen gave the album the female presence and strength my solo work had been lacking. My cousin James Dellatacoma, the unofficial member of the band, helped craft the presentation with his guidance and knowledge particularly with loops and sound effects. Through them the ideas I had found their place on the album. Eden Boulevard was how I felt, heard, saw and reacted to the world. What angers, scares and haunts me as told through its central narrative characters Jerome and Nicholas.
---
The article continues after this ad
---
---
One doesn't need to be a musical genius like Mr. Wilson to create a good concept record, nor does one need to be signed to a record label. Probe the deepest sections of your soul and speak or sing your truth over music that encompasses how you hear the world. That's what Pet Sounds was. Those familiar with Brian Wilson know the auditory hallucinations he is prone to and the album he created was back in 1966 is littered with bicycle horns, bells, ambient talking, and even coke bottles. The album ends with dog barking and a loud train passing by. That's how Brian Wilson hears, sees, and feels the world. God only knows what I and countless other artists would be without that example to follow as we seek to shine a mirror at the world around us. Every true artist wants you to see, hear and feel the world as they do. That is true legacy of Brian Wilson and Pet Sounds.  
---
For more on Diego Allessandro and his own music visit www.diegoa.net.  For a great look at Brian Wilson's solo career, check out Playback: The Brian Wilson Anthology - a new album (released on September 22) that covers more than 30 years of music with selections from nine of Brian's solo albums including remastered and live takes.
PHOTO BY Christian Bertrand / Shutterstock.com, taken during his performance at the Primavera Sound 2016 Festival on June 4, 2016 in Barcelona, Spain.