This article is from our magazine. To view it in its original format, click here
Get The Led Out Photos
By Bob Beucler
originally published: 11/21/2015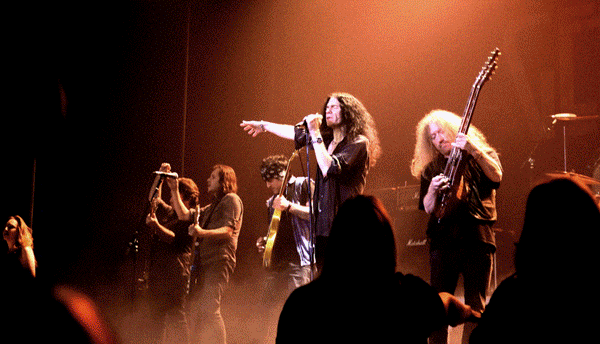 Get The Led Out made its Lakewood, NJ debut at The Strand Theater on Saturday, November 14, 2015.  The band is acclaimed for painstakingly reproducing the studio recordings of Led Zeppelin, going so far as to recreate Jimmy Page's famous guitar army of overdubs by having multiple guitarists performing all of Page's guitar tracks from the original recordings.
Get The Led Out is a group of professional musicians who are passionate about their love of the music of Led Zeppelin. It's been their mission to bring the studio recordings of "the mighty Zep" to life on the big concert stage. This is not an impersonator act but rather a group of musicians who were fans first, striving to do justice to one of the greatest bands in rock history.
The band includes Paul Sinclair (lead vocals), Jimmy Marchiano (guitars), Adam Ferraioli (drums), Andrew Lipke (keyboards, guitars, vocals), Paul Hammond (guitar, mandolin) and Phil D'Agostino (bass).
For full photo coverage, click here.  All photos by Bob Beucler.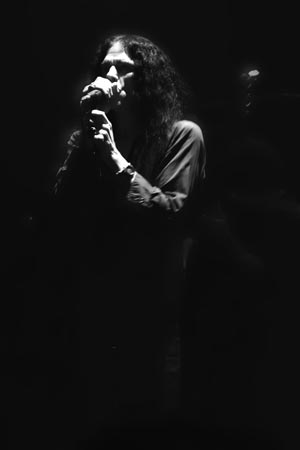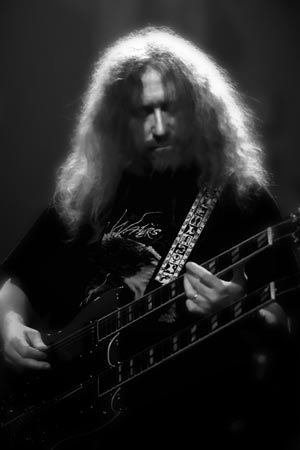 ---
The article continues after this ad
---
---



The Jersey Shore Music Scene To Celebrate The Life Of Bob Colyard On November 18
(ASBURY PARK, NJ) -- Memorial Day weekend was somber this year for the Jersey Shore music community who lost one of its biggest supporters in Bob Colyard.  An avid music fan who often went to live shows in Asbury Park, Colyard, 68, passed away on May 20th after a bike ride through the Manasquan Bike Trail.  The music community will gather to remember Bob on Sunday, November 18th at The Saint in Asbury Park.  An afternoon of music featuring several of Bob's favorites will run from 11:00am to around 4:30pm. Admission is $10 and proceeds will be donated to Musicians On A Mission.  
---
SOPAC Presents The Klezmatics
(SOUTH ORANGE, NJ) -- The foremost and best-loved Klezmer band, The Klezmatics, offer a program from their Grammy Award-winning collaboration with Woody Guthrie's lyrics for Hanukkah. The Klezmatics bring their hip, East Village sensibility to the South Orange Performing Arts Center on Thursday, November 29 at 7:30pm.
---
Mayo Presents Dave Koz & Friends
(MORRISTOWN, NJ) -- Santa Koz is coming to town! Multi-Grammy® nominee and saxophonist extraordinaire Dave Koz returns to Mayo Performing Arts Center for a spirited holiday celebration on Monday, December 3 at 7:30pm. Tickets range from $49-$89. Special Guests joining Dave this year will be saxophonist Mindi Abair, guitarist Jonathan Butler, keyboard sensation Keiko Matsui and vocalist Sheléa.
---
Wharton Institute for the Performing Arts Presents An Evening of Holiday Music with Musicale Amice
(BERKELEY HEIGHTS, NJ) -- Wharton Institute for the Performing Arts (WIPA) continues its Salon Series with an Evening of Holiday Music featuring Musicale Amice on Thursday, December 6 at 7:30pm at 60 Locust Avenue in Berkeley Heights. Wine, cheese, and hot cocoa will be served and the concert will end with a festive sing-along. Tickets are $12 for adults, $6 for seniors, and free for Wharton Institute for the Performing Arts students. Tickets are available at the door or by calling 908-790-0700.
---
The Life Of Tom Richards To Be Celebrated On Saturday, November 17
(WALL TOWNSHIP, NJ) -- The cover story of New Jersey Stage magazine Issue 44 was on Tom Richards, a musician born and raised in New Jersey, and his battle with an aggressive and incurable form of cancer.  At the time, Tom believed he had a year or two left and was fighting to complete an album in that time.  Sadly, Tom lost his battle on October 2, 2018.  A  celebration of his life will take place at the O'Brien Funeral Home in Wall Township on Saturday, November 17 from noon to 4:00pm.
---


Charlie Thomas' Drifters, The Classics IV, and The Brooklyn Bridge LIVE! at The Strand, Lakewood
The stars are out this Saturday Oct. 26, 2018 evening in Lakewood, NJ for a "Golden Oldies" concert featuring Charlie Thomas' Drifters, The Classics IV, and The Brooklyn Bridge!
---
PODCAST: Grammy Winner Terri Lyne Carrington At TD James Moody Jazz Festival
Drummer, leader, and composer Terri Lyne Carrington made history as the first woman to win a Grammy for Best Instrumental Jazz for her album "Money Jungle: Provocative in Blue." Now, she brings her interpretation of Duke Ellington's "Money Jungle" to the TD James Moody Jazz Festival at NJPAC on November 11, 2018, as part of a program called "Jazz Vinyl Revisited." Producer Susan Wallner talks to Carrington about her connections to the jazz greats Clark Terry and Max Roach; her newest project, the Berklee Institute of Jazz and Gender Justice; and why she thinks drummers make natural leaders.
---
Sha Na Na LIVE! at the Newton Theatre
The audience is streaming into the Newton Theatre auditorium in Newton, NJ this Friday, Oct. 19, 2018 for a live concert starring Sha Na Na!
---
"Magical!" Poco LIVE! at SOPAC
Music fans are filing into the beautiful South Orange Performing Arts Center auditorium on this gorgeous Saturday, October 13, 2018 evening for a performance by a group that helped to define the genre of country rock — Poco!
---
"I Felt the Love!" Diana Krall's "Turn Up the Quiet" Tour LIVE! at the State Theatre
Many years ago, after Tony Bennett made a singing appearance on The Tonight Show, host Johnny Carson told him how great his voice sounded that night. When Bennett appeared surprised, Carson asked him if there was anything different about his voice, and Bennett sheepishly replied, "I have a cold."
---
Event calendar
Monday, Nov 12, 2018
---
MUSIC

---
---
---
---
---
MUDDFEST 2019

@ Mainstage @ Union County Performing Arts Center (UCPAC), Rahway - 7:00pm
---
THEATRE

---
---
---
---
FILM

---
Free Solo

@ The Newton Theatre, Newton - 7:00pm
---
LITERATURE

---
---
View all events
---