By Gary Wien
originally published: 07/24/2020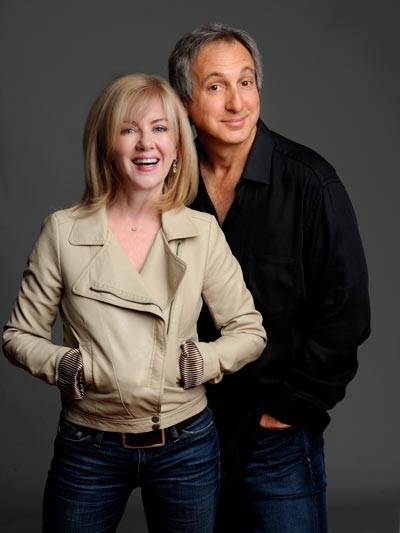 For nearly 50 years, Billy Van Zandt and Jane Milmore formed a writing team that was behind hit television shows, movies, and popular plays.  They started out as a couple, broke up, got back together, broke up again, and eventually became friends - all while continuing to create together.  It's rare enough to find a great writing partner, but to have the kind of career they had is remarkable.  And to do it after a painful breakup is even more amazing.
"Oh, it's insane," admitted Billy Van Zandt, a Monmouth County native who lives in California.  "The fact that we did this for 46 years baffled Jane and it baffled me.  I will say we were very young when we met.  That probably had a lot to do with why we sort of got along later because we finally grew up and realized we were better off as friends.  But it took a long time to get there and it was a painful switch.  The weird part is 46 years together we didn't miss one single day of work even through breaking up, despising each other, getting back together as friends, and then becoming best friends.  You learn to compartmentalize very well.  And then, after a while, it almost feels like she forgot I was a guy and I forgot she was a girl.  We were just a family doing our thing."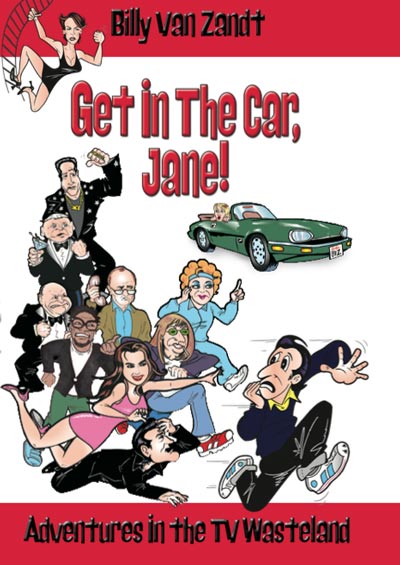 Four decades of work in Hollywood leads to tons of stories and Van Zandt shares many in his book, Get In The Car, Jane! which was released in June.  The book is based on journals Van Zandt kept over the years and includes first hand observations of artists like Lucille Ball, Don Rickles, Bob Newhart, Martin Lawrence, Penny Marshall, Richard Lewis, Brooke Shields and many more.  It is a quick read and extremely funny, including notes on shows that made it big, shows that were cancelled early on, and shows that never even made it to the pilot stage. 
"I started this book a couple of years ago," said Van Zandt.  "Life got in the way and I put it on the shelf.  Then two years ago, a friend of mine (Bruce Ferber) who had worked on shows like Home Improvement and Sabrina the Teenage Witch called me out of the blue and said, 'My next book is going to be an anthology of working in Hollywood.  I remember you talking about Lucille Ball and working with her.  Would you do a chapter on that?'  I said sure and started putting that together.  I went back to my journals and I looked at the other shows as well.  And I started putting it together that way."
Van Zandt had his first draft finished before Jane Milmore was diagnosed with pancreatic cancer. Over the next 15 months while Jane fought on, she read and approved every story - even correcting the story when needed.  "She'd say, 'I didn't throw a teapot at you, I threw a vacuum cleaner!' I'd say ok and made a few changes like that.  Jane also chose all of the photos in the book."
---
The article continues after this ad
---
---
Milmore passed away on February 4, 2020, but is treated in the book as if she's still alive.
"I feel like she's always going to be with me," he explained.  And even now as I'm starting to go over scripts I'm thinking, 'Now, what would Jane tell me to do here? She would say 'Stop doing that or that joke's too much.' I think she's always going to be in my head."
In fact, as bad as the situation was, Van Zandt thought she was going to beat the cancer.  Chemo treatments eventually wore her down and her body gave out, but she never stopped working and didn't want to stop.  Van Zandt says they worked one or two days a week up until she went into the hospital at the end.  They ultimately wrote three projects while she was sick.
"Until about a week before she died, I just thought this was a bump in the road, she'll beat this, and we'll get on to our next thing," recalled Van Zandt.  "Somebody asked me why don't I talk about her death in the book? I said because it's not that kind of a book.  It's a bunch of funny stories.  I meant it as a beach read."
And that it is.  It's also a fascinating look at the world of being a writer for television.  The duo began in Monmouth County writing for the theatre. Billy grew up in Middletown; Jane in nearby Keansburg. They met in a local high school acting competition.  Years later when their theater in New Jersey closed up, they took a review of their work to heart.  The reviewer wrote, "These people should be writing for TV."  The comment was almost certainly intended as a putdown, but it inspired them to move to the West Coast and give it a shot.
"We had no idea what we were doing or how to get into television," said Van Zandt.  "We didn't have any connections.  But together Jane and I always fearlessly jumped into new things.  Same way we wrote our first movie, wrote our first musical, produced our first show in New York City.  Either too naive, too dumb, or too pigheaded to think we'd ever fail."
Even after they moved to California they would return to New Jersey each year to premiere their latest play usually at Brookdale Community College in Lincroft.  On a normal summer, their plays are still performed throughout the country.  Strictly comedies, the plays are a popular choice for summer stock.  Some of their most popular works include You've Got Hate Mail, Silent Laughter, Drop Dead, and Love, Sex, and the I.R.S.
Together their Hollywood resume included creating and developing shows such as The Wayans Bros, Suddenly Susan, Bless This House, and Daddy Dearest - all which are covered in the book.  
Van Zandt also dives into their work on shows like The Newhart Show, Martin, and their Emmy nominated special, I Love Lucy: The Very First Show.  Sometimes they would provide the studio with exactly what was asked, sometimes the studio would change their mind, and sometimes the world of television simply comes down to luck.  In many ways, Van Zandt's book provides the perspective that a television writer is very much like a sales person. The comparison can be seen via the way a writer's job involves pitching new ideas to the networks, giving existing shows a reboot, having shows cancelled, and the myriad of people involved with providing notes and criticism for each script.
"A friend of mine once said, 'We spend six weeks working on a script and then our reward is to spend a week having all different groups of people tell you how you're doing it wrong," said Van Zandt.  "In terms of the pilots, the ones that you write that you turn in and that get turned down you figure there's got to be a reason.  It didn't fit what they're looking for or they're looking for a big star or this person wasn't right for the show.  That part's ok; it's when you film it and it gets turned down that it hurts because you put everything into it.  I've been happy with every pilot that we've done that was filmed thinking we did everything right.
"We always had great casts," he continued.  "It depends on who's running the network at the time and depends on so many different things.  I always say, 'No matter how bad a tv show is that's on the air, I have so much respect for whoever created that show for jumping through all those hoops to get it on the air.' I don't say what a terrible show, I say good for you."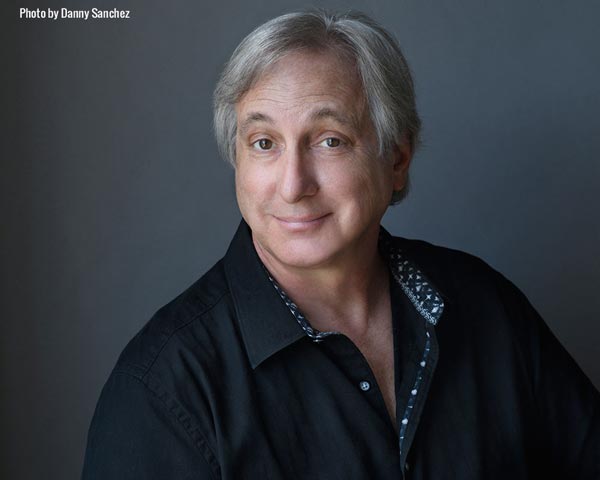 The book starts off in 1977 when Van Zandt flew to Hollywood to shoot scenes for Jaws 2, his first movie as an actor.  But it doesn't start off with the film, it starts a bit earlier with the first thing he did in California - visiting the home of Lucille Ball.  She meant everything to Van Zandt.  He credits her as the reason he's in show business.  Everything from Lucy's comic timing to her writers serving as his instructors on how to write a sitcom.  Straight from the airport he heads to Lucy's house where the front door is immediately shut in his face after announcing who here is there to see.  "She's not home," he's told.
Ten years later he would wind up hearing stories directly from Lucy while she was shooting a new series called Life with Lucy. Sitting inside her house after watching the show's premiere, Billy asked her if she had ever met Charlie Chaplin who likely inspired her the way Lucy inspired him.  Turns out Lucy and her husband dropped by Chaplin's house once and had the door slammed in their face by a housekeeper as well with the statement, "He's not home."
"It really blew my mind," said Van Zandt.  "I felt so in synch with her it was weird.  I think when people are starting out - whether they are a musician, an actor, or anyone in the arts - there's a reason you're drawn to certain people. I had a comedy rhythm with Lucille Ball.  I connected with her timing and something spoke to me about it.  That's why I thought of going to her.  Oddly, when I started working with her and I watched her in rehearsal, she rehearsed the same way I did, which was weird.  We'd be telling stories and it was like, 'That happened to me too.'"
"We connected so much it was scary.  I only knew her for those three weeks, but afterwords she wrote me letters and I wrote her letters.  It was a nice friendship."
Many people are a bit worried about meeting their idols because they're afraid what they might see behind the curtain.  But Van Zandt had great experiences overall with people who influenced him like Lucy and Don Rickles.
"I was terrified to meet Lucy because I'd heard a lot of stories about what a tough woman she was," said Van Zandt.  "I thought if she turns out to be a creep it's going to kill me, but she was great.  And Rickles could not have been nicer.  He was probably the nicest guy I've ever worked with to this date.  I would say there's very few people I didn't get along with.  And even the people I didn't get along with, I understood why.  Most of it has to do with fear.  Take Martin Lawrence for instance.  When you're a stand-up comedian you've been your own director, your own producer, and your own writer for probably 10 years before coming in to do a sitcom.  Suddenly you're being told, 'I know you've been in charge of everything you've been doing, but now it's my turn.  You're going to listen to me.' That makes for a very strange relationship right off the top.  So a lot of times these guys will appear to be much more ridiculously egocentric than they probably are.  It's because they're protecting their brand."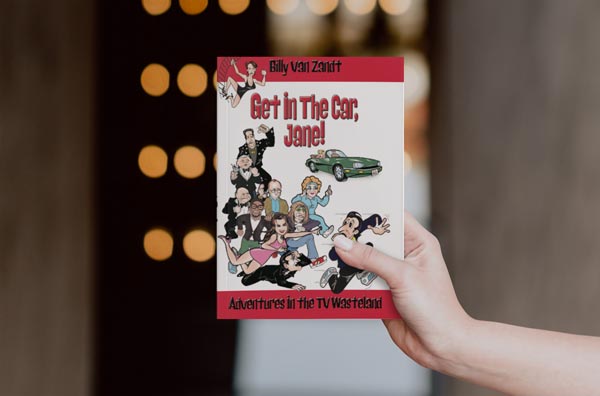 Van Zandt recalls being starstruck with everybody when he first arrived in Hollywood.  After being there for a year, he says you forget who's famous and who's not because you're just dealing with people. The book includes lots of stories about celebrities, but Van Zandt swears everything written is true.  On three occasions he tells stories about people he does not name, but mostly his thought process was if someone was a celebrity they were fair game unless it was something that could hurt their career.
As a writer, Van Zandt says his life during the pandemic has not been that different from his life pre-pandemic.  The obvious difference is that there are no tv shows being shot and none of his plays are being performed right now.  And, of course, he imagined spending the summer on a book tour but is doing podcasts from home instead.
He does miss coming back to New Jersey though.  He's proud of his family's roots in Monmouth County, which go back to the early 1600s.  One regret is that his kids were the first two Van Zandts' not born in the Garden State.
Asked when he thinks live theatre will return and he paints a depressing picture.  He's been in contact with theatres that have told him they are planning on removing two out of every three seats. Knowing the financial side of running a company he asks, "Name a theatre that can survive on 30% capacity?" He also points out that having an audience get sick two weeks after a show is a horrible thought and one that could endanger theatres.
"Until there's a vaccine, I think we're all screwed. I just do," he said.  "My shows are mostly summer stock productions.  The theatres that do my shows have postponed everything until next season.  So until next June, I think many are pretty much closed up.  Even then, starting next June, I hate to say this but I don't want to be the first one in the audience to see a show.  I don't even know if I want to be the first one to get the vaccine.  I think I'll wait for the third vaccine and make sure all the kinks are worked out."
But nothing will stop Van Zandt from writing.  Not the pandemic or the way it has closed theatres and stopped production of television shows.  Not even the passing of Jane will stop him.  He knows a part of her will always be with him, reminding him of what works and doesn't work. She's the final person thanked in the opening credits.
 "And one final, extra thank you to my writing partner of a hundred and fifty years, Jane Milmore.  I love you.  And without you, the title of this book would make no sense whatsoever."
---
Gary Wien has been covering the arts since 2001 and has had work published with Jersey Arts, Elmore Magazine, Princeton Magazine, Backstreets and other publications. He is a three-time winner of the Asbury Music Award for Top Music Journalist and the author of Beyond the Palace (the first book on the history of rock and roll in Asbury Park) and Are You Listening? The Top 100 Albums of 2001-2010 by New Jersey Artists. In addition, he runs New Jersey Stage and the online radio station The Penguin Rocks. He can be contacted at gary@newjerseystage.com.
---