By Gary Wien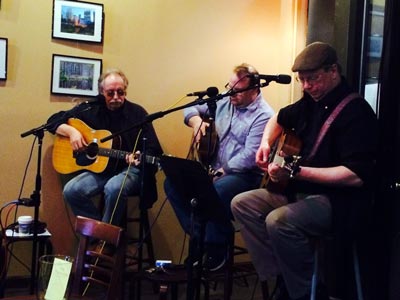 (APRIL 5, 2014) I finally made it out to one of George Wirth's "Words & Music" monthly shows at Espresso Joe's in Keyport. Actually, it was my first time back at the coffeehouse in years and my first time at a show in months. Espresso Joe's was the second place to ever "request" copies of my old Upstage Magazine, so the place holds a special spot in my heart. It's also a great venue for music and tonight was a lineup too good for me to pass.

For this month's show, Keith Monacchio and Thomas Johnston joined George in a songwriter in the round setting. Each took turns playing a tune and generally telling a little story beforehand. All three songwriters are among my favorites in the area and with both Thomas and Keith recording new albums, I looked forward to hearing a few of their newer songs for the first time. The three play for about two and a half hours (7pm-9:30pm) with a short break in between. Admission is free, but they hope to fill the tip jar each night so bring a few bucks for the musicians. Make sure you pick up something from the coffeehouse as well, we need venues like this to keep presenting live music. Each week, it seems, I hear of another venue giving up on live entertainment.

Highlights for me included a brilliant rendition of "Lights of Brigantine" which followed with George laughing and saying, "oh don't worry, I have longer ones." If you're a fan of his music it shouldn't surprise you that George was praising Dylan's "Tempest" which clocks in at just under 14 minutes. That's the length I imagine George's songs are before he begins to edit. Somehow he always manages to make the songs feel too short, regardless of how long they actually run. His lyrics paint such wonderful pictures. It's like closing your eyes and imagining a movie.

George was in such a good, relaxed mood tonight. I can't remember the last time I've ever seen him smile or laugh as much. Being in a room with friends and good musicians will do that I guess.

His set also featured wonderful versions of "Light of Mine" "This is a song about addiction what, no fans of addiction here", "Faded Rose", and "Townie" "I wrote this song with Rod Picott when you see him, tell him he's playing the song wrong!"

Keith Monacchio simply stunned me with his amazing cover of Peter Gabriel's "Mercy Street" tune. I've known Keith for a long time and we're both brothers of the 80s, but I didn't know he could hit that range. It was masterful a cover just WAITING to be recorded if you ask me.

In addition to playing a bunch of new songs like "Bad Girlfriend", Keith dragged out one of my personal favorites of his - "Jesus Had A Brother". The song is back from his days with The Commons (a truly underrated band in New Jersey rock and roll history) and the album that first introduced his music to me. It's one he probably hasn't played in years. It was that kind of night.

Thomas Johnston's first solo record was one of my favorites releases of last year. He performed the title track "Highway Signs and Highway Lines" as well as several others from the album and a few new ones. Two new songs really stood out for me; "Close to Heaven", which was about the Irish who helped build the Empire State Building and a song about a couple that seemingly had a perfect life but were about to split up.

Thomas may have had the best line of the night when he said, "Here's a song I just wrote at about 4pm today Todd already knows all of the words."

That line epitomized the atmosphere and musical scene at Espresso Joe's. It's a place in which everybody knows your name and they're all friends with the musicians. I really need to get back there more often...

---
Gary Wien has been covering the arts since 2001 and has had work published with Jersey Arts, Elmore Magazine, Princeton Magazine, Backstreets and other publications. He is a three-time winner of the Asbury Music Award for Top Music Journalist and the author of Beyond the Palace (the first book on the history of rock and roll in Asbury Park) and Are You Listening? The Top 100 Albums of 2001-2010 by New Jersey Artists. In addition, he runs New Jersey Stage and the online radio station The Penguin Rocks. He can be contacted at gary@newjerseystage.com.
---