By Spotlight Central
originally published: 11/27/2017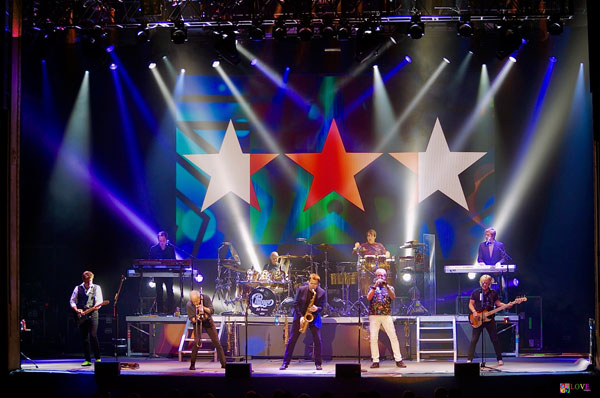 As we wait inside Englewood, NJ's BergenPAC auditorium this November 14, 2017 evening for the start of tonight's sold-out show, we chat with several audience members excited to experience a live performance from the legendary band who will perform on this very stage tonight — Chicago!
Says Patrice from Middletown, NY, "I've been a fan of this group forever! I grew up in Costa Rica where I listened to Chicago's music since I was a little girl. When I came to America, I met my husband, Peter, and I soon found out that he liked Chicago's music, too."
Revealing that tickets to tonight's show were an anniversary surprise for his wife, Peter adds, "We've seen Chicago many times, including when they played at the Rock and Roll Hall of Fame induction concert at the Barclays Center in Brooklyn. If they're ever anywhere in the area, we are there."
Maureen from Bayonne readily admits, "Growing up, I wasn't too fond of Chicago, but I went to see them with Earth, Wind and Fire about a year ago and heard the new singer they had just added — Jeff Coffey — and he made me a fan."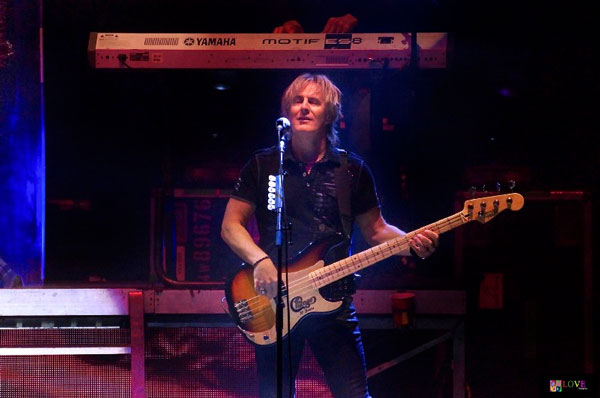 Maureen's friend, Jessica from Bayonne, comments, "I grew up listening to Chicago, but this is my first time seeing them! I'm so excited to be here, and I hope they play 'Hard to Say I'm Sorry,'" before adding, "But I also love 'Will You Still Love Me.' In fact, one day, I told my husband I liked that song and he said, 'Isn't that Boyz II Men?' and I said, 'No! That's Chicago!'"
---
The article continues after this ad
---
---
Sharon from Creskill tells us, "I adopted my grandson, Xavier, and I bring him everywhere I go," adding, "and since I love music, we go to a lot of concerts."
A long-time Chicago fan, Sharon says, "Chicago was one of my favorite groups when I was in school," stating, "When you hear a certain song, it can bring you back to a special moment in time only that particular song can bring you back to — when you hear those first few notes, WHAM! you're back — and that happens a lot to me with Chicago's music."
Comments Xavier, "I'm a Chicago fan like my Grandma," adding, "Tonight, I'd really like to hear them play 'Saturday in the Park.'"
When Sharon reminds Xavier that, since he was a toddler, he's listened in the back seat of the car to classic musicians of the '60s and '70s, ten-year-old Xavier acknowledges that, in addition to Chicago, "my favorite musicians are Paul McCartney, The Beach Boys, and Tommy James."
The lights dim and the nine current members of Chicago take their places on the stage: Lou Pardini on keyboards, Tris Imboden on drums, Walfredo Reyes on percusion, Keith Howland on guitar, Ray Hermann on sax, Jeff Coffey on bass, and founding members Robert Lamm on keyboards, Lee Loughnane on trumpet, and James Pankow on trombone.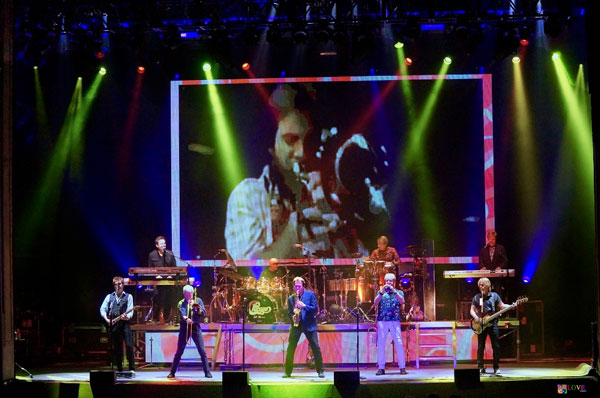 Behind the group is an enormous screen on which various kaleidoscopic colors, psychedelic artwork, and images of the group taken over the course of the band's 50-year musical career are projected.
Act I consists of a live performance of the classic Chicago 1970 double album, Chicago II, in its entirety. As such, the group opens with the first cut from that album, "Movin' In" — the signature Chicago horn sound impressing this audience from the get-go as the band swings up a storm on this bluesy shuffle.
Following a peppy version of Terry Kath's "The Road" — a bright and joyous tune filled with major seventh chords and unusual meter changes — the group launches into "Poem for the People," a number which features Robert Lamm's sturdy vocal and the James Pankow, Ray Hermann, Lee Loughnane horn section rockin' out together center stage.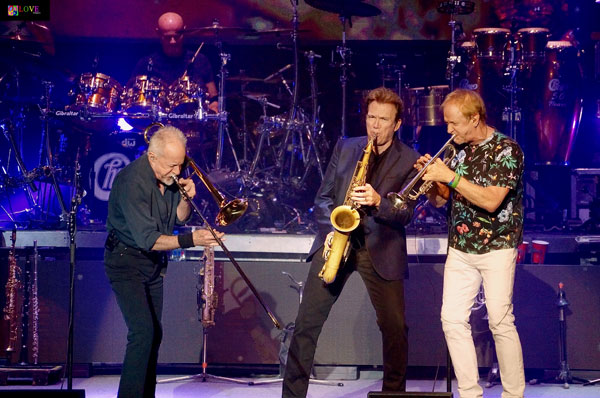 Segueing into "In the Country," Chicago's tight horn playing is matched only by the group's tight lead and back-up vocals.
Following up with the bouncy "Wake Up Sunshine," Robert Lamm's breezy lead puts smiles on the faces of the crowd and James Pankow's screaming trombone solo elicits excited cheers.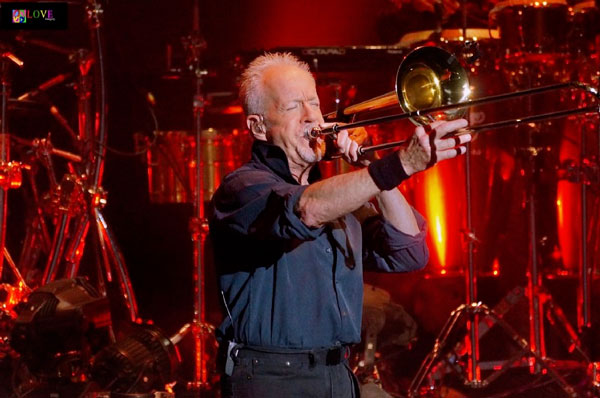 After welcoming the audience, Lamm explains, "It was no easy task relearning the songs from Chicago II," after which Pankow adds, "And it wasn't easy writing them either" revealing, "we were on the road for over 300 shows a year as we were doing it."
One of the highlights of the first set is the band's rendition of Pankow's 13-minute masterpiece, "Ballet for a Girl in Buchannon" — a song cycle of seven tunes which includes the 1970 top ten hit, "Make Me Smile," and the ever-popular ballad, "Colour My World." Over the course of this epic performance, there's a rockin' Howland electric guitar solo which is punctuated by rhythmic accompaniment by the horns, in addition to a world-class Lee Loughnane trumpet solo.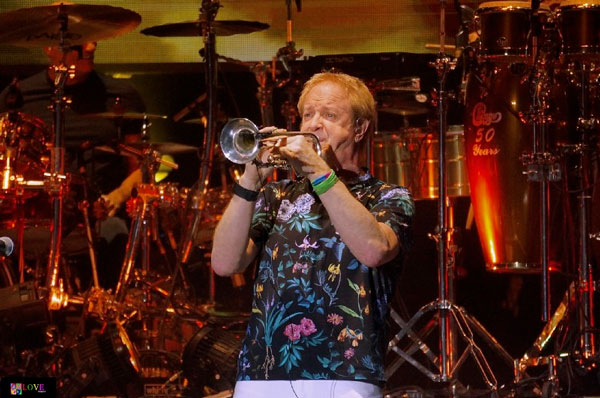 There's also James Pankow/Keith Howland trombone and guitar duel before the band returns to the suite's "Now More Than Ever"/"Make Me Smile" reprise on the coda.
Following a standing ovation, a shimmering soundscape opens "Fancy Colours," with bassist Jeff Coffey handling the lead vocals. Flowers dance on the screen behind the band as they move to the groove of this captivating '70s tune.
"We love doing that song!" exclaims Lee Loughnane, before introducing an acoustic version of Terry Kath's love song, 'Memories of Love,' where saxophonist Ray Herrman delivers a powerful and bluesy lead vocal.
Moving on to the anti-war tune, "It Better End Soon," Howland's distorted guitar echoes Jimi Hendrix on this funky rocker. Lights flash as vocals are punctuated by the staccato horn accompaniment, followed by a soulful Herrman tenor sax solo.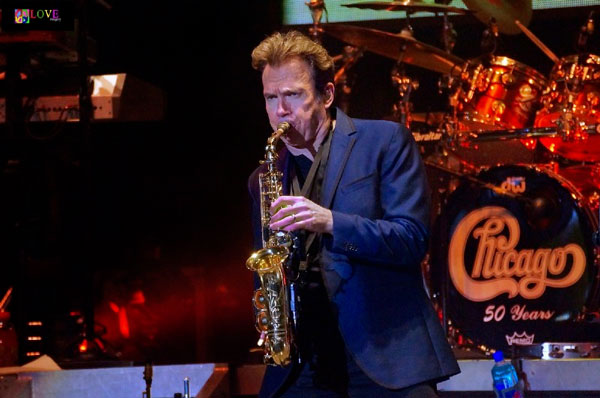 After the audience cheers, the group segues into "Where Do We Go From Here," Jeff Coffey singing lead on this folksy rocker — his stunning high voice sounding reminiscent of Air Supply's lead vocalist, Russell Hitchcock.
With Robert Lamm taking center stage — his portable keyboard strapped around his neck — stage lights blink as the group plays one of the concert highlight performances of the year, a better-than-you've-ever-heard-it-before rendition of Chicago's 1970 Top 5 hit, "25 or 6 to 4."
Great on the recording but far superior live, the horns and vocal harmonies are powerful, spot-on, and "in the moment," leaving the entire house rocking, clapping, cheering, and standing in appreciation for a magnificent performance!
While the group takes a short intermission, we take a moment to chat with several audience members including Ian from Fort Lee who says, "I'm loving this show! The group sounds as sharp and tight as they did in the old days," before adding, "and their new lead singer, Jeff Coffey, is great."
Sue from Washington Township agrees, adding, "The horn section is amazing," before acknowledging, "This past August, we went to see a Chicago tribute band. It was then I decided to Google 'Chicago' and see if the real band was still touring. Once I found out they were, I bought tickets for tonight's show right then and there!"
We also chat with a father and son here to experience a live performance by Chicago together. Says dad Ed from Palisades, "Chicago is fantastic — they've still got it," before exclaiming, "They rock!" Ed's son Aaron, age 12, agrees with his dad, adding, "And one of their songs — '25 or 6 to 4' — even sounds like Green Day!"
Act II commences with Chicago — a group formed in 1967 — performing a second set filled with hits from a half-century in music.
Opening with their 1971 Top Ten smash, "Beginnings," Robert Lamm superbly handles the lead vocals and plays acoustic guitar, the song sounding sparklingly clear thanks to BergenPAC's excellent acoustics.
As he sings, "Only the beginning/Only just the start," the three remaining founding members of the group — Robert Lamm, Lee Loughnane, and James Pankow — take their rightful places together in the center of the stage.
After an energetic standing ovation, Lamm introduces the various members of the group before announcing, "Let's hear another song from Chicago Transit Authority."
At this point, the group launches another tune from their debut album — "Questions 67 and 68" — the group's first single. After asking, "How we doin' tonight, New Jersey?" Jeff Coffey takes the lead, which is followed by a lively Keith Howland electric guitar solo.
After inquiring, "Are we havin' fun or what?" keyboardist Lou Pardini's voice is featured on a snappy vocal duet with bassist Jeff Coffey on the group's 1972 Top 25 hit, "Dialogue (Part I and II)."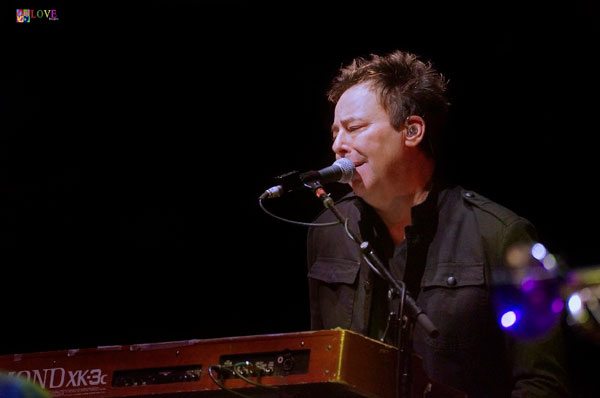 Clapping along to Keith Howland's '70s-era wah-wah guitar sound, the audience joins in singing on the "We can make it happen/We can change the world now" coda as Pankow waves his trombone to a group of fans joyfully dancing in the audience.
Moving on to the group's 1974 Top Ten Latin-influenced hit, "Call On Me," brilliant harmony vocals ring out on the famous "I love you/You know I do/You love me, too" refrain before the cool trumpet/tenor/trombone instrumental break and the infectious "You can count on me, oh/You can count on me" samba ending.
After the audience reacts with whistles and whoots, the group performs a true crowd-pleaser — their 1970 Top Ten hit, "Does Anybody Really Know What Time It Is." Right from the start, the iconic horn intro gets the audience clapping and dancing. When Robert Lamm sings lead, he takes the audience back in time.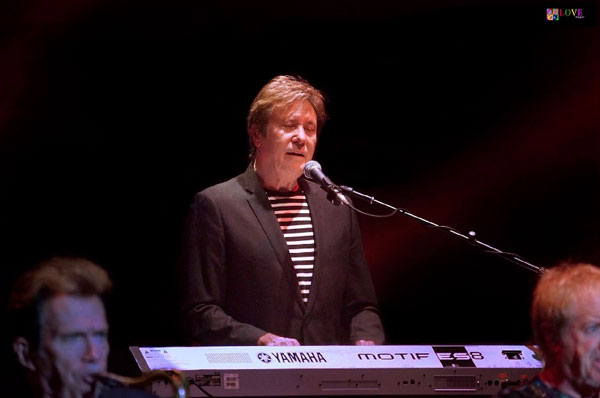 Following avid applause, James Pankow reveals, "That was the first song we ever recorded as a band. You embraced it, and we thank you from the bottom of our musical hearts for the past fifty years!"
1984's Top Five hit, "Hard Habit to Break" is up next. Opening the number with just two keyboards and electric bass, Jeff Coffey sings a compelling lead.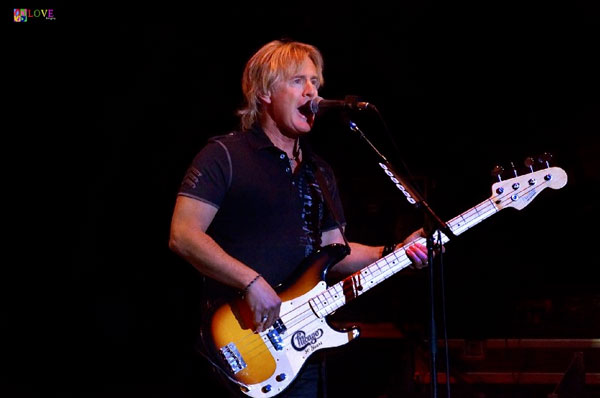 The powerful horns enter on the bridge and transform this slow dance number into an electrifying power ballad.
The audience cheers when they recognize the keyboard introduction to the group's 1984 Top Five single, "You're the Inspiration." As pink hearts dissolve on the screen behind the band, the crowd happily sings along to the iconic chorus, "You're the meaning in my life/You're my inspiration," as well as on the rhythmic "When you love someone" coda.
Segueing into a Santana-esque rendition of The Spencer Davis Group's "I'm a Man," the number opens with Coffey playing his bass and the horn players playing various percussion instruments. As the organ flares, they all sing back-up to Lamm's dynamic lead as he croons, "I'm a man/Yes I am/And I can't help but love you so."
After announcing, "Here we go!" all of the Chicago musicians leave the stage except for drummer Tris Imboden and percussionist Walfredo Reyes who take the spotlight for an extended percussion duet.
As fire smolders on the screen behind them, the duo goes back and forth in an energetic musical conversation which features complex polyrhythms, and even a section where they creatively play on the sides of their various drums and percussion instruments.
Ultimately, the pair picks up the tempo, and in doing so, whips the audience into a frenzy as the lights pulsate to the music. Before the rest of the band retakes the stage for the dramatic finish, the audience is on their feet with yet another standing ovation!
Moving on to a lesser-known tune from 1979, Chicago performs their disco-influenced "Street Player," the horn section strutting in rhythm to the music.
Segueing into another audience favorite — the 1974 Top 5 Billboard hit, "Just You 'n' Me" — Ray Hermann is featured on a mystical soprano saxophone solo during the song's instrumental interlude.
Following a well-deserved bow, the group launches into their 1982 #1 hit, "Hard to Say I'm Sorry." Audience members hold up lighted cellphones and sway as they sing along with Jeff Coffey as he croons the famous lyric, "After all that we've been through/I will make it up to you/I promise you."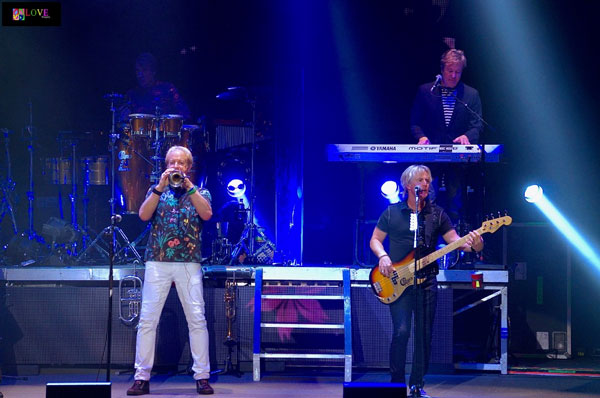 Another highlight of the evening takes place when Chicago performs their 1972 gold record which sold over a million copies — a song which Robert Lamm wrote following a walk in New York's Central Park — "Saturday in the Park." During this all-time feel-good tune, the happy Bergen PAC crowd is on its feet singing, dancing, and clapping.
And if that isn't enough, everyone remains standing as Chicago concludes their line-up of hits with their 1973 Top Ten smash, "Feelin' Stronger Every Day."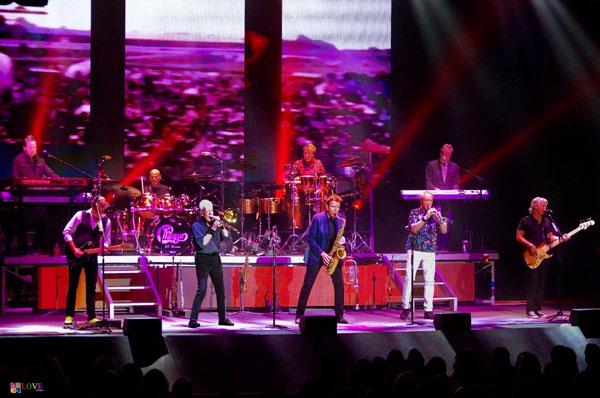 They end the night by announcing, "Thank you everybody! New Jersey — we love you!"
As we make our way out of the BergenPAC auditorium and out into the cool night air, we catch up with several audience members who share their thoughts about tonight's concert with us.
First, we speak with Linda from Clinton who says, "Chicago was just electric tonight," before adding, "and the acoustics were just excellent — I couldn't believe that single fusion of sound coming from nine different people!"
Linda pauses for moment and then also reveals, "I have muscular dystrophy and — I don't really know how to say this — but hearing Chicago's music tonight made me feel 'light' —just very energetic and young," before acknowledging, "It was very therapeutic for me."
Next, we chat with Leslie — a long-time Chicago fan from Hillsdale who asserts, "This concert was lots of fun," and then reveals, "Chicago was the very first concert I ever saw when I was young, and they are still great!"
Lastly, we chat with Joy from Hillsdale, who agrees with her friend, Leslie, when she describes Chicago's performance tonight as "Fun, fabulous, and full of energy," before concluding with a smile, "and they played every song I wanted to hear!"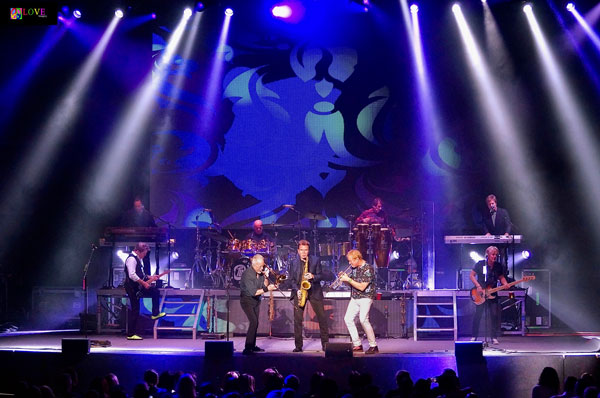 To learn more about Chicago, please go to chicagotheband.com. For information on upcoming concerts at BergenPAC — including Jewel's Handmade Holiday Tour on December 19; Kenny "Babyface" Edmonds on Jan 12, 2018; and Jim Messina and Poco on February 21, 2018 — please go to bergenpac.org.
Photos by Love Imagery
Spotlight Central. Your source for Jersey entertainment news and reviews
Love Imagery Fine Art Photography. all you need. peace/love/flower/power