By Gary Wien
originally published: 05/27/2019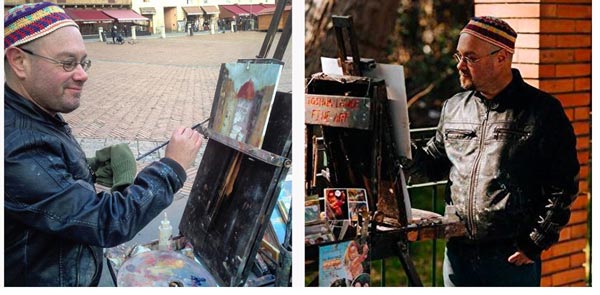 Street painters have been around for centuries, but are still rare in New Jersey.  If you wander around Lambertville this summer you might see one at work.  His name is Joshua Lance and even though he's a native to the town, he's painted all over the globe including stints in several area of Asia and Europe. 
Lance sets up his French easel in different parts of town and paints on location.  He sells his impressionist oil paintings straight from the easel and a basket containing small paintings of local scenes. Most of all, he makes connections with people and every connection can lead to a purchase, a commission, or work someday down the line.
"I get a certain satisfaction being outside painting rather than being indoors and away from everything," explained Lance.  "It definitely influences my paintings because I feel like a performer.  I'm out there communicating, meeting new clients, and selling my work as well.  Sometimes I'm very challenged as there are all kinds of elements that try to distract you from doing what you want, but I welcome it.  It makes me mentally tougher."
Lance's work tells stories as seen through his own real life experiences.  He chooses to use a limited palette of primary colors because he enjoys its simplicity and paints in oil because it holds the richness of colors.
"Colors are the musical notes I help compose a painting with," explained Lance.  "Colors and brush strokes reflect my emotional state at that point and I've learned to trust it and learned to honor it.  It's taken many years to trust the process.  I'm proud to be a hard-working student and teacher.  There's always so much to learn; painting is learning about yourself and life within you and enthusiasts."
---
The article continues after this ad
---
---
Lance has been a professional artist for over 25 years. Born in Hempstead, New York, he was raised in Lambertville.  In 2006 he moved to Sante Fe, New Mexico and did shows in Arizona, Colorado, and wherever his car could take him. In 2012 he relocated to Asia to teach English as a Second Language (ESL). He spent five years living in South Korea, Taiwan, and Vietnam.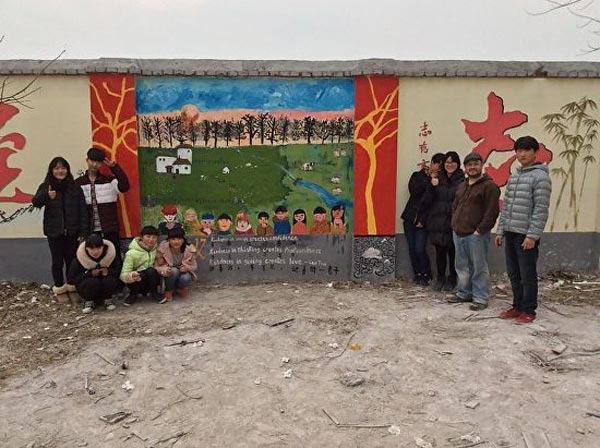 "When you're over there, adapting to the culture is always the most challenging part," he said.  "But I was up to it.  Luckily, there are a lot of friendly people over there to help you as well.  I was like any other immigrant, but I was an American.  So I kind of got that perspective, which is a very unique perspective - suddenly you're the immigrant!"
Lance wanted to live in these areas rather than just be a tourist and he found he could use teaching ESL as a means to stay for a while.  While he had always wanted to see if he could teach, he did not have a formal background.  Fortunately, many places in Asia only required a Bachelor's degree.  He was able to get hired and learn on the job.  He did not know how to speak Korean, but says their English was good enough to understand him on a basic level.  And he was able to use gestures to get other points across.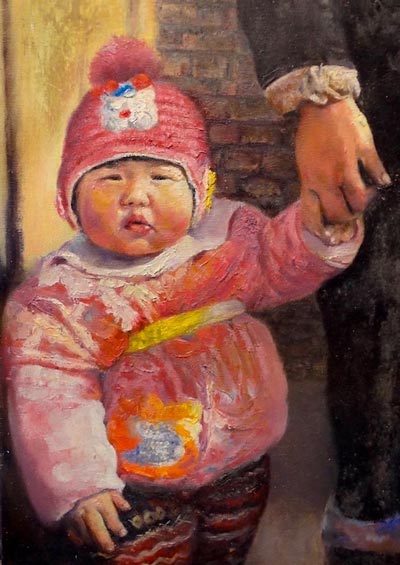 While in Asia, he studied under a Taiwanese master painter for about six months.  Lance says that instruction helped him with his portraits.
"Just being out there enhances your own creativity, ideas about how you see the world, and how you see things," said Lance.  "You can't help but evolve or change.  It's inevitable."
Yet no matter where he went in the world, his thoughts always returned to Lambertville.  The town and its neighbor New Hope, PA, are well known for the arts and Lance thinks that growing up in the area and being surrounded by art definitely steered him in that direction.
"I just loved being here," said Lance.  "To me, it was like a sanctuary.  My parents were divorced early on and my dad moved to Lambertville.  I lived with him on and off.  It's a lovely place.  People have their places where they feel comfortable and that's one of my favorite places in the world.  Sometimes you appreciate your hometown even more after you return and I'm grateful for recreating a new life in Lambertville."
Unlike street musicians, Lance does not have a tip jar besides him, although he says it might be a good idea.  Instead, he promotes his website, talks with people, and creates memories.  He knows that a lot of people are afraid to enter art galleries, worrying that they will not be able to afford the work.  So, he tries to offer artwork that is far more affordable than found in galleries.  But it's the "experience" that truly sets him apart.  Other than on special occasions, how often can one meet the artists behind the work?
"I'm just placing myself in their shoes," continued Lance.  "If I walk around here and see an artist painting on an easel, I'd probably go up and try talking with them.  This is unique.    For the most part, throughout my life I've been my own entrepreneur and sold my works myself.  There's the old saying, 'No one can sell your artwork better than the artist.'  We know what we've done.  Thank God for the Internet because it empowers more artists to do that and sell for themselves."
In addition to his landscapes and city scenes, Lance has been doing commissions for the past decade as well.  Somewhat ironically his first big commission came shortly after being laid off at an art gallery when he was living in Sante Fe.  He had put up an ad on Craig's List and received a call asking if he wanted to do a mural for someone's home.  At the time, he had never done a mural before but over the course of a few weeks he created his first.  He says he remains friends with the people who commissioned it and they've since purchased additional pieces over the years.
"I would love to do more commissions," said Lance.  "To me, it's personal and it's not going to hang around in your studio when it's done, it's going to someone's home.  That adds something to the work; it's a different dynamic.  For some reason, it makes me up my game a bit.  It makes me work a lot harder knowing that somebody is definitely going to see this piece."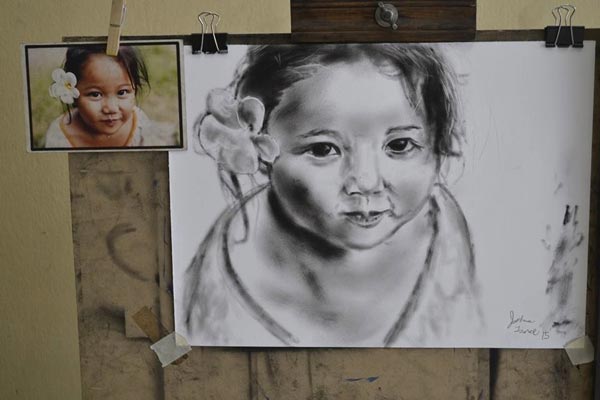 ---
Gary Wien has been covering the arts since 2001 and has had work published with Jersey Arts, Elmore Magazine, Princeton Magazine, Backstreets and other publications. He is a three-time winner of the Asbury Music Award for Top Music Journalist and the author of Beyond the Palace (the first book on the history of rock and roll in Asbury Park) and Are You Listening? The Top 100 Albums of 2001-2010 by New Jersey Artists. In addition, he runs New Jersey Stage and the online radio station The Penguin Rocks. He can be contacted at gary@newjerseystage.com.
---