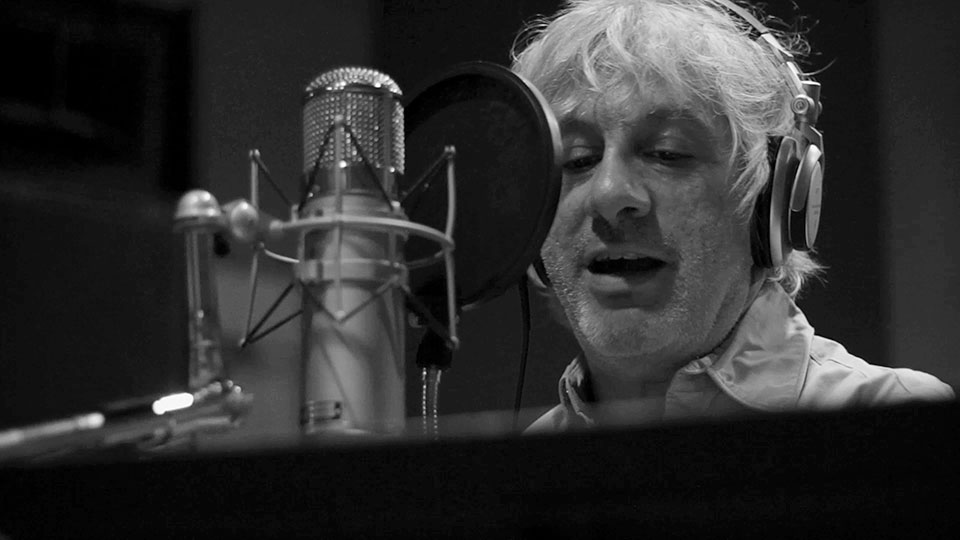 Fred Riedel and Jerry Fried's feature rock doc HELLO HELLO HELLO : Lee Ranaldo : Electric Trim will be screened at the New Jersey Film Festival on Friday, September 15, 2017!
Here is my interview with HELLO HELLO HELLO : Lee Ranaldo : Electric Trim Director Fred Riedel:
Nigrin: Your feature documentary film HELLO HELLO HELLO : Lee Ranaldo : Electric Trim  is about the making of Lee's upcoming Mute records release.  It's an intimate and unique look at Lee's creative process as he collaborates and in many ways your film mirrors his recording as it is very improvisational.  Please give us more about this film came into being.
Riedel: The film came about in an impromptu manner.  Lee and I are old college friends and spend a lot of time together, and have worked on various film/video projects together over the years.  When he mentioned that Raül, the album's producer, was in NY and they were starting to get to work at the studio I suggested coming by with a camera and exploring the idea of shooting a documentary of the process.  Lee said, "Sure, come tomorrow." I scrambled after work to round up some basic gear (I had an unrelated day job at the time) and met Lee and Raül the next morning at Lee's loft, and the yearlong journey of shooting the production of Electric Trim began. 
---
The article continues after this ad
---
---
HELLO HELLO HELLO… is really a film about making art.  I witnessed and wanted to convey the intimate, collaborative process of people working as though at a job, to produce something personal and beautiful.  It was my first time witnessing the production of an album and I was fascinated by the process and how the artists worked together.  I've known Lee for decades, but I'd never seen or really appreciated the nuts and bolts of how he made his music and I found the process revelatory and fascinating in a way I felt others would as welll. 
Nigrin: Lee Ranaldo is mostly known for his tremendous guitar work with the group Sonic Youth. Is his new album quite different from that style of music? Also does your film touch on Lee's work with Sonic Youth?
Riedel: The film situates Lee as a musical artist heavily formed via his experience with Sonic Youth and the impact that band had on contemporary music and on the producer of the Electric Trim album, Raül Refree.  It also compares the experience of recording music in Sonic Youth with Lee's solo work, especially the approach taken on the recording of Electric Trim, a distinctly new and experimental process compared to the typical manner in which Sonic Youth recorded their albums.  Also unlike Lee's prior solo work and with Sonic Youth, Electric Trim is a lush, layered construction.  Raül brought many new ideas and techniques to Lee's process based on listening to very minimal, lightly developed demos that Lee had been sending him.  From these Raül began building songs of unusual sophistication and depth, provoking Lee to dig deep into his repertoire of guitar, keyboard, etc. and especially vocal abilities.  Electronic drums, sound effects, horns, choruses, etc. flowed into the production that came to resemble more of a late period George Martin or Brian Wilson production than what many had heard from Lee in the past.  That coupled with the large contributions from Lethem created a major departure for Lee and his listeners, one more akin to the rich concept albums of the 60s than anything Lee and Sonic Youth produced on the frontier of post-punk indie rock.
Nigrin: The film also highlight's Lee's collaborations on his new album. Tell us more about these.
Riedel: As Lee states in the film, and is evident in the film's focus throughout it's running time, Lee, somewhat atypically, created Electric Trim through the significant contributions of his producer, Raül Refree, and novelist, co-lyricist, Jonathan Lethem (Motherless Brooklyn, Fortress of Solitude).  With Raül, Lee developed an almost sibling like relationship that became the source of much of the album's sound and style.  They worked hand in hand on every detail of every song, both also playing multiple instrumental parts to build the songs, only adding occasional tracks by guest musicians (Sharon Van Etten, Nels Cline, etc.) on one or two separate days of this otherwise year-long recording and mixing process.  Lee's other, essential collaboration with Jonathan was the more unique, in a way, in that Lee, a strong lyricist in his own right, felt it was time to get into the head of another strong writer's words and ideas.  This development is given full sway in the film as you see the two writers slice and dice each other's contributions, discuss their friendly differences and processes and even get to see and hear the osmosis as shards of a macabre novel build into a rousing, almost spaghetti western track in the song Uncle Skeleton.
Nigrin: Are there any memorable stories while you made this film or any other info about your film you can rely to our readers?
Riedel: As mentioned, the film's production came together, literally overnight, following a late work day at my otherwise unrelated (then) day job.  Scrambling on a friday night in NYC to round up some basic shooting and audio gear, which found me buying adapters and cables at closing time at Guitar Center in Union Square, and then rushing out to a friend's apartment in Park Slope just before bedtime to lock down a good mic, I arrived the next morning at Lee's apartment, having barely assembled the configuration or testing it before Raül came through the door.  I met Raül while filming just as you see it in the film.  I continued filming, following the two of them through the streets of lower manhattan where we happened to run into Lee's and my former film professor, and experimental film god, Ken Jacobs, for a quick, inadvertent meet/great/benediction on the way out to Hoboken to start recording. 
Having almost no idea of what I was walking into I remember thinking after we got the lights on and the board humming that Nels Cline, or Alan Licht and Steve Shelley and the rest of the band would soon come strolling in.  As the hours passed, and neither Nels nor Alan, et al, appeared, I began to realize that my default vision of this process wasn't going to come about--it looked like Lee and Raül were going it mostly alone.  Wow.  That was a quick end to my preconceived notion of how this film would shape up.  Was a film about two guys mostly tinkering with knobs and ideas, and occasionally laying down a solo track really going to have the dynamic elements needed to sustain interest over the course of a feature film?  I suddenly realized that I had to either jettison the traditional concept of a roomful of musicians and personalities birthing a new album, or possibly jettison the whole idea of making the film.  Having never filmed either of these scenarios, I decided to hang on to see what would develop.  Quickly, a new dynamic emerged as what at first looked too personal and remote became a rich, and fascinating interplay that spawned intense bursts of creativity and musical production in front of my lens.  It was just a matter of seeing it in a new and unexpected way, much the way Lee and Raül were experiencing a process and partnership new even to them.  To this day, now that the film is finished and out in the world, I am continuously fascinated by the fact that I somehow made a film about the making of a rock and roll album without a single scene of a band of musicians playing together in the same time and space.  Crazy.
Here is the trailer for HELLO HELLO HELLO : Lee Ranaldo : Electric Trim:  


***********************************************************
HELLO HELLO HELLO : Lee Ranaldo : Electric Trim will be preceded by  two terrific experimental films. Here is more info on this screening:
Hitchhiking with a .357 Magnum – Jeremy Bryant  (Beatty, Oregon)  Oregon. Summer 2015. Jeremy hitchhikes to his grandfather's funeral & back home. The trip spans 2 days and 420 miles. Jeremy hitchhikes with a .357 magnum. Will Jeremy make it to the funeral in time? And will people freak out about his gun? 2017; 10 min. With an introduction and Q+A session with Producers Thomas Francine and Dori Goikhman!  
Greeting In The Afternoon – Minwoo Song (Seoul, South Korea)  In this haunting, experimental film, a young woman who works at a bowling alley is visited by ghosts who pop in and out of her world. 2017; 15 min.
Hello Hello Hello: Lee Ranaldo: Electric Trim – Fred Riedel and Jerry Fried  (New York, New York) This documentary film is about the making of Lee Ranaldo's upcoming Mute records release. Hello Hello Hello : Lee Ranaldo : Electric Trim.  It's an intimate and unique look at Lee's creative process as he collaborates with author/lyricist Jonathan Lethem (Motherless Brooklyn, Fortress of Solitude), Sharon Van Etten, Nels Cline (Wilco), Steve Shelley (Sonic Youth), Kid Millions (Oneida), and others in the making of a bold, new sound that is a lush and striking departure from Ranaldo's signature work. 2017, 76 min. With an introduction and Q+A session with Director Fred Riedel and Producer Jerry Fried!
Friday, September 15, 2017 at 7:00 p.m.


Voorhees Hall #105/Rutgers University


71 Hamilton Street, New Brunswick, New Jersey


$12=General; $10=Students+Seniors; $9=Rutgers Film Co-op Friends


Information: (848) 932-8482; www.njfilmfest.com
Jimmy John's of New Brunswick will be providing free food prior to this New Jersey Film Festival Screenings!