By Gary Wien
originally published: 01/22/2016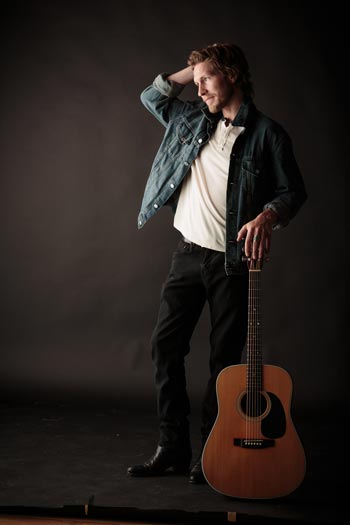 "Trying to go out and make a living as a musician is the fuckin' wild west," said Francis Lombardi, a singer-songwriter based in the Asbury Park music scene who recently completed eight weeks on the road with Daphne Lee Martin.
This was Lombardi's first time hitting the road, while Martin (a singer-songwriter based in Connecticut) is a veteran with five tours to her name.  They were introduced to each other by the guys in the band the Accidental Seabirds.  When Martin said asked Lombardi if he would like to hit the road with her, he was definitely interested. You could say he chose his first touring partner wisely. While traveling across the country, Martin showed him the way to book shows, handle lodging, and travel between the venues.  He also noticed that she knew many musicians along the way.  
"It's funny going out for eight weeks and seeing how people met each other, the community of musicians is smaller than you would think," said Lombardi.  "I know (Daphne) knows a lot of people, but it just seems there is a small community of musicians doing the singer-songwriter or folk thing, so they all kind of know each other."
Lombardi was touring in advance of his second record, a self-titled release.  The physical copies were waiting for him when he returned home from the tour, but he had digital download cards for people along the way.  The record contains dreamy, laid back folk songs reminiscent of the classic singer-songwriter work of the early 1970s.  The songs also have an uncanny ability of making you wish you had a drink in your hand.  They're not Irish sing-along bar songs; they're just great, soothing story songs — the type that sound nice while sitting on a barstool, passing the time at your favorite pub.
When I tell Lombardi that, he says there might be some truth to it.  When he was 19 or 20, he used to play bars throughout the area, building a repertoire of cover songs.  He remembers how he used to pick up on the reactions of the audience.  It didn't take long to tell which songs were going to work that night and which wouldn't.  As he moved into writing his own music, that memory stuck with him.
---
The article continues after this ad
---
---
"Subconsciously I'm always thinking what is this song going to play like when people are drinking in a bar to it?" he explained.  "Is this even going to work? A lot of times, I'll write a song and it's something personal that I'll write for myself.  But it's nice having that little thing in the back of my mind.  It came in handy on the road when we actually had to play some rowdy bars.  It wasn't the ideal environment for the kind of music Daphne or I play, except I will do my song any one of seven different ways depending on whom I'm playing that song to."
The record even sounds like you're watching him on stage in a saloon somewhere.  Lombardi recorded it with Chris Everett at Sound Foundation Studios in Eatontown, New Jersey.  He says most songs were just the second or third take and the whole thing was recorded quickly with extra instrumentation (pedal steel, cello, and viola) added on afterwards thanks to musicians in Pompeii Graffiti, a band based in Annapolis, Maryland.  The end result is a beautifully melodic record, full of songs that will draw you into different worlds.
In recent years, Lombardi has been on the radar of music fans throughout the state, winning Asbury Music Awards for Top Male Solo/Acoustic Act and Top Local Album Release for Whiskey & The Mourning After (his debut record).  It was clear he was at a point in which he could either settle down and remain popular in the local scene or hit the road and take his songs to new frontiers beyond New Jersey.   He chose the latter and went into the tour without any expectations, just trying to soak it all in and learn as much as he could. The tour stretched across the country with shows taking place almost every night.  He saw the best and worst of the road; from having shows canceled because the bar went out of business to falling in love with the Deep South.  He found himself in Montana's Big Sky Country and stayed at Gram Parsons' suite at the Joshua Tree Inn where they performed a show streamed live on the Internet.
"The tour was like let's play the gig.  Do we have a place to stay? We do, great! If not, let's get on Hotwire.com and find a $35 room.  Hopefully we'll find it somewhere between this city and the next.  We'll sleep until checkout and then get back on the road.  We've got six hours to get there, unpack, and show up at the venue.  It was run and gun for a lot of it.  My brain didn't even have time to process what the hell was going on," he said.
While on the road, Lombardi and Martin often talked about touring - the state of touring now, what it might be like in the future, and how the process could be improved.  Lombardi isn't sure what the answer is but he thinks technology will almost certainly play a role, possibly involving house concerts and lodging throughout the country.  Lombardi has played his share of house concerts and knows that they're usually well attended by people who want to hear the artist and who will usually buy merchandise - two things that artists generally cannot count on when they perform in clubs.
"Everybody is trying to figure out the best way to go about it because it's a messy process and it's not very rewarding at times," he said.  "Everybody is just trying to scrape by to get money.  I'm new to this, but Daphne has been doing this for five years.  My brain automatically goes to 'how can this become better?' and I'm not even done with the first tour!"
One piece of advice Martin gave him is something every artist should learn: always play your best regardless of how many are in the audience. Lombardi says he's played enough bars in which he was nothing more than background music that he can initially brush off the disappointment of a small crowd, but five or six shows of that are tough to take.  But he soon learned she was right.
He recalls two instances in which that advice paid off.  Once was near Houston where the two were featured artists for an open mic night.  A local music blogger was in the audience.  He came over and talked with them, saying they would get a write-up.  Another time was in Kentucky where they found themselves performing in front of a small audience. Scanning the crowd, Martin noticed that one of the guys in the room was from a rather popular group in the area.
"Daphne was like 'That's why you play.  You play your fuckin' heart out every night because you never know who's standing at the back corner.  The next time you're in town you'll be able to give that guy a call and he'll be able to help you out big time.'"
That's how the community works.  And when those artists come to Jersey, Lombardi is ready to help them out. He's seen the value in musicians working together, whether it's lending a place to stay for the night or helping them get a gig. He might not know how to improve the touring situation, but he knows how to make the most of it.  As he processes the memories from his first tour across the country, it's obvious it won't be his last.
Photo by Andrew Holtz
---
Gary Wien has been covering the arts since 2001 and has had work published with Jersey Arts, Elmore Magazine, Princeton Magazine, Backstreets and other publications. He is a three-time winner of the Asbury Music Award for Top Music Journalist and the author of Beyond the Palace (the first book on the history of rock and roll in Asbury Park) and Are You Listening? The Top 100 Albums of 2001-2010 by New Jersey Artists. In addition, he runs New Jersey Stage and the online radio station The Penguin Rocks. He can be contacted at gary@newjerseystage.com.
---