By Gary Wien
originally published: 05/20/2015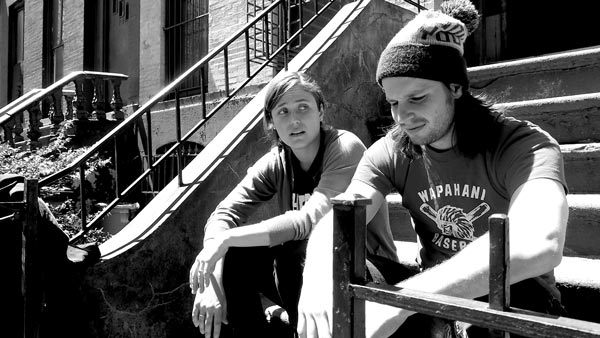 Forever Into Space, directed by Greg Locke, is centered around Audrey, an under-employed twenty-something blogger with several college degrees who moves to New York City.  As she tries to find her way, we meet her friends, a group of young adults dealing with challenges of their own.  The film will be screened on Sunday, May 30 as part of the New Jersey International Film Festival.  
New Jersey Stage spoke with Locke about the film, being a D.I.Y. filmmaker, and how he managed to create this full-length feature for less than a thousand dollars.
The film hits on several subjects from being over-educated for the job market to a non-existent job market to over-priced apartments and drugs.  In a way, it's like a look at a new Lost Generation.  I'm not sure if I would say this is a lost generation. It's hard to say yet if they're lost, even if it does feel that way at times. They're definitely the most radically different generation in a very long time. So much has changed in the average day-to-day life of an American in just the last 10 years, and we're all figuring it out together. The difference is that these young people are going through their impressionable years while all of these changes are happening. They're figuring out who they are and where they fit within a much different context than any of us who are older than them did. And a lot of them do seem to value art quite a bit. And people who value art will probably always move to New York City, even if it's unaffordable. This city, no matter the era, has always been exploding below a blanket of art. It's a canvas. It's where things begin or where they grow up. The amount of energy and diversity and life you find here is amazing, and it makes every cent of your overpriced apartment worth it for people like myself, who can take that beating pulse and be inspired by it creatively.
While the film focuses on a group in their 20s, you're closer to the age of the older sister who goes off on them and their generation while drunk.  Is that the way you feel? I'm both exhausted by young people and cheering them on. Most people are unaware of the generational context their reality exists in, so I feel it's the job of someone like myself - who writes and makes films and tells stories - to observe with as little baggage as possible. So while I made sure that the younger characters are hard to like, I made certain that the older characters were just as complicated and real. Molly, Audrey's angry older sister, is definitely the voice of the viewer I think. Not all viewers, but I'd imagine most of them. Is she my voice? No, not even close. I don't disagree with her sentiments, but it's not as personal for me as it is her.
This obviously is more of an art film than a mainstream film. How would you describe it? One of my goals was to make a New York film. A movie where the city is the lead character. It's rare that someone who isn't a native New Yorker - or has at least lived here for a long time - makes that kind of movie. So I thought it was interesting for an outsider to give their vision of New York. And my vision of it is that it's an artsy, complicated, broken, confusing place. The film is set in a changing city during a time of economic hardship and class greed, so it's not exactly a happy movie. The characters aren't the most lovable people you'll ever meet on a screen but I think that's okay. It's an art film through and through. There was no concern for universal appeal at any time. I knew going in that people would likely either love the film or hate the film. And that's perfectly fine with me. It's the people with no reaction to the film who make me feel like I didn't do my job.
---
The article continues after this ad
---
---
It's very impressive that you were able to create the film for under $900.  How did you manage to do it? My goal was very simple and clear from day one - make the biggest film possible for the smallest amount of money. I wrote a 22-page project proposal that I required all interested parties read. This is how we are going to do it and you either agree to work in this way or we don't work together on this project. A big part of the plan was to form a seven-person team who would all work as producers and all share equal ownership over the film. That team consisted of four actors, myself, a sound man and a flex person - all of whom were also producers. As it should be, I probably did the bulk of the heavy lifting; but everyone had to step up at different times to make this thing happen. And no one got paid a dime. Everyone paid for their own food and transportation. Everyone provided their own wardrobe. Everyone got sweaty and tired and frustrated. And everyone was a total professional - no students or interns or volunteers. All pros who have done big work out there in the real world of production. For me, it was a very rewarding experience to write such an unusual plan and actually see it through to the end with great results.
Tell me about D.I.Y production.  What are the most difficult aspects?  In any creative work I've been a part of, I've either taken over, attempted to take over, quit or been let go. That perhaps makes me sound unpleasant, but I don't think I am. I can be controlling, though. My instinct is to do everything myself unless I can find someone who is better at something than I am. And even then I  remain more involved than needed. So my instincts are great for DIY work in the arts, if maybe wrong for the rest of life. So, for me, making the plan for this film was very natural. It's how I think. What are my resources, what is my end goal, and how do I connect all of the dots between these two things? How do I get the best picture, the best sound, the best music, the best performances? How do I present this idea to people and how do I make sure I'm involving myself with the right people? Making art is just having ideas and making a million decisions to help realize that idea. I'm not the greatest writer or director or editor or producer or cinematographer, but I do think I'm pretty good at taking all of these things and twisting them together. So while there are a lot of difficult aspects to working this way, it just sort of is what it is. It's the way I know how to work - lean, thoughtful and creative.
What about the most rewarding? The most rewarding moment so far was seeing the film on the big screen for the first time. I shot the movie using a $500 camera that you can hack and make much more powerful than it was ever meant to be. So while shooting and editing I thought the movie looked good. But I had no idea what it would look like on a huge screen. When I finally saw it up there, on a screen the size of a basketball court, it looked better than I could have imagined. And it sounded better than I thought it would and the crowd really seemed to engage with it. So it was that first screening that has proven to be the most rewarding moment thus far. The plan had worked.

I love black and white films.  I thought it helped show the beauty and the grime of the city.  Why did you choose to shoot in black and white? There were a lot of reasons for me to shoot in black and white, the first of which is that I personally love black and white films and I thought it served both the style of the movie I wanted to make and the city well. But there's more to it than aesthetic choices. For example, lighting is a lot easier when you're doing black and white, and since I was shooting it myself and also doing the lighting, keeping it simple was important. Also, the camera I ended up using does a great job with black and white, so I was able to get what I think is a pretty beautiful film out of a very modest camera.
How did you first get involved in filmmaking?  I wasn't allowed to watch movies until I was a teenager. Once I did start seeing some good films I fell in love. I was obsessed with getting lost in that big screen for 120 minutes at a time. My goal became to watch at least one film per day. I kept that up for years. It never occurred to me that I could make them. I eventually started trying to write screenplays because I was working a lot on my writing. I was managing a CD and DVD store while working as a freelance music and film journalist when I first started making art films and music videos. Then I made a very DIY music documentary feature called Holler and the Moan that played at some festivals. Some people in New York saw it and convinced me to move here. They helped me get some jobs in the industry and introduced me to a lot of people who work in film. Eventually I started planning out what became Forever Into Space while I was working on some other scripts and painting.
Who are some of the filmmakers that have inspired your work? I got really into Woody Allen, Spike Lee and Martin Scorsese in high school. As a lot of high schoolers probably do I guess. Those guys all make films set in and often about New York City life. So between those three filmmakers, the Native Tongues, Lou Reed, Basquiat and Seinfeld, I fell deeply in love with New York when I was pretty young. The idea of making a New York City film was a dream come true. All that said, it was Godard's Pierrot le fou and Bennett Miller's The Cruise that made me feel like I could make movies. Those are the two that helped give me the confidence I needed to just start shooting and editing and telling stories in a new medium.
Finally, after being part of some studio productions and having done work on your own with little to no budget, if someone saw this film and wanted to offer you a big-time production deal would you grab it? Or is there something special about doing it the DIY way? I would take the opportunity in a second and I would be very responsible with the opportunity. People would be paid fairly regardless of their gender. Money would not be wasted. I'd rather donate $20,000 to a charity than make sure everyone has a first class lunch every day that we shoot. If you can't tell, I like to do things my way, so as long as that wouldn't be a problem with whomever was giving me the money, I would be all in and I would use their monies well. I'd probably end up making two films for the price of one, just to prove that I could.
---
Gary Wien has been covering the arts since 2001 and has had work published with Jersey Arts, Elmore Magazine, Princeton Magazine, Backstreets and other publications. He is a three-time winner of the Asbury Music Award for Top Music Journalist and the author of Beyond the Palace (the first book on the history of rock and roll in Asbury Park) and Are You Listening? The Top 100 Albums of 2001-2010 by New Jersey Artists. In addition, he runs New Jersey Stage and the online radio station The Penguin Rocks. He can be contacted at gary@newjerseystage.com.
---