By Gary Wien
originally published: 11/23/2015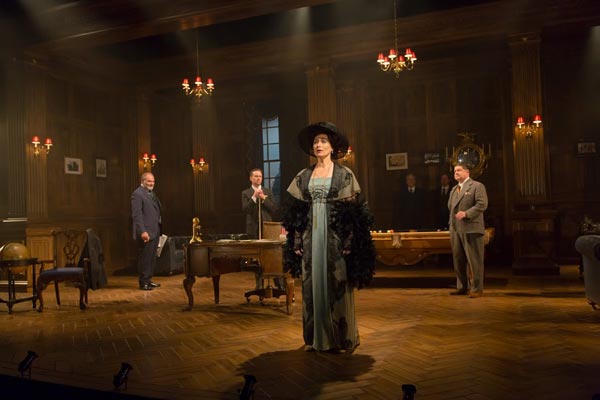 "People always love the first wife, don't they?" asked Edith Bolling Galt, pointing out that the likes and dislikes of a first wife are already known, so she offers no unwelcome surprises.
Edith was the opposite.  She was a woman that had little to no interest in politics until she met President Woodrow Wilson.  When he first began asking for her advice, she assumed he was talking about help with his wardrobe.  In fact, he was referring to the conflict in Europe which was developing into World War I.  Over the next few weeks, Edith began reading newspapers and learning more about the world.  And over the next few months, she became a trusted adviser to the President — much to the dismay of those in the President's cabinet.  But that's only where the story begins.
Bergen County native Joe DiPietro, the Tony Award winning playwright behind Memphis, returns to George Street Playhouse for the fifth time with The Second Mrs. Wilson.  There's only one week left to catch this wonderful play (it must close on November 29) but it's one you don't want to miss.  It's hardly hyperbole to say that this cast, which includes three Tony Award winners, is one of the strongest to ever be seen on a New Jersey stage.
Led by the brilliant John Glover (President Wilson) and Laila Robins (Edith Bolling Galt), the play details an amazing period of United States history — the period in which President Wilson suffered a stroke and was hidden from the public and Congress for months during which the power of the Presidency did not transfer to the Vice President.  Instead, important decisions were thought to have been made by his second wife, Edith.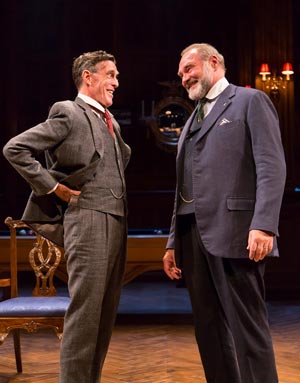 These were not simple decisions mind you.  In addition to a debate raging as to whether or not America should get involved with the war, President Wilson was also attempting to get his concept of a League of Nations passed.  Had the public known he was recovering from a stroke during these months, world events would likely have followed a different course.  It's an amazing part of American history that has mostly flown under the radar.  It caught DiPietro's eye when he read an article that suggested Hillary Clinton would not be America's first female president, but its second.
---
The article continues after this ad
---
---
You may have heard about Wilson, who was President of Princeton University and Governor of New Jersey before heading to the White House, in the news recently.  A student group at Princeton University called the Black Justice League has been demanding that the university acknowledge the "racist legacy of Woodrow Wilson" and rename the Woodrow Wilson School of Public and International Affairs along with Wilson College.
This play shows Wilson in a different light — a far better light.  Here, we see a man of great ideas as a human being in love, a man struggling to recover from a stroke, and as a man who believes he is truly doing God's work.
"I have been praying a lot lately, asking why has he kept me on this earth?" said Wilson.  "And now I know, I know.  He has kept me here so that I may continue this crusade for his great League of Nations.  And he will keep me here until the work is done.  So next time you pray for me, pray even harder for the Senate — so that they may ratify our glorious treaty, and we may save the world together, and my beautiful Edith may finally get some rest."
John Glover is simply amazing in this role.  It's little wonder why he decided to do a second run of the play after originating the character at the Long Wharf Theatre in May.  One of the most fascinating aspects of Glover is how well he is able to completely inhabit his roles even to the point of changing the way his voice sounds.  It's one thing to see him do this in movies, it's another to see it done on stage.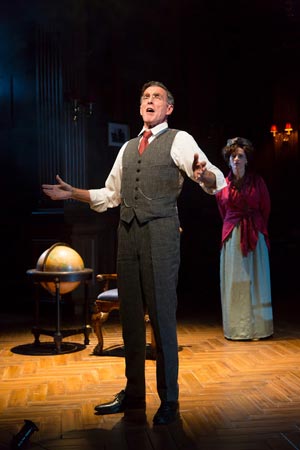 Laila Robins is just as impressive as Edith.  She seamlessly progresses from a naive debutante to a very knowledgable and capable politician who is unafraid to take on some of the most powerful men in the world.
While the entire cast is terrific, two others deserve special praise.  Sherman Howard steals nearly every scene as Senator Henry Cabot Lodge.  His portrayal brings the man to life as if he was the Newt Gingrich of his time.  He's the classic conniving but brilliant politician — one that is the perfect foil for President Wilson.
Michael McGrath as Secretary Joe Tumulty is another standout.  Playing the role of a guy that has been by the President's side since he was the Governor of New Jersey, McGrath's character is a combination close friend and political adviser.  And McGrath nails it.  In case you're wondering, Tumulty is indeed a relation of the family behind Tumulty's restaurant in downtown New Brunswick — a reminder of just how close this story is to New Jersey, even today.
Gordon Edelstein, who directed the play at Long Wharf, directs this production as well.  He's crafted a swift moving piece that covers the years 1915 to 1920, often moving forward weeks or months in time with a moment's notice.  The play has a good pace, but is at its best when these rapid changes in time take place.  As the story jumps from one conversation to another weeks later, it shows just how crazy this period of time truly was.  In my opinion, the play suffers a bit when it stays too long in any one period.  Nevertheless, Edelstein's direction is spot on, creating a play that includes humor, drama, and, most importantly, extremely well defined characters.
The Second Mrs. Wilson is more about relationships than politics, so don't dismiss it if you're not a political junkie.  Those who do love following politics will find it fascinating to see the names of people they've only read about come alive on stage.  In the 90s, The West Wing television show featured a President who suffered relapses of multiple sclerosis from time to time — a condition that was concealed from the American public.  If anyone thought that scenario was far-fetched, this play will prove otherwise.  The Second Mrs. Wilson details a true life incident that was far worse and one that makes for a terrific play.  One that will likely follow DiPietro's previous works on to New York stages.
The Second Mrs. Wilson is at George Street Playhouse (9 Livingston Avenue) in New Brunswick, now through November 29.
Photos by T. Charles Erickson
---
Gary Wien has been covering the arts since 2001 and has had work published with Jersey Arts, Elmore Magazine, Princeton Magazine, Backstreets and other publications. He is a three-time winner of the Asbury Music Award for Top Music Journalist and the author of Beyond the Palace (the first book on the history of rock and roll in Asbury Park) and Are You Listening? The Top 100 Albums of 2001-2010 by New Jersey Artists. In addition, he runs New Jersey Stage and the online radio station The Penguin Rocks. He can be contacted at gary@newjerseystage.com.
---