By Gary Wien
originally published: 06/30/2020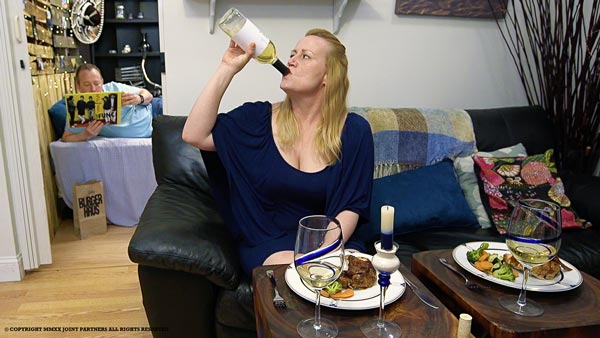 Jersey Shore filmmaker Steve Herold has been working in film and television since graduating from the film program at New York's School of Visual Arts. His award-winning films include H.R. Pukenshette, Bum Runner, and Death Of An Umbrella Salesman. In total, his films have screened at over 75 film festivals worldwide.
Steve has also worked on numerous television programs including Killing Fields, Vet School, Shark Week, Celebrity Wife Swap, Donnie Loves Jenny, The Sorrentinos, Bugging Out, and Preachers' Daughters.
His latest film, Waimea, stars Kevin Kollack and Patricia Damon. The cast also includes Charley Tucker, Ronelle Thomas, Dan Truman. It's about a man who forgets where he hid his winning lottery ticket and a wife who is quite a bit upset that he lost it.
The film has its debut on Wednesday, July 15 at 7:30pm as part of the Jersey Shore Film Festival's "A Collection of Shorts: Someone's Wife Someone's Mother. It's a night that also includes shorts by Ryan Cervasio, Elizabeth Mehling, Christopher Guzzo, Isaiah Gomez, Javier Dampierre, Andrew Huggins, and Clyde Baldo.
New Jersey Stage caught up with Steve to learn more about Waimea and what it's like to be a filmmaker during the lockdown.
---
The article continues after this ad
---
---
The film has a lot of violence, but cartoon type violence. Was it inspired by The Three Stooges, cartoons, or wrestling?
Well, I'm not a Three Stooges fan or a wrestling fan. James Palmer, the co-writer, is a wrestling fan but I don't recall that comparison ever really coming up. Two things that when we set out to write this we talked about a bit were Tom & Jerry cartoons and the Young Ones. We were definitely going for a live-action cartoon vibe. So much so that when it came to James working on the music I know he went back and watched some old Tom & Jerry cartoons to see how they used music. The other inspiration was the 80s British TV comedy the Young Ones. That show had such an impact on the way I view comedy that I always throw a "Maximum Respect" thanks to them in the end credits of all of my films. But this was the first time I really went all in as a somewhat homage to the show and it's use of cartoon violence. There are tons of "Easter Eggs" related to the Young Ones in the film for the eagle-eyed fans.
The idea of losing a winning lottery is a fear of many people. Do you personally play the lottery?
No, I don't play the Lottery. I've only played it once in my life in the late 80s in Florida. I was visiting some friends who were living and working in Islamorada and we were having such a blast we all decided to play the Lottery and we agreed that if one of us won that person would have to foot the bill for the rest of us to stay living down there. Needless to say, I still live in New Jersey.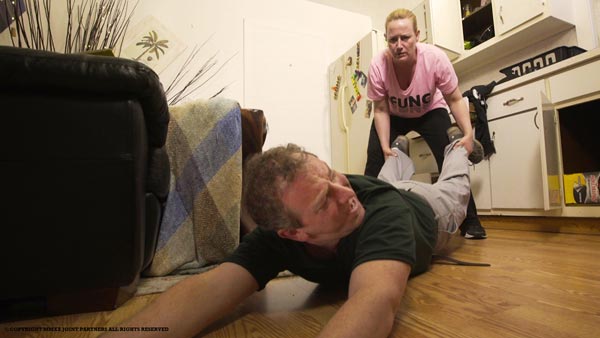 Kevin Kolack is definitely a go to actor for you to play sad sack characters. Was he excited to play this role? Or did he feel like he won the anti-lottery?
I remember sending Kevin a text after we had come up with the idea. Before we had even written it. I have a tendency to get excited by new ideas and want to share them with people immediately. But I remember sending him the text that said, "We have the next film idea and this time we're gonna beat the shit out of you." He just responded with, "Cool!" Kevin is one of those type of actors who just loves getting in there and doing whatever it takes for the film. I respect the hell out of him for his commitment. Having said that, when he read the original script I remember he wasn't really into it. The idea wasn't connecting with him. But we've worked so many times together now that I think he just trusted me and went with it. I think when I described it as a live action Tom & Jerry cartoon it clicked for him. I think some of the physical stuff he was required to do this time out was fun for him. Actors like mixing things up a bit. I'm not sure he'd really gotten to play a part quite like this before. He's since told me how impressed he was with the technical logistics of the shoot, considering a lot of scenes had to kind of match up. That really meant a lot to me to have him say and acknowledge that.
How cool is it to be able to sneak The Func into a film?
Well, this was the first time I used The Func in a film as far as I can remember. Those guys were "our" band back in the 90s in the Belmar area. They've since reunited and play frequently around the beach towns. Initially, it was just going to be their logo on the shirt Patty Damon was going to be wearing. But then there was a scene where I felt we could use one of their songs so I reached out to Ken Cabarle, bass player in the band, and he was excited for me to use it. It was cool too because I had to make an LP mock-up of their cassette-only release from the 90s as a prop. Under different circumstances I could've seen a screening party for friends and family where we could've had The Func do a show.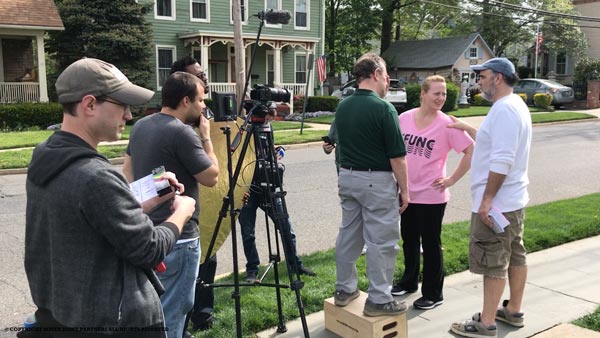 Do you have a festival run lined up for this short? Or are you still in the process of adding festivals?
Well, our first screening is July 15 at the Jersey Shore Film Festival. The festival, like all of them this year, has had to resort to cancelling live events and switch to a streaming online festival. We finished our festival submissions in January before any of this really got serious here. I'll be honest with the ways things have panned out if I knew this was what was going to happen I may have skipped submitting to festivals all together and just went directly to streaming the film ourselves on Amazon Prime. I adamantly support the indie film scene and these festivals. But it's just been disappointing the way things have panned out. We're still waiting to hear from a handful but I'd be lying if I said I wasn't disappointed by the thought of not getting to attend festivals.
As a filmmaker, I know you'd much rather see the works on a big screen but have you been able to enjoy any online film festivals or screenings? Or is it too depressing?
I was curious how this streaming festival situation was going to work out. In the past, I've generally avoided online film festivals. The festival we'll be premiering at, the Jersey Shore Film Festival, kicked off June 22 and I tuned in to see how things were going to go and to support the festival and the other filmmakers. I'll be honest I wasn't expecting much. But it ended up being a pretty good experience. There were a few technical issues at the start that they fixed and once things got rolling it was a cool. They had a good amount of people tuning in. They made a good decision to have all screenings free of charge. I think it would've been tough for them to charge people. But I guess the most depressing part of it is yes not seeing the film on a big screen but also having the chance to really meet and mingle with the other filmmakers. That's always the big fun benefit of those events.
What has it been like for someone like you during the pandemic? You haven't been able to work on TV crews or shoot your own films at all right? Have you been coming up with new ideas or has the situation left you blocked?
It's been a solid state of confusion as far as when and how production will get going again. We were planning another short film as recently as February. I had met with Brian Belzer and Doug Seidel, two crew members from "Waimea", about some logistic issues regarding this new film shoot. The pandemic not only put a stop to prep for that film but myself and the other writer, Chad Goldich, have had to rethink the project. It was something we started work on a few years ago and some of the film seemed to be a little close to what's going on now. I felt that the marketplace was going to be inundated with films revolving around a pandemic or virus and we should rewrite the film to distance it from any similarities. We did but we still can't plan a shoot. In the meantime, Chad and I have been working on a comedy feature about a sketch comedy group. The pandemic has allowed us to work on that like a regular job, Monday through Friday. We just finished our second draft. As far as my "paycheck" work on TV shows… who knows when I'll be back at that. I'm not counting on anything anytime soon.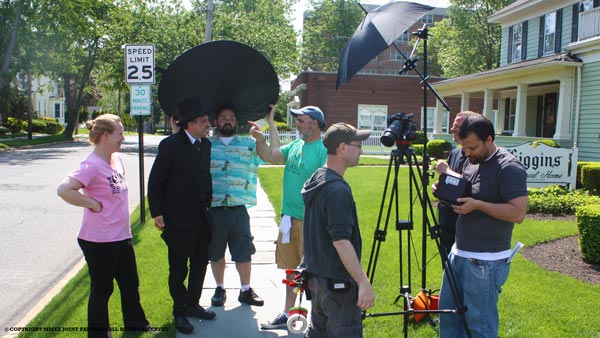 Finally, I've been watching a few shows on Hulu and they've got some seriously warped original tv shows. Have you ever thought of pitching a project to them?
Yeah, our style of comedy going way back to when I first started writing comedy and making films has always been pretty bent. A lot of that is directly related to our influences: the Young Ones, David Letterman, Chris Elliott, It's Garry Shandling's Show, Steve Martin's stand-up act, Kids in the Hall. These days it feels like a lot of what's going on in comedy is kind of in-line with our sensibilities. I just haven't spent much time working on TV ideas, especially these days. I guess deep down for me movies have always been more what I wanted to do. Which I know sounds weird considering all of my influences I just mentioned are from TV. But of course if we had the opportunity to pitch we'd take it.
---
Gary Wien has been covering the arts since 2001 and has had work published with Jersey Arts, Elmore Magazine, Princeton Magazine, Backstreets and other publications. He is a three-time winner of the Asbury Music Award for Top Music Journalist and the author of Beyond the Palace (the first book on the history of rock and roll in Asbury Park) and Are You Listening? The Top 100 Albums of 2001-2010 by New Jersey Artists. In addition, he runs New Jersey Stage and the online radio station The Penguin Rocks. He can be contacted at gary@newjerseystage.com.
---