originally published: 04/27/2017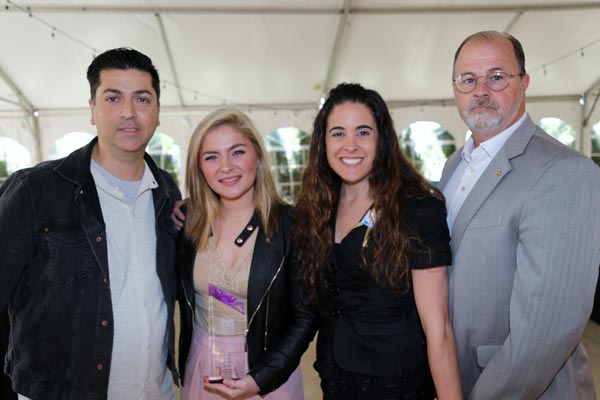 (ASBURY PARK, NJ) --  Mia McCaffrey and Zachary Fielder bravely fought childhood cancer for months and their spirit and fight will always be remembered in Taylor Tote's "Fighter" music video.  The video, which includes over 20 children from the tri-state area who have either survived cancer or are currently fighting it, added to its list of film festival accolades when it received the coveted RWJ Barnabas Health Award at the Asbury Park Music in Film Festival on April 23, 2017.
"It's very humbling to receive the RWJ Barnabas Health Award on behalf of the entire team at the Asbury Park Music and Film Festival," said Kostas Lymperopoulos, Director/Producer of the video.  "I am really thankful we had a chance to tell this story and that I was personally given an opportunity to honor Zach's memory in whose memory I dedicated my time throughout this project.  His father is my best friend. May we always remember all the children who fought bravely and inspired the rest of us to help make a change. What I am most proud of is that this has helped make a difference."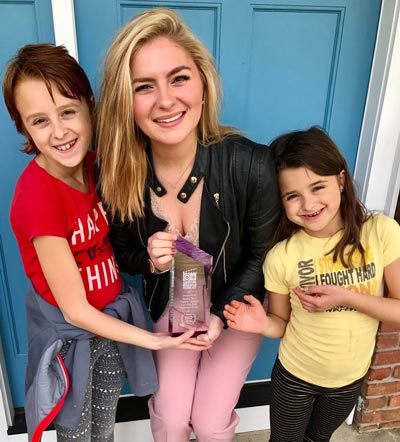 In addition to shining a spotlight on childhood cancer and the amazing children fighting each day, the song was co-written by Natalie Grace Gorsegner (a childhood cancer survivor) and her sister Hannah Rose, alongside Taylor Tote. The song itself is uplifting, heartbreaking, and inspiring, but the video takes it to a new level.  Viewers are brought into the world of cancer survivors and fighters.  We see their faces and we hear their voices. The song reveals their spirit, their fight, and their drive to beat the disease.  The loss of Mia McCaffrey on March 17 and the image of Zachary Fielder seen in the video as "Forever 5" truly puts their battle in perspective.
"This award means so much to me personally because not only does it represent Infinite Love's dedication to these kids and their families who are fighting this horrible battle, but it also shines a very bright light on childhood cancer as a whole and that is something that the childhood cancer community desperately needs," said Andrea Verdone Gorsegner, Executive Producer of the video and Founder of Infinite Love for Kids Fighting Cancer.
"I feel like childhood cancer is often falsely advertised as being rare and what that community needs is an accurate depiction of what it's really like to live with it," added Taylor Tote.  "These kids are getting nowhere near what they deserve.  It must be so frustrating having a life threatening disease and knowing that there isn't enough research or funding being done to save your life.  I'm so happy that not only can these children and families use this song for strength, but that people can watch the video and say to themselves, 'This inspired me and I want to help make a difference.'"
---
The article continues after this ad
---
---
One very easy way people can help make the difference is by purchasing the "Fighter" single - 100% of the proceeds go to childhood cancer research.  The single is available at https://itunes.apple.com/us/album/fighter-single/id1161628227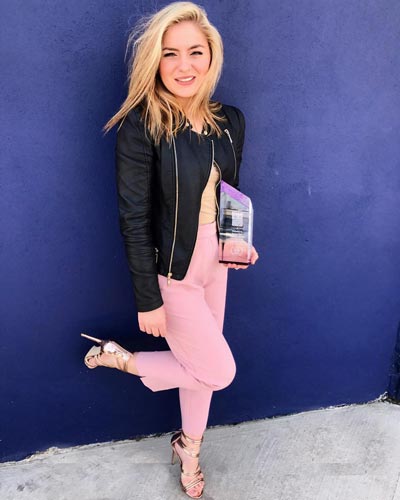 Taylor Tote, based in Monmouth County, was recently named as one of the "25 must-hear local bands" by NJ.com and has received multiple Asbury Music Award nominations since debuting on the music scene. Upcoming performances for the Taylor Tote Band include a child cancer benefit on May 6th at Bar Anticipation in Lake Como, NJ for "Mya Warrior's Jam" and a show at Langosta Lounge in Asbury Park on June 9.  For more information visit http://www.taylortote.com or https://www.facebook.com/taylortotemusic
"Fighter" was produced by Right Stuff Studios with Peter Chamalian - Director of Photography/Editor, Kostas Lymperopoulos - Director/Producer and Mike Hamlett - Production Manager/ 1st AC.  Andrea Verdone Gorsegner, the founder of Infinite Love For Kids Fighting Cancer, was the Executive Producer for the video. 
Previously, "Fighter" received the Home Grown Video Award at the 2017 Garden State Film Festival in Atlantic City, NJ.
TOP PHOTO: (From Left to Right: Kostas Lymperopoulos, Taylor Tote, Andrea Verdone Gorsegner, and Mike Hamlett of Right Stuff Studios.  Photo credit: Tom Zapcic Photography