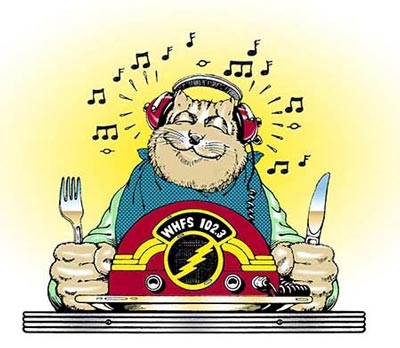 It's hard to explain just how powerful the movement of free form progressive FM radio truly was.  When it emerged in the 1960s, it was unlike anything anybody had ever heard.  Instead of listening to the same five hit songs over and over again, you might hear five straight songs about rain or five songs that featured the same guitarists in different bands.  There were no playlists, no corporations in charge, only DJs.
It was also rather short lived.  With the exception of a few radio stations, most moved from free form to a more structured playlist in the 1970s.  One station that stayed free form was WHFS 102.3 - a small station based in the large market of Washington, DC.  That station remained free form until 1983 and its story is told in the upcoming documentary Feast Your Ears: The Story of WHFS 102.3 by Jay Schlossberg, a New Jersey native (raised in Chatham) who moved to Maryland in 1969.
In 1983, the station left Bethesda for Annapolis and moved to 99.1 on the radio dial.  A new generation fell in love with its alternative rock and roll playlist.  The station was no longer free form and was often programmed in advance as opposed to purely live on the air.  The documentary only focuses on what is called the station's golden age - the period when the freeform started in the late sixties up until the change in 1983.
Even though decades have passed since the station's freeform days, the station is still remembered fondly by many.  WHFS DJs had several reunions over the years.  One took place on Record Store Day in 2013.  Schlossberg was in New York on a business trip at the time and saw a photo of the reunion a few days later.
"I look at it on my computer and said, 'Oh my God, they're all not dead yet!'" he recalled.  "Somebody should tell the story. And that was it."
---
The article continues after this ad
---
---
Schlossberg began having conversations with friends about the idea of a film.  Conversations with some of the DJs then followed.  They agreed to meet in "The Triangle Towers" in Bethesda, where the original station was located.  One of the DJs still lived there and they let them use the lounge for the meeting.
"We all met and talked about it and they were all like 'We're all in, this is great!'"
Filming began in June 2014 with an interview of musician David Bromberg.  Many musicians were interested in being part of the film.  In addition to musicians loving the music played on the station, WHFS either broke or helped break artists like Little Feat, Cyndi Lauper, NRBQ, and even played songs from Bruce Springsteen's Greetings From Asbury Park album on the day it was released. Some of the artists interviewed include Roger McGuinn, Nils Lofgren, Bruce Cockburn, Marshall Crenshaw, and members of the band Little Feat. 
Most of the musicians they approached instantly remembered the station.  Those who didn't remember WHFS still remembered how special the free form radio format was and wanted to be on board as well. Schlossberg said, "They were able to talk about what it was like to go in and be welcomed like a long lost brother or sister and play some songs on the air."
Musicians weren't the only ones to remember though.  Once word started to trickle out about the documentary, fans of the station began flocking to the film's Facebook Page.  The tiny 2,300 watt station that stopped broadcasting 35 years ago has 27,000 fans currently on the Facebook page - many sharing their own personal stories of what WHFS meant to them.
That passion goes way beyond the music.  The station was a true community with discussion boards.  They had ride boards, job boards, housing boards, lost pet boards, etc.  The music was the soundtrack of a generation embattled in a period of major change.
"If you look at the Facebook age, it's amazing what people have said about how WHFS changed their lives completely - musically, politically, socially, culturally in many different ways," said Schlossberg.  "I remember early on one woman sent me a private message.  She said she was in her 50s now and it was her dad who listened to WHFS.  He was the one who brought the station to her and it changed her life.  She said, 'I'm so grateful to my dad and when I told him you are making the movie, he started crying.'"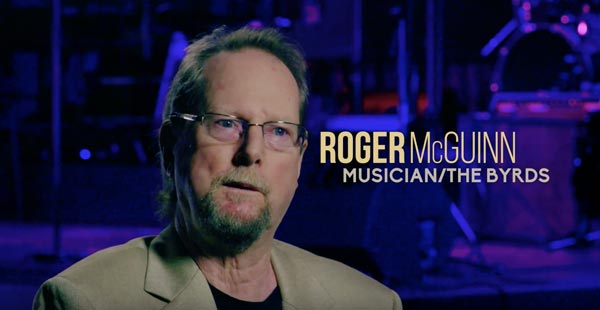 The film is about 99% finished and deep into post, but they are still shooting a few pickup interviews to fill holes in the story.  The goal is to have a completed film by the spring and then to see where it goes from there, whether that means the film festival route, theaters, streaming services, international distribution, or something else.  Judging by the interest the documentary has already seen, its story is much larger than the station's original reach.  It will appeal to music fans who grew up listening to the station as well as those interested in radio and radio history.
Schlossberg notes similars stations like WNEW in New York, WBCN in Boston, WMMR in Philadelphia, WMMS in Cleveland, and KMPX in San Francisco.  At one time or another, each of them utilized the free form radio format.  Madison Avenue watched as these stations became popular and grew dedicated audiences. But changes in the industry - notably when Metromedia began buying stations across the country - their formats and playlists became more homogenized. It happened rather quickly to the industry. College radio and Nation  Public Radio stations would continue the practice, but the large majority of commercial stations had abandoned free form.
"Madison Avenue didn't miss the boat," explained Schlossberg.  "They actually got the boat and stole the boat."
Structured playlists with the same songs throughout the country made it easier to market products.  It also removed creativity and originality from radio.  If you travel several hundred miles by car today, you can easily hear the same 2-3 songs multiple times as you go through state by state.  This has led many music fans to seek out stations on satellite or internet radio for diversity.  But, while the music played on those outlets may resemble the freeform era, the stations are rarely broadcast live like they were back then.  That's something that made those stations great and helped stations build their own communities.
"One major aspect that's gone is a live DJ on the air being moved at the moment by what they're being moved by," said Schlossberg.  "Even on the free form stations of today they're picking the music, but are recording their voice tracks, and editing for broadcast later on."
Schlossberg likens it to somebody calling the DJ to let them know they've just had a baby and to see if they could have a song played for them.  Then the DJ says congratulations on the air and plays 5 songs about babies or with the word baby or whatever the creative spark is for them at that moment.
"Today, radio is all prerecorded," he continues.  "To me, that's not real radio.  You might as well just tell Spotify what you like and it will play songs with the D.N.A. of what you like.  But where is the surprise? Where's the human element?"
To follow the film's progress and be alerted when the documentary has been completed, you can sign up for alerts at www.feastyourearsthefilm.com