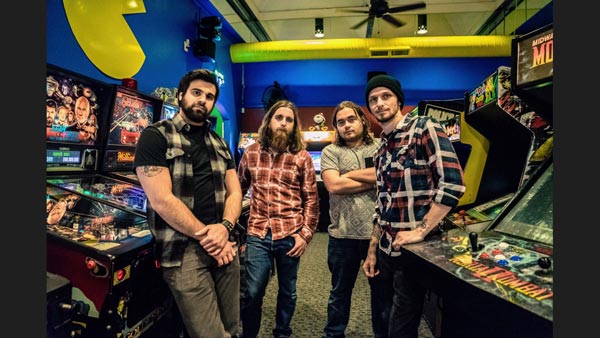 (ASBURY PARK, NJ) -- Experiment 34 will celebrate the release of their debut full-length album, "What Dying Feels Like," on Saturday, February 16 at Asbury Lanes. E34 are a hard, heavy, aggressive mix of punk, funk, rap, metal and psychedelic rock with an inventive chemistry and explosive bond to which audiences of all kinds react well. Tickets for the CD release show are $15 at the door and $12 in advanced. Admission will include a free copy of the CD. 
Sharing the bill on February 16th will be the ever-funky Des and the Swagmatics, emerging Asbury rapper Bulletproof Belv, young buzz band Flourish, and roots-rock-reggae greats P-Funk North, whose drummer, Ryan Weil of Weilhouse Productions, co-produced, recorded, mixed and plays throughout "What Dying Feels Like," including keyboards. The album was mastered by Grammy-winning Alan Douches of West West Side Music (Cage the Elephant, Clutch, Titus Andronicus). Tickets are available online.
Like much of "What Dying Feels Like," "Well You Know" aims to free people's minds with a passionate plea to rise against and reverse the tide of the ignorance, apathy and greed of big government and bigger business perpetuated by their puppet media. The second single from the album, "Well, You Know" can be heard below.
"This album has a special place in my heart," said Experiment 34 lead singer-lyricist Matthew Makin. "It's the message I think we've always wanted to send. My hope is that when people hear it, they'll know we mean what we're saying, and listeners will vibe with us and hear us out, no matter their views. The world just needs to learn to listen to each other."
---
The article continues after this ad
---
---
Twice Asbury Park Music Award-nominated Experiment 34 are excited to be joined by new drummer Keith Leming, one of New Jersey's great skinsmen, formerly of Fun While You Wait, and bassist Bryan Viegas, young owner of Matchbox Studios in Eatontown, where the band now is based.
About the new band mates, Matthew said, "They've been a breath of fresh air. Really got down and learned the songs quickly and with strong execution. We're really excited and I can't wait to continue creating with them."
Co-founding guitarist Kevin Nenichka added, "They're great guys. Bryan is a pretty aggressive bass player. He's actually a guitar player playing bass, which is something we should have been looking for in the first place. Keith keeps us all together with a hard-hitting steady rhythm that moves the room like the moon moves the ocean."
Asbury Lanes is located at 209 4th Avenue in Asbury Park, New Jersey.
The album-opening "Well You Know" follows the album's first single, "Cut the String," released in April. Here's a track-by-track of the LP:
"Well, You Know"— a blazing start to the album, this track aims to start a discussion about our society, pointing out a flawed system riddled with clear-cut injustices.
"Cut the String" — a snappy, reggae-tinged indictment of puppet media's polarizing impact on society for the sake of ratings and in an effort to numb it into hopeless submission.
"Pocket Change" — the most diverse of the LP's tracks, this emotional acoustic grabber examines the hypocrisy of organized religion and the potential stripping of our innocence.
"All Rise" — deeply rhythmic, furiously hard rock and heavy rap that calls for an uprising against theocracy and fascism.
"What Dying Feels Like" — eclectic title track that spans Experiment 34's entire musical arsenal in an assault on the unfair treatment of the poor and their health along with the clear-cut decimation of our environment that fans the flames of hatred throughout society.
"Black Canvas" — dynamic, soulful rendering of a nightmare painted poetically.
"The Network" — Paddy Chayefsky-inspired, punk-fueled rapid-fire rap that aims to inspire listeners to make a difference.
"What Dying Feels Like" also features three "Congregation" interludes that reinvent the title track as dirges mourning a loss of freedom, liberty and justice nationally and globally. A tour will follow the album's release.
TOP PHOTO BY Anthony Vito Cosentino