By Gary Wien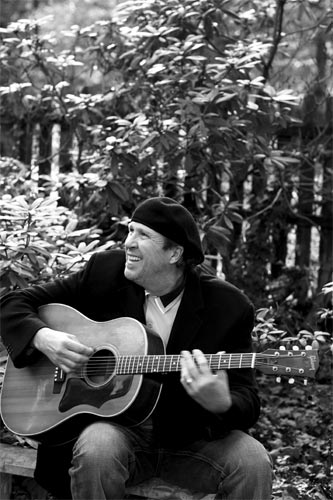 It's been nine years since William Hart Strecker's Toyota Land Cruiser ran off the road and smashed into a tree. The accident left him in a coma for twenty days and when he awoke he discovered he had broken several bones, a collapsed lung and other internal injuries. It took him about six months before he could walk and talk again and even longer to be healthy once more. But instead of looking back in anger, Strecker looks back and remembers how the accident brought him back to music.

Strecker grew up on Long Island as the fifth child in a family with four boys and three girls. His father was totally deaf in one ear and nearly completely deaf in the other, but he could feel the vibrations from musical instruments so he made sure all of his children were in the school band while growing up. When it was William's time to pick an instrument the only thing left was a trombone, which he proceeded to play for a few years.

"I slowly declined from 3rd grade to 6th grade," said Strecker. "There were chairs for first trombone, second trombone and third trombone. They didn't have fourth trombone, so that's when I thought I'd try singing."

Singing turned out to be a great move for Strecker who soon joined the chorus and began learning from a top vocal coach. He won several awards, and was even named New York State's best high school tenor. A full scholarship for voice brought him to Baylor University in Texas. Looking back, he says the trombone might actually have been helpful in becoming a better singer.

After college, Strecker had several bands that toured around the country and were always just a hair away from becoming big. By the mid-1980s, he had enough of touring and settled down as an architectural landscape designer. He was on his way home from visiting a client when his car accident took place in 1998. The accident changed him in more ways than one.

"When you're in therapy and you're next to someone that's got no legs or no arms and their attitude is a heck of a lot better than yours and they're joking around, it makes you pretty humble," said Strecker. "It puts your priorities in line. It makes you think if this fella is a lot worse off than me then I'm going to get off my butt and really get back into it."

A friend of Strecker's brought him a CD player and some CDs to listen to at the hospital. One of them was Deuces Wild by B.B. King. As Strecker was looking at the CD he noticed one of his old band members standing there alongside Keith Richards, Mick Jagger and B.B. King.

"I thought that had to be a sign or an omen," said Strecker. "That was a shining light to me that I've got to start singing again. I was missing that in my life and so that was also one of the moments that got me thinking about playing again."

Strecker says that he had never completely stopped writing music, but wasn't really doing much until that moment. From then on, he was ready to give music another shot.

In 2004, Strecker released Keep on Lovin' - his first record in decades. It was followed by All This Dreaming and his latest, Smoke and Clouds. A CD release party is planned for Wednesday, November 7th at The Living Room in New York City.

The new record is wonderful for anyone that is a fan of singer-songwriters. "California Dreaming" reminds me a bit of Neil Young's classic stories played against soft, wailing guitars and a jangling piano. The horns on "Anna Belle" bring back memories of the old Asbury Sound found on early Springsteen and Southside Johnny & the Asbury Juke records, while some tracks like "Smoke and Clouds" have the country-tinged flavor of The Grateful Dead. Others just have a quiet familiarity that the best songs always do - even with the first time you hear them. There's a sense of honesty and pain and history that cannot be faked.

Strecker feels good about this record because he thinks it comes the closest to emulating his life performance of any of the records he's ever recorded. A good part of that is because of the guys playing alongside him.

"The band itself is just a great group of musicians that has grown in the past 4-5 years," said Strecker. "They've helped in the writing of these songs and I've gotten them involved more than I did on the last two records. This makes it more of a band effort."

"The main thing is that with a second chance you learn to appreciate every moment and do the best you can. And, of course, you don't take anything for granted.

"The hardest thing about it now after almost nine years later is to remember that. That's the hard thing. Because with the day to day troubles that we all have it can get overwhelming but if we can just remember that this is a gift that we have - this life. That's one of the things I've learned. It's given me a very humble way of looking at things. I'm blessed just to be here."
---

Wednesday November 7, 2007 at 7:00 PM
The Living Room, 154 Ludlow Street New York, NY
CD Release Party for the new album SMOKE and CLOUDS with the full band and guest artists.

Friday November 30, 2007 at 7:00 PM
Salt Creek Grille, One Rockingham Row, Princeton, NJ
William Hart Strecker on Guitar & Vocals/ Ken Rich on Bass/ Andrew Sherman on Piano & Vocals/ Chris Eminizer on Saxophone, Percussion & Vocals/ Frank Vilardi on Drums.

www.williamhartstrecker.com

---
---
Gary Wien has been covering the arts since 2001 and has had work published with Jersey Arts, Elmore Magazine, Princeton Magazine, Backstreets and other publications. He is a three-time winner of the Asbury Music Award for Top Music Journalist and the author of Beyond the Palace (the first book on the history of rock and roll in Asbury Park) and Are You Listening? The Top 100 Albums of 2001-2010 by New Jersey Artists. In addition, he runs New Jersey Stage and the online radio station The Penguin Rocks. He can be contacted at gary@newjerseystage.com.
---