By Gary Wien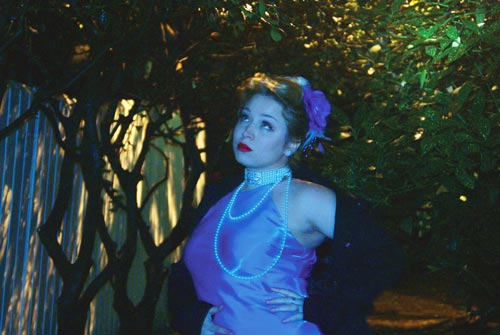 Eryn Shewell and her band will once again ring in the new year at Giamano's (310 Main Street in Bradley Beach, NJ) on New Year's Eve with a show featuring a Mardi Gras theme. NewJerseyStage.com had a chance to catch up with Eryn to talk about the NYE show, her love of New Orleans, and her upcoming album.

In a recent article you were quoted as saying, "I don't think you can be more New Jersey than me." To those who have followed your career closely, that statement is a bit surprising. While you certainly have been here a long time, I'd imagine you closer to New Orleans than Jersey.
Yes, my spirit does lie with New Orleans. Although I call NJ home and I love my home I am not what you would consider a "Jersey Girl". So that statement is surprising to me as well. [:-D]


If you could live anywhere, would it be New Orleans? If so, why?
If I could live anywhere and my situation was different I would absolutely live in New Orleans. I think it's one of the most fascinating cities in the world. It's like an antique painted with culture, food, and most of all MUSIC. The city has so much spirit it's almost as if it lives and breathes. You can hear it calling your name. To quote the great Tom Waits "listen to that tenor saxophone calling me home and I can hear the band begin 'When the Saints Go Marching In'... New Orleans, I'll be there". I don't think there has been a city with more songs written about it. This song in particular we've actually made it our own and will be covering it on out next album.


You've been fortunate enough to play shows in New Orleans several times. What are those shows like for you? What are your favorite places to play?
We have traveled and played in New Orleans a few times. It's an amazing experience. The whole way the musicians go about their gigs is so different than in NJ. Everything is about the tip jar down there and getting people to throw the money in. Even though you would think that would be a more difficult way to make money with all the tourism it's not at all. My favorite places to play are any of the clubs down on Frenchmen St. THAT is the place to be!


Have you ever performed on the streets of New Orleans? If so, what was that experience like?
Playing the streets of New Orleans and even Nashville is quite an experience as well. It's actually a decent way to make money too. It's the same type of thing as the clubs in relying on tips. We would usually manage to get a good crowd around us and then we could sell CD's and answer peoples questions in between tunes. I think every musician should experience it at least once.


Although New Jersey may not be the best place in the world, it's not bad for a musician. Maybe not as good as New Orleans, but there are far more clubs here than in many places. Even though many people may wish they were somewhere else, living in New Jersey does create a part of who we each are. Are there parts of your music that you think might be inspired somewhat from spending so much of your life here?
New Jersey is not a bad place to be at all. Believe me I am not putting down NJ. NJ has it's own charms and like I said this is my home. There are many fantastic clubs here and I'm happy to be playing at every single one of them. Not only the fact that we are centrally located between two other major cities. It's a great place to be and having spent most of my life living in NJ I'm sure it has rubbed off into my music in many ways.


You'll be performing at Giamano's in Bradley Beach on New Year's Eve this year. I believe this is your second straight year having that gig. What was last year's gig like for you? Was that your first time performing on New Year's Eve?
Yes, One of my favorite rooms to play is Giamano's. It's small but has a great vibe. We did the NYE party last year and it was INSANE! We're actually expecting this year to be better! That wasn't my first year playing New Years but was one of the most fun.


What can fans expect from you this year? Will you be playing any of the songs from your next album? Any special covers?
We are having a New Orleans Mardi Gras themed New Years party this year and added a few more of that style of songs to the list. We are also going to be playing a good amount of newer songs that will be on our next CD. I'm looking forward to it very much.


Tell me about your next album. You said there was a little controversy regarding comments from some people when you asked for donations to help create the album. What happened?
We are just starting to lay down tracks for the next album and I'm just sooo excited! I feel like the material has grown and this will be better than the last. yes, there was a bit of controversy when I made the announcement that I would be taking donations to go towards it. After I made the announcement on Facebook and through my mailing list I had several people message me some very nasty things. I won't go into some of the meaner details but some of the highlights were "You need to just work harder", "You're supposed to be paying your dues not looking for hand outs", "I'm turned off and can never listen to your music again, Ect. These people then unfriended me on Facebook and/or took themselves off my mailing list. I was really surprised at this actually. People can just be so mean to others and I truly don't understand it.


A lot of artists are utilizing services like Kickstarter.com and IndieGoGo.com to help raise funds for recording projects. As an artist, what does it mean to you when people are willing to plunk down some cash for a product that hasn't even been started yet?
These websites are such a great help to artists these days. The record industry isn't the same as it used to be and artists are forced to do everything on their own for the most part. Having a fan give away some of their own hard earned cash for something that hasn't even been started yet is the most amazing thing a fan can do for an artist. It shows that they truly believe in that artist and see a future for them. I must say I have a lot to be thankful for when it comes to my fans.


When do you hope to have the next album finished?
I'm hoping to have the album finished by the end of the summer but you know how that goes. Money is our biggest obstacle this time around and it may put a few road blocks along the way but we'll make it happen.


Finally, if there was anything from the Asbury Park Press article you'd like to clear up for people, please do.
It was a nice article and I always appreciate anyone who is willing to take the time to interview me and write an article. The only thing I have left to say is I'm proud of being from NJ but I'm also proud of being born in Maryland!

---
Gary Wien has been covering the arts since 2001 and has had work published with Jersey Arts, Elmore Magazine, Princeton Magazine, Backstreets and other publications. He is a three-time winner of the Asbury Music Award for Top Music Journalist and the author of Beyond the Palace (the first book on the history of rock and roll in Asbury Park) and Are You Listening? The Top 100 Albums of 2001-2010 by New Jersey Artists. In addition, he runs New Jersey Stage and the online radio station The Penguin Rocks. He can be contacted at gary@newjerseystage.com.
---