By Gary Wien
originally published: 08/20/2015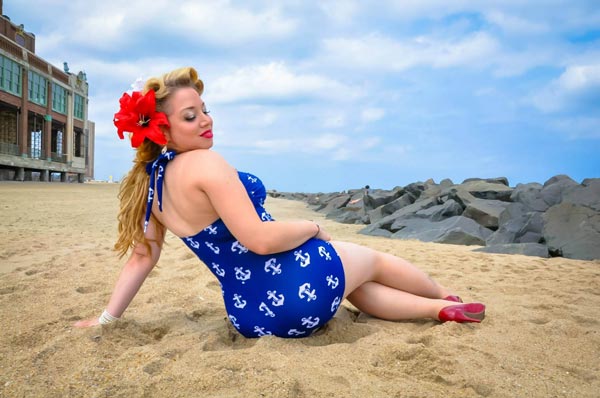 Eryn Shewell is building a brand.  It's based on a jazzy, bluesy sound mixed around her soulful vocals, wrapped in '50s pin-up culture, and enjoyed with wine and good food.  She calls it "bringing classy back."
The evolution of the brand has been growing noticeably in the last few years, but especially since she changed the direction of her band.  Even though the Eryn Shewell Band had been rather successful, she decided to disband it in 2012 and start up Eryn Shewell and the Whiskey Devils.  It was more than just a name change; it signaled the dawn of a new attitude as well.
The band's coming out party was the CD release for 2013's self-titled record at McCloone's Supper Club in Asbury Park. It also showcased the evolution of her sound into a blend of jazz, blues, and soul.  Within the first few notes played that night, it was clear there wasn't anybody who sounded quite like this band.  More importantly, her sound has increasingly move towards a match for her look.  She says she has been obsessed with pin-up culture since high school and it's a look she carries on stage and into her everyday life.
"I try to embrace that look as who I am now," explained Shewell.  "It's more than just a stage persona.  I try to dress like that all of the time."
The rise in popularity of pin-up clothing has made it easier for her to adopt the look as her own.  While she used to pick up clothes wherever she could find it, the clothing is available everywhere these days.  She's even had clothing companies provide her with clothes to wear because they realize her brand is a good fit for their companies.
---
The article continues after this ad
---
---
In addition to fashion, Shewell has also developed a following playing wine bars, wine festivals, and wineries throughout the region.  She's noticed that her fans tend to be the type to prefer seeing her perform in a picturesque setting rather than a bar.  
"Sometimes when I'm playing at the Sharrott Winery and I'm sitting there on a gorgeous night looking out at the vineyard it's like, 'Wow, there couldn't be a better moment than this right now.'" said Shewell.  "That's why I put the new tag line on my website: 'Bringing classy back' because I feel like my audience is that type of audience.  Not only with food and wine, but with clothing and the music."
She's also moved away from playing nightclubs in favor of classier restaurants and larger halls; developed a following in Northwest New Jersey from multiple appearances at The Newton Theatre and the Stanhope House; and opened for Gregg Allman at the Mayo Performing Arts Center in Morristown.  In addition, she's begun making her touring world wider with trips to Nashville, New Orleans, and Florida.  Trips that recently helped her in a big way.
Shewell considers herself a Jersey Girl, but her Southern roots helped her win the Southern Musician Showcase presented by Belk, a large department store throughout the South.  She was one of just seven artists chosen out of more than 4,000 submissions.  The win has led to performances at Belk sponsored events, a place in the upcoming Belk catalog, and might land her on a television commercial.
The competition was open to artists affiliated with the South.  Shewell was born in Maryland and lived there until she was ten, but has lived in New Jersey ever since. The combination of being born in the South and regularly touring the area was enough for her to enter and ultimately win in the blues category.
 "What was great about the Belk competition was they wanted only original artists," added Shewell.  "So, we won on playing our own original music instead of covers.  It wasn't like American Idol where you're not allowed to play your own music."
Shewell says the next step for her career is to play overseas.   "My music plays on the radio over there and I've had plenty of attention from magazines and press for my last CD, but it's not going to do anything until I can go over there and physically play," she said.
Shewell will be returning to McCloone's in October to record a live CD.  The night will be full of new songs, old songs, and a few cover tunes.  It will also be a pretty classy night, you can count on it.
Top Photo Credits:
Photographer: Jamie Lynn Mullins.

Hair/MUA: Gabrielle Vera

Wardrobe: Esther Williams licensed classic navy sheath with anchors,

Red Duet Tiger Lily hair flowers, Besame vintage reproduction lipstick

(All can be purchased at Bettie's Bombshells in Asbury Park)
---
Gary Wien has been covering the arts since 2001 and has had work published with Jersey Arts, Elmore Magazine, Princeton Magazine, Backstreets and other publications. He is a three-time winner of the Asbury Music Award for Top Music Journalist and the author of Beyond the Palace (the first book on the history of rock and roll in Asbury Park) and Are You Listening? The Top 100 Albums of 2001-2010 by New Jersey Artists. In addition, he runs New Jersey Stage and the online radio station The Penguin Rocks. He can be contacted at gary@newjerseystage.com.
---