By Gary Wien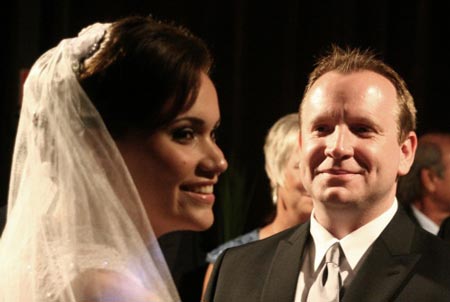 Eric Miller is coordinating 50 Concerts in 50 States for Epilepsy Awareness in honor of his wife Carolina who passed away from epilepsy at 25. The concerts partner with the largest organizations (Epilepsy Foundation, CURE & others) in epilepsy on a single weekend. Some of the artists they have on board include Eric Clapton, Colbie Caillat, Owl City, Supertramp's Roger Hodgson, Brian Regan, Loudon Wainwright III, They Might Be Giants and dozens more. The 50 Concerts in 50 States had its origins years ago as a house concert series in Pennington, NJ. NewJerseyStage.com recently spoke with Miller about taking the awareness project to a much higher level.


You started with house concerts to raise awareness of epilepsy. The 50 concerts in 50 states is a tremendous leap forward. What inspired you to take the project to this level?
A friend of mine, Catie Curtis, worked on a similar project for Voices United in 2012 and it inspire me in terms of format. Combined with the fact that I knew I wanted to do something big and take it to the next level in March 2013. I think you need to do big, bold things to really get attention, which is the primary focus, raising awareness for epilepsy. And the reason it is in March is to specifically be in conjunction with the annual epilepsy awareness day, Purple Day which is every year on March 26th. So, we've tried to coordinate as many of the 50 Concerts in 50 States around that weekend as possible.

How did you first get starting with hosting concerts? Are you a musician? Involved in the business somehow?
I've always been a huge music nerd. Along with a longtime friend, I put out a small music magazine in the 90s, which is probably how I got my foot in a lot of doors. In the past few years, I've done some booking for artists and for venues and it's been growing. The first house concert I hosted was with Jeffrey Gaines and it kicked off this series in May 2012. I was honored to have him specifically as he was someone that my wife Carolina and I both really enjoyed. I've since had 27 house concerts in just about 10 months with all sorts of artists. It's very rewarding to combine my passion for music with my driven advocacy efforts in the world of epilepsy.

Looking over the list of concerts for the March weekend, it's amazing seeing all of the various styles of music (and even comedy and dance) represented and then one name stands out - Eric Clapton. How did you get approval for those shows? You must be either fearless or very persistent!
I very much take a "no swings, no hits" approach! There really has been an absence of national, high-profile epilepsy awareness efforts - and it's something that affects so many people (1 in 26 people will develop epilepsy in their life), that the odds are kind of in my favor. It's almost overdue. For example, Garbage was eager to participate as they have a band member living with epilepsy. It touches so many lives. I also present what I believe is a persistent and compelling story. To be frank, the drive for all of this still comes from honoring my wife Carolina, who passed as a result of epilepsy. In the interest of raising awareness, I do share her story and I think people of all types respond - include multi-time Rock & Roll Hall of Fame inductees.

There's such an amazing blend of artists from big names to rising stars. Are there any under-the-radar artists you'd like to point out?
The variety is by design - in the same way that epilepsy affects people of all ages, races, income & education so does music. We all have different things we listen to. So by casting a wide net we can get the info out to the widest audience. There are a few artists that I'm personally proud to have on board. Jann Klose is a great singer-songwriter from New York and he'll be playing a show here in New Jersey as part of my "flagship" show alongside Jeffrey Gaines and guitar wiz Gary Hoey. The young artist opening that show Amy Faden is also spectacular. In terms of artists local to New Jersey, I cannot say enough good things about Sofia Nicole. She's played two of my house concerts so far and is returning in May.

Are you still adding shows? Are there any states you haven't locked down performances for yet?
At the time of answering this, I'm at 76 shows in 41 states. Some states are proving tricky as there simply isn't as much activity as, say, New York. If we don't get all 50 States, that's fine. We're making noise where there was none previously, so if it's 40 states this year, maybe next year we hit all 50 (and beyond!)

Each show features volunteers handing out literature and collecting donations. How can people volunteer? And what kind of help do you need for these shows?
That's right. We're printing a 16 page Playbill-style program that will be distributed at all of these events around the country. I pulled in the largest organizations in the world of epilepsy and we've partnered on the program - with each organization providing content. I've written a page specifically to honor Carolina for example, but others have written about first aid, statistics about epilepsy and so on It really is the first coordinated piece of epilepsy awareness literature distributed on this scale. People have been volunteering around the country to assist - as hosts of events, as performers and as volunteers/street team. All of which can be done on my website at http://www.candlelightconcert.org/50.asp. You can also see the confirmed events around the country listed there.

Any plans for the future? If the 50 concerts in 50 states goes well, do you see it becoming an annual event?
Yes, this will be an annual event. The reaction has been nothing short of astounding. I kicked this off in November and within 3-4 months we have such artists on board as Eric Clapton, Garbage, Colbie Caillat, Tegan & Sara, Owl City, Supertramp's Roger Hodgson, Living Colour, Big Bad Voodoo Daddy, They Might Be Giants, Donavon Frankenreiter, Brian Regan, Minus The Bear/Circa Survive, Loudon Wainwright III and dozens more. I'm building relationships with the venues, the performers and growing the national network of volunteers.

Finally, your wife died of epilepsy when she was just 25. Had she been fighting it all of her life or was it something that came on quickly?
Carolina had been diagnosed in her teenage years. Like many, she didn't have a clear cause for her seizures. Meaning, no distinct incident of head trauma, etc.. Her seizures were pretty infrequent. Again, not uncommon. She was fortunate in that fact. Many living with epilepsy are not as fortunate and have it more severly. I should point out that epilepsy is actually a spectrum of neurological disorders - some seizure types are more severe and some are more controllable than others. In Carolina's case, it didn't affect her day-to-day life. Her seizures were controlled with medication. She was an exceptionally brilliant woman by every measure. In the six years I knew her, she'd only had two seizures, the second being fatal. It wasn't until after her passing that I learned that epilepsy could be fatal. I'm fairly certain she didn't know that either, which is awful. In fact, about 50,000 people a year die as a result of seizure related causes. A huge and shocking number that most certainly deserves as many national awareness campaigns as possible. I am one guy, doing my part to honor my wife and those living with or lost to epilepsy. Hopefully using the power of music and carrying a banner that some will follow. In setting up 50 Concerts in 50 States for Epilepsy Awareness and building this network of volunteers, we're finally uniting to move that message forward. Together we can change the way the world sees and understands epilepsy.

---
Gary Wien has been covering the arts since 2001 and has had work published with Jersey Arts, Elmore Magazine, Princeton Magazine, Backstreets and other publications. He is a three-time winner of the Asbury Music Award for Top Music Journalist and the author of Beyond the Palace (the first book on the history of rock and roll in Asbury Park) and Are You Listening? The Top 100 Albums of 2001-2010 by New Jersey Artists. In addition, he runs New Jersey Stage and the online radio station The Penguin Rocks. He can be contacted at gary@newjerseystage.com.
---