By Gary Wien
originally published: 02/23/2017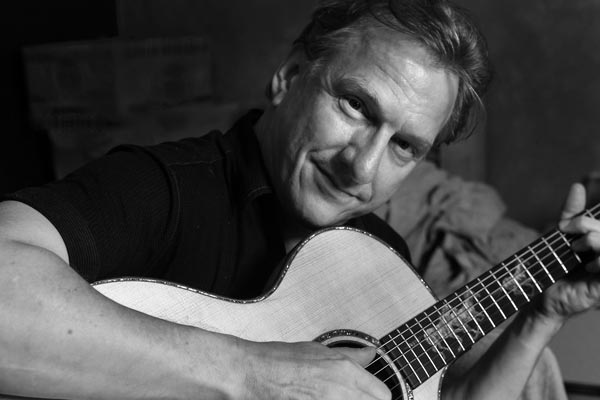 It's never been easy to carve out a career in the music business and it may be more difficult now than ever.  Despite a plethora of websites to let people discover artists, music fans are largely on their own. MTV gave up on music videos long ago, the power of radio has been greatly diminished, and even publications like Rolling Stone are arguably read more for their political writing today as much as their profiles on artists.  With that in mind, it's remarkable when artists like Ellis Paul can simultaneously build a devoted fan base throughout the country and remain under the radar for 25 years.
Paul is currently on his "The World Ain't Slowin' Down" Tour, which celebrates 25 years on the road.  The tour will bring him to the Hurdy Gurdy Folk Club in Fair Lawn on Saturday, March 4 where fans are likely to see a rather unique show. In addition to songs from his latest album, Chasing Beauty, they might hear songs he hasn't played in years. He has been performing his earliest albums in their entirety during recent monthly internet concerts broadcast from his living room. In doing so, he has rediscovered songs that have long left his setlists.
"Doing all of these albums at home is going to remind me about the songs and I'm going to incorporate the ones I'm enjoying playing the most into the shows," said Paul.  "So, I'll do a few songs from older records and some newer songs that haven't been recorded, but mainly it's just telling stories and celebrating the last 25 years by talking about where I've been and what I've done and what the world was like back then."
While mainstream fame has eluded Paul, he's had his songs in popular films like Hall Pass, Me, Myself & Irene, and Shallow Hal.  His career includes winning multiple Boston Music Awards, playing some of the biggest folk festivals in the country, and being inducted into the Maine Music Hall of Fame in 2014.  Not bad for a guy who attended Boston College on a track scholarship. He was actually such a good athlete that he was inducted into his high school athletic hall of fame in 2013.
Twenty-five years ago, Paul made the great leap — the decision to stop working a day job and do whatever it took to make it as a musician.  Decades later, he still tours regularly (over 200 shows a year) and has released close to 20 albums — including a few written for children. He offers lessons in songwriting, guitar, and career mentoring from his website.  He has also illustrated and designed albums, festival posters, and logos for various organizations.  In other words, his life is close to the mirror image of Woody Guthrie — his main inspiration. 
---
The article continues after this ad
---
---
"He did a lot of the same stuff," said Paul.  "In many ways, I have the same interests in art and writing and songs that he had.  He focused ultimately on the plight of the people. I'm often writing love songs and story songs that don't very much talk about social issues, but the older I get the more I seem to be writing about those things."
Paul wasn't exposed to folk music until he got to college.  In high school, he had records by singer-songwriters like Billy Joel, James Taylor, Elton John, and Dan Fogelberg.  When he began diving into folk music, he quickly learned the differences between somebody like Dan Fogelberg and Bob Dylan.
"All of them are relevant, but the folk side speaks very loud compared to the pop folk stuff I was listening to," explained Paul.  "The singer-songwriter thing is about 'me' and folk music is about the 'us.'  I think that's the main difference.  Singer-songwriters talk about their personal lives in a way that doesn't often translate to the plight of all of us.  It can be a love song that's universal, of course (and most of them are), but I'm talking about the day to day things.  Like when am I getting paid? How am I getting life insurance and health insurance? How am I able to work? Those kinds of songs are definitely folk songs."
Paul thinks we are in a great era for folk music with Americana and bluegrass artists on the rise and the success of artists like The Avett Brothers and Mumford & Sons.  One thing he notices is missing lately is the traditional role of folk music to identify what is going on in the world.
"Folk music needs to address some of the stuff that's happening in our political lives," said Paul.  "I'm hoping that we're one of the standard bearers for making sure the world is right.  So, we'll see.  There hasn't been a lot of political commentary in folk music in the past eight years because the world sort of shifted to our point of view, but every day I wake up now and it seems like we're in a different place.
"We're supposed to be writing about life," continued Paul.  "I think you're going to see it especially when the policies start affecting the general population in ways that are detrimental.  That's when the songs are going to come out.  Right now, we're writing about being worried.  I think when the worry becomes actual problems and scary things are happening we will see songs that attack back."
As someone who is constantly touring and who sees a large portion of the country (he has shows lined up in 12 different states through May) Paul comes across many good artists and numerous artists just starting out.  He says the temptation for many artists is to focus on setting up gigs and pushing social media when the focus should be on writing great songs.
"I think the best thing that you can do is just write great songs because the whole mechanism is driven by that," explained Paul.  "That's the gas you put in the tank and the gas that you put in social media.  I would say concentrate on learning songs by people who are great and then incorporate what makes them great into your own material.  As much as you can - as much as possible - focus on the songs."
That's all Ellis Paul has done for the past 25 years and it's worked out pretty well for him.
---
Gary Wien has been covering the arts since 2001 and has had work published with Jersey Arts, Elmore Magazine, Princeton Magazine, Backstreets and other publications. He is a three-time winner of the Asbury Music Award for Top Music Journalist and the author of Beyond the Palace (the first book on the history of rock and roll in Asbury Park) and Are You Listening? The Top 100 Albums of 2001-2010 by New Jersey Artists. In addition, he runs New Jersey Stage and the online radio station The Penguin Rocks. He can be contacted at gary@newjerseystage.com.
---