By Gary Wien
originally published: 12/26/2017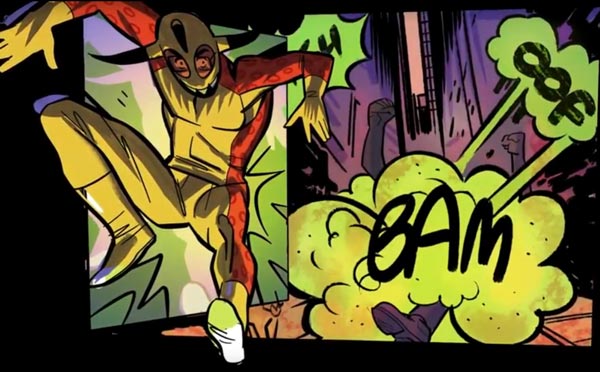 Playwright Matt Barbot knows what it's like to read comic books and yearn for a super hero that looks like the reflection he sees in the mirror. In El Coquí Espectácular and the Bottle of Doom, he deftly uses the super hero genre to explore questions of individual and national identity - including what it means to be "Latino" or "not Latino enough" — in contemporary America.  The play will have its World Premiere at Two River Theater from January 6 through February 4.
El Coquí tells the story of Alex, an unemployed young comic book artist still wrestling with the death of his father, a policeman, in the line of duty. Adrift in his career and his life, he decides to see what it's like to be a superhero, and begins to dress up as his creation El Coquí Espectacular (a Puerto Rican superhero who gets his power from a vejigante carnival mask and his name from a tree frog) and fight crime in his neighborhood of Sunset Park, Brooklyn. Meanwhile, his responsible older brother Joe is encouraging Alex to join him at his advertising agency, where Joe works selling sugary soda to Latino consumers. When Joe is fired from a project, the two, with the help of a young photographer named Yesica, hatch a plan: to debut El Coquí at the Puerto Rican Day Parade and prove themselves to the world.
"It's a play about identity and nerd culture," explained Barbot. "Alex is dealing with his sense of disconnect from his heritage by creating a superhero that is everything he thinks it means to be Puerto Rican."
The story is based somewhat on Barbot's own experiences as a Puerto Rican playwright who has faced questions of his own identity and heritage, has worked in marketing, and is a comic book fan.
El Coquí provides an opportunity to show a superhero that is not the standard white superhero generations have grown up with.  Barbot admits he has encountered people who have questioned why characters of his weren't white; experiences in which people have wondered if something culturally specific will alienate audiences or even if characters didn't match up to general stereotypes.
---
The article continues after this ad
---
---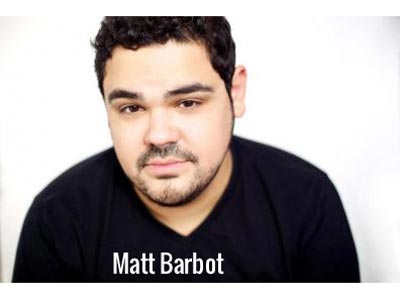 "I've never been a fan of the idea that whiteness is universal," said Barbot. "I've often been taught in a lot of contexts that specificity breeds universality.  That is to say if I can speak about my experience and about what's important to me than audiences will identify with it more because it is coming from a real human place.  The best example of this in pop culture is My Big Fat Greek Wedding.  People identified with them not because they were Greek, but because of the feeling of family they got from it.  I have encountered the idea that whiteness is universal and audiences won't connect with characters unless they look like them.  And I don't think that's true.  It's certainly not true of minority audiences who are accustomed of seeing characters who don't look like them."
Two River Theater deserves credit for believing in the works by minority playwrights.  In addition to the theater's Crossing Borders festival (which presented a staged reading of El Coquí Espectacular and the Bottle of Doom in 2016), the theatre has also been one of the few in New Jersey to present works from August Wilson's brilliant 10 part series, The Pittsburgh Cycle.  With this new work by Barbot, they are not simply taking a chance on a Puerto Rican superhero, but doing so in a period in which superheroes  are still rarely seen on stage.
"It kind of floored me to see my play on the season schedule next to A Raisin in the Sun and The Importance of Being Earnest," added Barbot.  "When I was writing the play, I thought of heroism and what stories are worth telling.  I think it is important to have stories about heroism, positivity, and light because so often stories which dominate the news about places like Puerto Rico are defined by tragedy, sadness, and overwhelming circumstances that I think shape public perception in a certain way.  It's important to counteract those stories with real humanity."
Barbot realizes that many audiences members may know very little about Puerto Rico other than the images seen on their televisions following the destruction of Hurricane Maria in September.  He hopes that people will come into the theatre with a greater awareness of the island and its people, and will have a renewed understanding about the need to help them.
The cast includes Gabriel Diego Hernández (El Chupacabra/Junior), Olivia Negrón (Patricia), Flor De Liz Perez (Yesica), Cesar J. Rosado (Joe), and Bradley Tejeda (Alex). The production is directed by José Zayas.
El Coquí Espectácular and the Bottle of Doom was a finalist in the 2014 Repertorio Español Nuestras Voces competition, and won the Kennedy Center's Darrel Ayers Award for Outstanding Student-Written Play for Young Audiences, as well as the Kennedy Center's Latinidad Award for Outstanding Play Written by a Student of Latino/Hispanic Heritage. It was also a finalist in Repertorio Español's 2013 Nuestras Voces competition.
"Matt Barbot is a playwright with a unique and exciting voice," says Two River Theater Artistic Director John Dias. "Super-smart, super-cheeky and super-honest, his El Coquí examines what it means to be Latino in America in a deeply personal and very funny way. What is a wannabe hero to do when he's considered a 'sorta-Rican:' raised in America by immigrant parents, feeling disconnected from the Latino community (and barely speaking Spanish), but still seen as Latino by the majority of the country. It's a play for all of us who long to connect to our roots, embrace our culture and let our inner superheroes soar."
El Coquí Espectácular and the Bottle of Doom is on stage at Two River Theater from January 6 through February 4. Two River Theater is located at 21 Bridge Avenue in Red Bank, New Jersey.
---
Gary Wien has been covering the arts since 2001 and has had work published with Jersey Arts, Elmore Magazine, Princeton Magazine, Backstreets and other publications. He is a three-time winner of the Asbury Music Award for Top Music Journalist and the author of Beyond the Palace (the first book on the history of rock and roll in Asbury Park) and Are You Listening? The Top 100 Albums of 2001-2010 by New Jersey Artists. In addition, he runs New Jersey Stage and the online radio station The Penguin Rocks. He can be contacted at gary@newjerseystage.com.
---