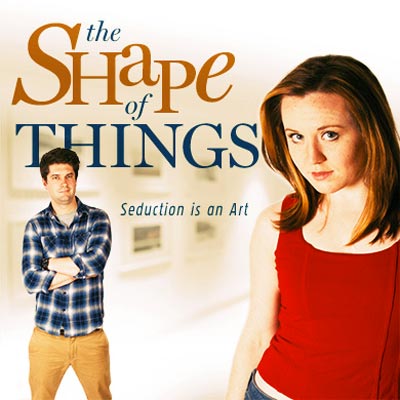 (HAMMONTON, NJ) -- On September 15, Eagle Theatre opens The Shape Of Things, a fast-paced, razor sharp, 90-minute dramedy, that revels in delightful exploration of the power of art, perception, and deception. The production runs until October 15.
Celebrated playwright Neil LaBute's The Shape Of Things peels back the skin of modern-day relationships to their very core, asking questions such as; How far would you go for love? For art? What would you be willing to change? What price might you pay? A 2003 film of the same name starred Hollywood's funnyman Paul Rudd, Gretchen Mol, and Rachel Weisz. New York Times called it "A brilliant, startling dissection of cruelty and artistic creation."
Directed by Ed Corsi, the play includes: Evelyn - Maggie Griffin Smith; Adam - Max Redman; Phillip - Khalil McMillan; and Jenny - Darby Pumphery.  Understudies include: Evelyn - Macy Jae Davis; Phillip - Tim Rinehart; Adam - Alan Stentiford; and Jenny - Meaghen Cutting.
Performances take place in the Eagle Theatre (208 Vine Street) in Hammonton, New Jersey on Wednesdays & Thursdays at 7:30pm; Friday & Saturdays at 8:00pm; and Saturday & Sundays 3:00pm matinees.
Patrons will get more than meets the eye with their admission ticket. In addition to the captivating production, audiences will gain access to Eagle Theatre's onsite, pre-show, pop-up art exhibit. Each week of the run, a new artist or art organization will present their work; including Noyes Museum of Art of Stockton University, Rutgers-Camden Center for the Arts, ArtC - South Jersey Artists, Perkins Center for the Arts, and Pennsylvania Academy of the Fine Arts. Scroll down for the exhibit schedule.
---
The article continues after this ad
---
---
THE SHAPE OF THINGS ART EXHIBIT SCHEDULE:
Week 1 (9/15 - 9/17): Noyes Museum of Art of Stockton University 
Week 2 (9/20 - 9/24): Rutgers-Camden Center for the Arts
Week 3 (9/27 - 10/1): ArtC - South Jersey Artists
Week 4 (10/4 - 10/8): Perkins Center for the Arts
Week 5 (10/11 - 10/15): Pennsylvania Academy of the Fine Arts
Co-Artistic Director Ed Corsi added "Patrons should arrive to the Eagle Theatre up to one hour early to really soak in the exhibit, Sharrott Winery tastings, and delectable Hors d' oeuvres, compliments of local caterer Kitchen 19. It is going to be a social, sophisticated, art-infused, theatrical event!"
Eagle Theatre, South Jersey's only year-round Professional Equity Theatre, is dedicated to redefining regional theatre. The theatre produces more than 160 live performances each year, including full-scale Broadway caliber World Premieres and re-conceptualized revivals; New Works Development Series play readings; a traveling Theatre for Youth Audiences program, specializing in providing arts education to schools in under served communities; an Annual Fringe Festival, a 3-day street fair and theatrical marathon, featuring multiple eclectic productions, a beer and wine garden, pop-up art, food, live music, and street performers; and Eagle Theatre Conservatory, a year-round tuition based theatrical institute for all ages and levels of professionalism. 

This award-winning culturally diverse epicenter boasts state of the art technical equipment, a free double parking lot, Sharrott Winery's on-site Wine Lounge, and is located within walking distance of several boutiques and acclaimed dining destinations in beautifully revitalized Downtown Hammonton, serving patrons from New Jersey, Philadelphia, and beyond.

Eagle Theatre originally opened its doors in 1914 as a silent movie theatre. The theatre was restored in 2009 to serve as a performing arts center. Since the reopening, Eagle Theatre has quickly grown into a nationally recognized non-profit producing organization.