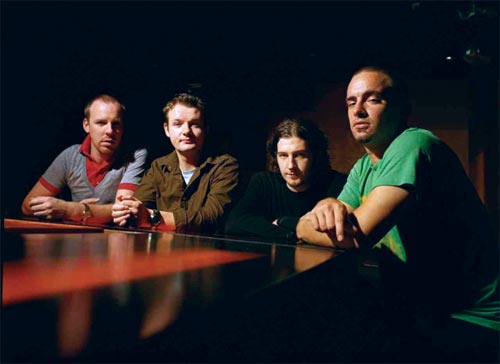 What does a band from Ireland do when they suddenly find themselves a bit too big for Dublin? Move to New York, of course, where's there's probably enough Irish on the streets so they'd never get homesick. And that's exactly what the rock band Stand did several years ago. Currently based in Queens, the band recently returned from a brief tour of their homeland and will be playing at the Saint in Asbury Park on May 18th as part of the Wave Gathering festival. We had a chance to speak to lead singer Neil Eurelle while the band was "enjoying" media day in Dublin.
The day we spoke with Neil the band had already done a few radio interviews in the morning and had about three interviews scheduled after us. It was also the day the Star, a big paper in Dublin, ran a feature on the band. Needless to say, it was a nice homecoming for the lads.
"It's really nice to come back and be playing around the country and traveling around Ireland," said Neil Rurelle. "It's been a long time since we've done that."
The band left Ireland for the states after getting a taste of America through gigs at South by Southwest and CMJ festivals. After the band began attracting large crowds and putting songs on the charts, they realized they had gone about as far as they could there. They decided it was better going for it abroad than staying as a big fish in a small pond.
"Ireland is so small," explained Rurelle. "It's a very big musical country and people get behind you and if you have any measure of success at all the whole country sort of gets behind you. We had the opportunity to go to the states a few years ago to play South by Southwest and CMJ and so we went for a few weeks and we loved it. We decided to give it a try over here. Initially we were going to give it six months and then come home, but six months turned into a year and then a year turned into two years and so on.
They met an agent while playing at the CMJ festival which led them to shows on college campuses right away. That helped make the decision to stay a little easier as they were not only playing in front of audiences but making some money as well. Even today, the band uses college gigs as an important part of their plan to increase their audience.
"The appeal of New York really was that there's just so much you can do when you're in a band in New York. It's a haven for musicians and actors. We love the vibe and the freedom of expression, which is more in American than in Ireland. People are very quick to judge you over here where as in New York I think people can behind you a little quicker."
The band originally started for the age old reason: to meet girls. The guys were all together at the end of high school and were friends by the time they entered college. There was a guy in their class who got all the girls by playing music so they figured it would work for them as well.

"It was always going to be either music or theater for me," he explained. "I was always into being on the stage and the center of attention. My ego was pointing me in that direction and I just kind of dragged everybody else along with me. We were very young when we chose the band's name. It meant taking a stand, being independent, just being united."
Just as every band from New Jersey has to live through comparisons to Bruce Springsteen, it's hard for a band from Dublin to escape the history of U2.
"Of course we grew up as fans," admitted Eurelle. "They're a huge influence on us - especially when we were young and starting out. I mean, they're just such an inspiration. To be able to sustain a career and be as Irish as they are for so long is not something that can be laughed at or shunned, it's something to be proud of."

"I think it's a great example of what can be done and what can be achieved. It's like the way Bruce Springsteen and even REM have been for so long, we try to embrace that as much as possible because they are excellent at what they do."
The band's latest record, "Traveling Light" was released this month and is a bit of a departure from their previous records. It's a bit more melodic and textured. It draws comparisons to British bands of the late 80s like the Smiths and The Church.
"We made a conscious decision to do that," he explained. "We wanted to get away from the 'wall of sound' rock kind of stuff and be a little bit more electronic and a little more soundscapey, so to speak. It was also the first time we had recorded an album with us just going in with a batch of songs and seeing what happened in the studio. All of the previous records have been done with us out on the road playing songs for a couple of months and honing the songs before entering the studio with very polished songs. When you're playing live it's a very different animal than when you're recording. We were just very lucky on this last record to have the budget and the freedom to actually go in and craft the songs in the studio and see where they went from there. I think it felt for the first time like we were making a real record. And we're very, very proud of it. We feel this is our strongest album to date by far."
The album may be called "Traveling Light" but Stand intends on doing quite a bit of traveling in support of this record. The Dublin music scene is incredibly vibrant right now and the group wants to make sure they remain part of that scene as well. It's where they came from and where a part of them will always be even if they live oceans away.
"I think that part of our reason for coming back and trying to release the album and get involved back here again after being away for so long was to prove that we are still around," he said. "And that we want to be part of this vibrant scene which has very heavily influenced us from day one."
For more information visit www.standland.com
or www.myspace.com/standland