By Gary Wien
originally published: 04/20/2015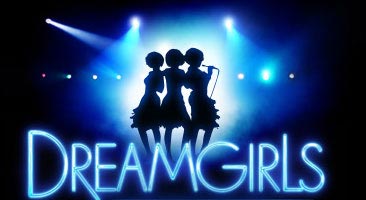 "We try to do things we think are innovative and interesting and we don't run away from them because of their size," explained Sam Scalamoni, Artistic Director of Skyline Theatre Company in Fair Lawn, NJ.  This April, the company presents Dreamgirls, winner of six Tony Awards, which is based on R&B acts like The Supremes, The Shirelles, James Brown, and Jackie Wilson.  
The story follows a young female singing trio from Chicago called "The Dreams" who become music superstars. 
Even with unforgettable hits such as "And I Am Telling You I'm Not Going," "One Night Only," and "Listen," the show is rarely performed — mainly due to the costs involved in staging it.  Skyline has decided to strip the show down and simply focus on the story, the music, and the costumes — many, many costumes.
Skyline ran a KickStarter crowdfunding campaign last year to help raise funds for this production.  Most of that money is going towards the costumes.  Scalamoni says the play has about 10-12 costume changes and everybody has to match in order to tell the story of how the artists grow from their humble beginnings to being superstars.  The clothing helps tell that story and also speaks to the time periods involved as well.
While the costs for a production like this are high, Scalamoni believes it is important for a theatre company to show that they can tell a story in any form.  "Theatre companies all across the country right now are figuring out ways to do big musicals in scaled down, interesting ways," he explained.  "I think if you have a good story and you have a good score you can do a big musical.  It's all about the story and how well you can tell that story."
---
The article continues after this ad
---
---
Apparently actors were very interested in telling the story as well.  Skyline received more than 600 submissions for the show.  This made casting very easy for the company.  They had choices for every character and were fortunately enough to have all of their first choices accept the roles — including the iconic role of Effie, which earned Jennifer Holliday a Tony Award in the original Broadway production.  In Skyline's production, Effie will be played by Keisha Gilles who was the understudy in the last national tour of Dreamgirls.
"To cast a role like Effie for me was a challenge because I had a certain idea in mind of what I wanted," said Scalamoni.  "I think people came in with a pre-conceived notion of Jennifer Holliday from the original production and I wasn't necessarily looking for that.  I was looking for a couple of other things and I found them in Keisha and we're excited that we got her."
As a director, Scalamoni says the play excites him because of the way it constantly moves.  He credits Michael Bennett, the choreographer of the original production, for crafting the way the show is structured.  In addition to Gilles, the play stars Taylor Almonte (Deena), Jennifer Theriot (Lorrell), Randall Holloway (Curtis), Marq Johnson (Jimmy), Michael Fisher (CC), Jerome Foster (Marty), and Ayana Bey (Michelle).
"This play is not done that often and when things aren't done often I want to read them and see why they're not done," he continued.  "I think this one isn't done that often because it might be challenging to stage.  It moves constantly and the size of it might scare some people, but we have a good handle on how to tell this story without it being all about crazy sets and big production values.  It's going to be much more about costumes and the lights and how we tell the story and more about the people."
Above all, Scalamoni wants people to know that Skyline's main goal is to inspire people and to entertain.  He wants people to leave the theatre feeling as if they've seen a good professional cast and had a top notch theatrical experience.  See for yourself when he brings Dreamgirls on stage.  The show runs for two weekends only so get your tickets now.  Performances are on April 24-26, and May 1-3 at the Fair Lawn Community Center.  For more information visit the Skyline website.
---
Gary Wien has been covering the arts since 2001 and has had work published with Jersey Arts, Elmore Magazine, Princeton Magazine, Backstreets and other publications. He is a three-time winner of the Asbury Music Award for Top Music Journalist and the author of Beyond the Palace (the first book on the history of rock and roll in Asbury Park) and Are You Listening? The Top 100 Albums of 2001-2010 by New Jersey Artists. In addition, he runs New Jersey Stage and the online radio station The Penguin Rocks. He can be contacted at gary@newjerseystage.com.
---