By Gary Wien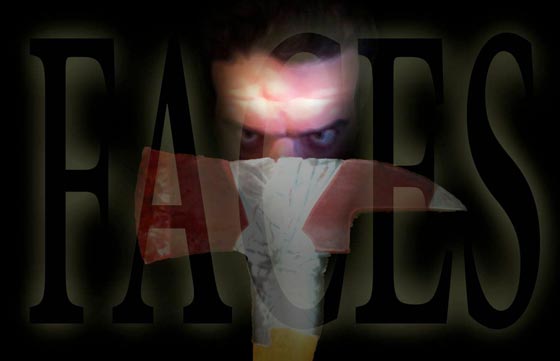 Frank lived alone. He had no job. No friends. No girlfriend. Then he met Charlie and everything changed... That's the premise behind Faces, a new film by Tom Ryan who grew up in Jersey City and shot nearly every scene of the film there. Ryan and the cast and crew celebrated the world premiere of Faces at the beautiful Loew's Jersey City theatre on October 10th.

"Frank's had a tough life," explained Ryan. "We don't know much about Frank's past, but we know that he's either spent time in prison or in a mental institution. He takes some medication and takes it frequently. He's having a tough go of it. He's out of work and socially awkward."

When the film begins, the audience is introduced to just what kind of a miserable existence Frank lives with every day. We see him go to a job interview and it's quite obvious he doesn't know how to interact with people.

The feature-length film (120 minutes) was originally inspired by a song from Ryan's heavy metal band, Vlad the Inhaler — one of the very first songs ever written by the band. The song didn't have much to do with Frank's character, but it served as the inspiration for the film's title and its concept. While Ryan is heavily involved in the local horror scene, he admits Faces is much more a thriller than horror flick.

Ryan says he first got into horror films as a kid, growing up in what he calls the Golden Age of Horror — the 1980s. Films like Halloween, The Fog, The Howling, Nightmare on Elm Street, and Friday the 13th were among his favorites.

"I've always loved horror movies," he says. "Always watched monster films on tv and really got into the bizarre side of horror — 70s flicks like The Omen or The Exorcist — stuff that was a little darker, a little more like psychedelic horror because of the really weird sound effects used in the films."

Like many filmmakers of his era, Ryan began by shooting VHS films using whatever props were on hand. He wanted to study media arts in college, but had to leave after two years due to rising tuition costs and entered the workforce. Just when it appeared his filmmaking dreams may be over, he learned about Dead Road, an internet series about the zombie apocalypse. He offered to help out with the special effects and wound up being cast as a character in the show.

"It changed what I anticipated could be done," said Ryan. "With technology, I don't need to be discovered. I can just do my thing and put it out there and show the audience what I can do. I don't need to spend $50,000 on a camera, I can get one for $300. It was a big transition in my thinking as to what I thought could and couldn't be done. That's when I went ahead and wrote my short film, Day 9."

Day 9 was Ryan's own take on what it would be like to find yourself in the middle of the zombie apocalypse. The story involved Tom and his wife Melanie who were about to enjoy a long restful weekend with the kids dropped off at their grandparents. But the undead at their doorstep forced a change of plans.

"I really enjoy telling a story," said Ryan. "I enjoy seeing people engulfed in the characters as opposed to just seeing splatter effects from beginning to end. It's cool to see people's heads get crushed and arms cut off and all that, but I think some filmmakers forget about the importance of the story and characters. My target audience is a person who really digs stories. I want people to watch my films and say, 'This is really a great film. What could these guys do with a major budget?'"

Faces is the definition of a low budget film. The entire cast and production team volunteered their efforts to make the movie. Ryan says his one wish is to be able to pay everyone. Not only does he believe they deserve it, but it would lead to a much smoother production schedule.

"When you're shooting an indie film, you're scheduling things," he explained. "Me, in particular, I go out of my way to accommodate everyone because I'm asking them to volunteer their time. With this film, we had a large cast. If we had the kind of budget that a major Hollywood film has I could pay everyone and they would have no problem fitting in the shooting schedule. But, unfortunately, when you're not doing that you have to work around everyone's convenience. I had people drive an hour to come to a shoot. It may not seem like much, but when you come to a shoot and you're on the set for 10 hours and then have to drive home an hour it's tough. Thankfully, we had a fantastic assortment of cast and crew members. They're the ones that really made the film as good as it could be. And we didn't even breach $1,000 on the budget." One individual who's efforts he likes to point out is his director of photography, Christian Santiago. "Chris worked tirelessly on this film. Not only capturing the visuals that made the film so effective but also handling the editing duties. Chris shared my vision of Frank's world and took it to another level. Both with his camera work and his cuts he did things with this film that make it very enjoyable to watch. Even in it's darkest moments."

Even though he's just shot a film in the thriller genre, horror is still very much in his blood. The support of the local horror scene makes him sure of that. He loves how fellow horror film makers all support one another in the area, cross promoting films and lending support at film festivals. He admires all of the people who love the horror genre so much that they volunteer their time and talents to the productions. And he loves their passion.

"I think the greatest thing about the local scene is that we've all found each other," he adds. "For many years, if you didn't run into somebody at a horror convention you wouldn't even know there was a scene going on. But from all over New Jersey, Pennsylvania to Maryland, these guys are everywhere. They love to see what you're doing and support what you do. It's a great little scene and it's got a lot of potential."

That show of support was truly on display during the movie's premiere on October 10. On the event's Facebook page, Ryan thanked the audience for making it a great night.

"After a year of hard work, last night was truly the reward that we only dreamed of," posted Ryan. "Even the staff at Loews was shocked at the turnout, the support and the quality crowd of awesome people that patronized the landmark theater. We asked for your support and you responded in droves. For that we are so incredibly grateful and humbled. Thank you, thank you, and thank you… You made us all feel like movie stars."

---
Gary Wien has been covering the arts since 2001 and has had work published with Jersey Arts, Elmore Magazine, Princeton Magazine, Backstreets and other publications. He is a three-time winner of the Asbury Music Award for Top Music Journalist and the author of Beyond the Palace (the first book on the history of rock and roll in Asbury Park) and Are You Listening? The Top 100 Albums of 2001-2010 by New Jersey Artists. In addition, he runs New Jersey Stage and the online radio station The Penguin Rocks. He can be contacted at gary@newjerseystage.com.
---