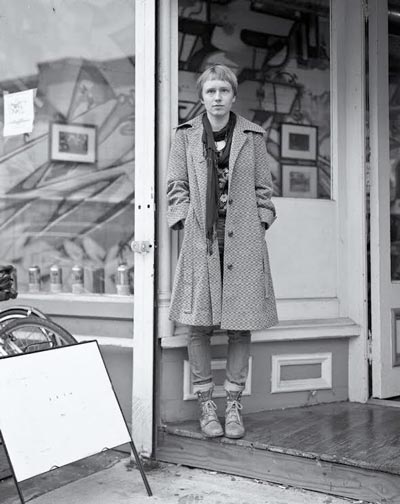 (JERSEY CITY, NJ) -- Allison Remy Hall, a Jersey City art curator known for politically provocative gallery shows is curating the art exhibition for Disruption, the new series presented by Jersey City Theater Center (JCTC), which opens March 31st and closes June 9th. Disruption is about our current era of rapid and tumultuous change: from the environment and climate to industries and social systems, we live in a time of constant disorder.
JCTC presents thematic series that through visual arts, theatre, readings, performances and music, explore issues global in scope yet relevant to the community. The upcoming JCTC series examines what is being lost, what is being gained and how these upheavals are impacting individuals, communities and culture.
Disruption features more than a dozen events, mainly on weekends, including the first ever JCTC shows at White Eagle Hall (a complete schedule will be available soon). Like all JCTC series, Disruption features an art show in the gallery at Meresles Studios, 339 Newark Avenue, Jersey City. The March 31st Disruption opening is the first public viewing of the new exhibition and includes an artist reception and Talk-Back  as well as previews of upcoming Disruption shows and other performances.
"It is a privilege to curate Disruption at Merseles Studios for JCTC," said Hall. "Knowing that this exhibition will be accompanied by great and relevant theatre and arts programming – all seeking to describe and define this era of Disruption – creates a feeling of camaraderie through different artistic mediums when it is most needed."
Lucy Rovetto, Visual Arts Coordinator, JCTC, first became of aware of Hall's talents as a curator at Street Level, her 2015 exhibition showcasing graffiti artists. JCTC collaborates with a wide range of artists, including directors, writers, actors, dancers, choreographers and performers with the intention of shining a spotlight on new and emerging voices. Collaborating with a rising curatorial talent known for her topical and sometimes confrontational sensibility seemed the natural choice for a series so political in nature.
---
The article continues after this ad
---
---
"Allison is fresh voice who has her finger on the pulse of city life," said Rovetto. "She is a great fit for JCTC whose mission is to explore relevant topics of our times, engage our communities, and be a laboratory for artists of all disciplines. Disruption seemed a perfect opportunity to 'Disrupt' the flow of the Visual Arts at JCTC. Bringing in guest curators broadens JCTC's voice, heightens our outreach, and strengthens the role of arts in our community."
Allison Remy Hall, a Jersey City-based curator, has worked at a number of arts institutions including the Yale University Art Gallery, Yoshii Gallery, and ShuaSpace. She claims her progressive politics and commitment to justice was formed at the age of 5 months, when she attended her first rally, supporting the New Haven Public Library in her hometown of New Haven, Conn. She said that as a student of anthropology and art history at the University of Wisconsin was when "I first came to view the arts as an ideal medium for political action and community building. My current curatorial efforts have been defined by the desire to create exhibitions that enable artists to relate their works to broader social and/or political themes." (visit: allisonremyhall.com).
Since 2014, shows curated by Allison Remy Hall include: Street Level; PROTECT OUR RIGHTS/ACLU FUNDRAISER; The State Of The Union; SERVICE; Through the Window; (ShuaSpace, Jersey City); [luxury]; Tension; Gentrification: The Changing Landscape of Jersey City; Wastelands (313 gallery, Jersey City); and THREE (Florida Mining Gallery, Jacksonville, Fla.)
Jersey City Theater Center Merseles Studios is located at 339 Newark Avenue in Jersey City, NJ.
Funding for Disruption was made possible by generous support from the Hudson County Office of Cultural & Heritage Affairs/Tourism Development, Thomas A. DeGise, Hudson County Executive and the Hudson County Board of Chosen Freeholders and the New Jersey State Council on the Arts.
Disruption was also made possible through the generosity of Ben LoPiccolo Development Group, JCTC's Board of Directors, private donors and local Jersey City businesses.
PHOTO: Allison Remy Hall by Giovani Santoro.